This man has music in his blood. In fact Faqir's family has been producing all kinds of music for more than 100 years, which had him growing up in a musical house where music was a part of daily life. This clearly contributed to the Amman-born artist's musical education and development. Until now, his family members - especially his father and grandfather - are great musical influences for him; his grandfather's mastery on the qanun and his legacy of great compositions "are a vital source of inspiration" to the musician. His father, Hasan Al Faqir, a pillar of Arabic music, not only taught him the basic of music, but furthermore, "my father's vast music experience, opinion, and encouragement keeps me on the right track."
Even though many genres were practiced at his home, it was jazz music in which he found his true passion, a passion he followed, despite slim access to jazz CD's or theory books. "I think I was lucky when I was introduced to jazz music at a very young age. I acquired this music, which became like my own mother tongue. I strongly feel this music and understand it clearly" he says, explaining his deep connection to the genre, and adds: "I chose jazz music when I was very young. I found in this genre of music freedom and limitless opportunities for creativity"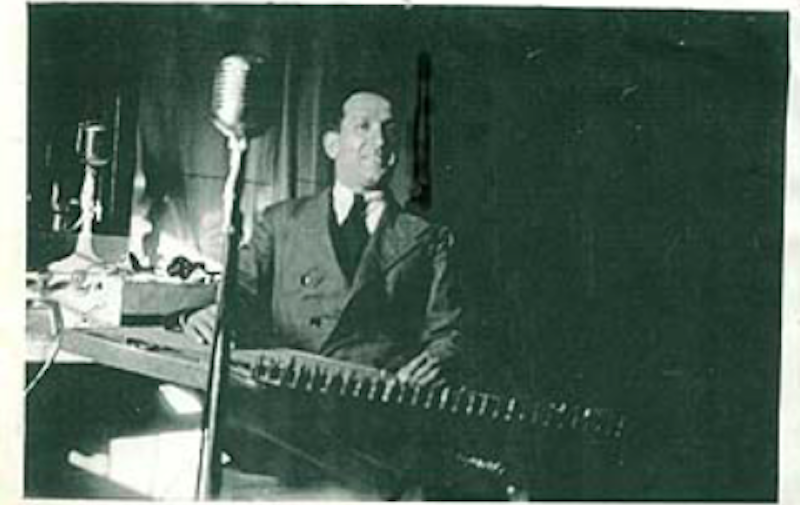 It is no surprise that Faqir belongs to the movement of musicians that introduced jazz fusion to the Hashemite kingdom. To him, fusion is the only way he can express his emotions and feelings, and the jazz enthusiast even states that "it is the ultimate freedom to compose and perform creatively". The idea to join forces and form a band came from his cousins, friends and himself, introducing the then blooming genre to their home country. Faculty-X started performing in 1990 and over the eight years of production, the band got invited to a variety of cultural institutions and festivals performing covers along with their own compositions. In retrospect, the musician states that he feels like Faculty-X contributed a lot to the then evolving jazz scene in Jordan, as it not only promoted peoples' awareness of the genre but also created a devoted audience, opening the country to with musicians from all around the globe.
Since then a lot has happened in the jazz scene in Jordan and the whole Middle East, and Faqir notices that some serious projects are taking place in different countries. Going into detail, he shares his mixed thoughts about the latest developments with us: "Young musicians do like this type of music, but they are a bit hasty, not giving enough time to really understand the background of this genre and learn its basics. However, there are young talents who show genuine talent and a promising future."
Taking a look at the international scene, it is safe to say that jazz is taking over and has by far reached the mainstream now. When we asked the ambitious musician on his opinion about the genre going mainstream, he explains: "Many musicians from all genres of music are tempted to taste this music because it liberates them from the routine of repetition". Movements like the British jazz explosion slowly but surely transformed the music Faqir is passionate about, and some even state that nowadays the rulebook for jazz music has already been rewritten. Faqir believes that his genre has always been open for new experiences, which is in fact what makes it unique and popular to him.
"Personally, I do not mind at all new initiatives of this type of music under one condition, which is to keep those initiatives connected to the roots of this music. Experimenting with music is a serious and risky move because it is written for people to experience. We need to make sure that new initiatives improve the taste of jazz and keep high respect and appreciation of its origin and pioneers. Rules of this genre should not be changed but we can still extract our own rules form them while keeping the original ones safe."
His deep passion and hard work has led him to a career that has lasted 28 years until now, with new milestones being set. Looking back on the past three decades of his work, the ardent composer points out three outstanding moments of his career. The first was in 1995, when he received a scholarship from Berklee College of Music after waiting until he felt that he was mature enough to apply. Ironically, in the end he couldn't make it due to his ongoing university study at that time but still states that the opportunity given by the well-known college for composing and performing, empowered him to pursue his musical career. The second one was when he invited the legendary American jazz guitarist Stanley Jordan to Amman to perform with him. "I learned a lot of valuable lessons from these great musicians" he tells us about this special moment. Last but not least and most recently, he names the recording of his latest, album that includes great musicians as Tom Brechtlein, Dave Weckl along with Omar Harb, Alaa Faqir, and Abed Faqir. "This was a dream coming true" Faqir describes.
His latest album Pulse also generally speaking marks a big step in his musical career. In September this year the full-blood musician announced that he joined the Universal MENA Group to distribute his recent work - a giant step for him, especially since he has always appreciated their highly professional presence in the world music scene, as he shares with us. Furthermore the music creator exaggerates: "Having my album distributed by Universal Music MENA is a huge advantage of my music career as it encourages me to make and maintain worldwide appreciated level of music. From the feedback I am getting regarding this album, I feel that it started to present musicians from our region on the jazz-fusion map."
Faqir can look back on an exciting musical journey knowing he has a lot more to come. Right now he is not only busy with the preparations of his coming album, but also is hard at work with on his project One Heart which is "true joy" to him. One Heart is about connecting musicians from all over the world to record parts of music composed by Faqir himself. "It is about breaking all the boundaries" - until now seven tunes have been released and we are glad to know that there is more to come.
Follow Omar Faqir on Facebook, Instagram and on his website.