Established in 2016 as a private gathering that aims to escape Dubai's chaos, UAE promoters Snoopy Beats sought to create a musical refuge against the lush backdrop of Fujairah's coast. Looking at it now, almost three years later, they couldn't keep the word from spreading as they've set up several sizeable events that brought in a wide variety of DJs and live performers from across Europe and the Middle East.
Snoopy Beats previously joined forces with veteran Dubai promoters Deep Like on various thematic productions, driving more people to take the trip to the UAE's East Coast. Previous event themes included 'Skull Island', 'Zootopia', 'Carnival Island' and more. Their upcoming edition taking place on the 22nd and 23rd of February is titled 'Space Island' and will witness the promoters take over Fujairah's Sandy Beach Hotel & Resort for a laidback mini festival experience.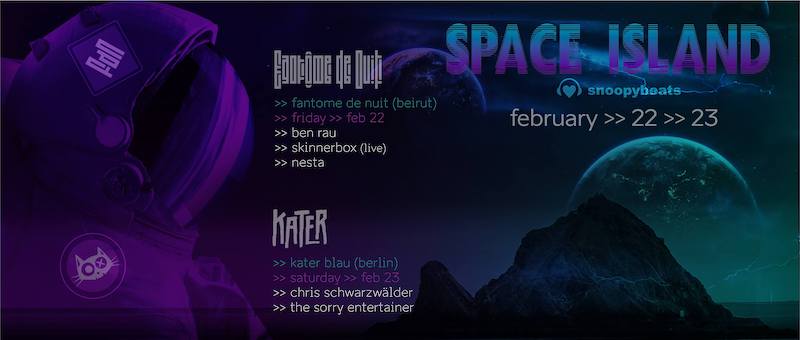 The lineup will be split into two different showcases taking place on both days. The first day will see Lebanese DJ/producer and label head Nesta and his Fantôme de Nuit collective take to the decks with performances by German dynamo Ben Rau, Nesta himself and German live electronic act Skinnerbox. This won't be the first time Nesta takes part in a Snoppy Beats event, but in fact his second time as he performed at 'Zootopia' in November of 2017.
On the second day Berlin club and collective Kater Blau will bring in two of their biggest talents; Chris Schwarzwälder and The Sorry Entertainer, for a taste of the Berliner underground. Entry is strictly over 21 and tickets along with accommodation packages are available on PlatinumList. Whether you're up to dancing all day or taking it easy by the beach, Space Island is the party to attend in the UAE this weekend. 
Follow Snoopy Beats on Facebook, Instagram and head to their event page for more info.