After the smashing success of the first two editions, Jordanian promoters Next Us are bringing back Chill O'posite festival to Dahab for a third edition between the 13th and 15th of August. The entire program will be comprised of three days of different experiences that keep the partygoers on their toes. This includes a day in Dahab's downtown, a full day on the beach and another day to be enjoyed in the middle of the Sinai mountains.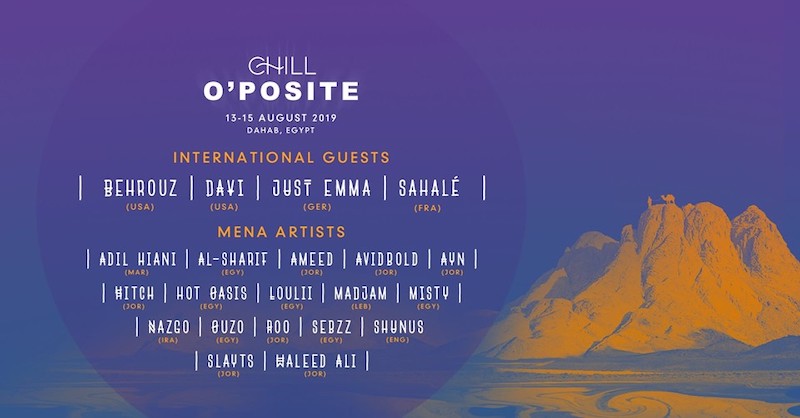 The entire lineup has been revealed and it looks like Chill O'posite aren't slowing down any time soon. Heading the roster is Persian/American deep house aficionado, and Do Not Sit On The Furniture founder Behrouz, Parisian world-music/deep house dynamo Sahalé, LA-based Armenian artist DAVI and Germany's Just Emma who'll be making their return this year to perform a live set this time around.
With international acts never being Chill O'posite's sole focus, they've also invited a host of some of the fines regional talents as per their annual habit. Returning this year will be Lebanese opening night king maDJam, Jordanian and Egyptian fixtures Ameed, Avidbold, Sebzz and Ouzo. Regional artists making their second appearance include Slayts, AYN, and Hot Oasis. 
Some MENA artists will also be making their Chill O'posite debut, most notably the Moroccan Cosmo records boss and deck wizard Adil Hiani. Joining him will be Misty, Nazgol, Shunus, Loulii, Al Sharif Mahlab, Hitch, Roo and Waleed Ali. 
Follow Chill O'posite on Facebook and Instagram.
Head to their Facebook event page for more info.