In 2016, as part of an effort to shine the global spotlight on local music scenes, Ballantine's Scotch Whisky partnered with Boiler Room to launch their True Music platform. From Sao Paolo to Beirut, the forward-thinking initiative has been giving local artists a platform to showcase their talent and aid local promoters to get their sonic projects off the ground.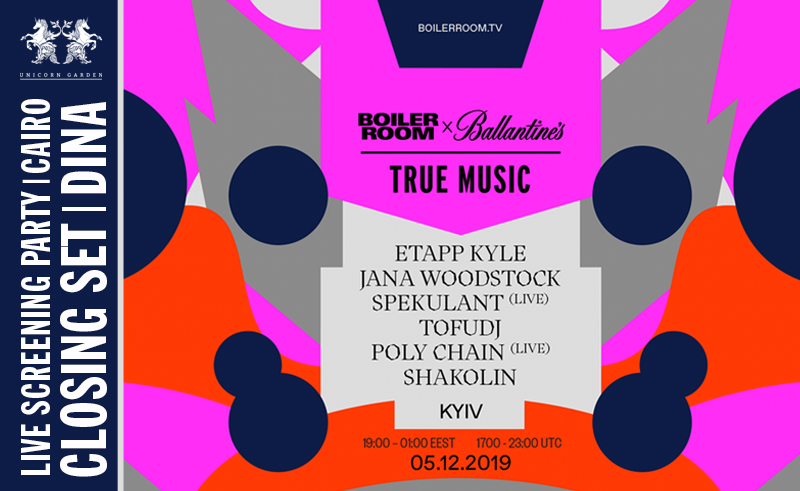 As of recently, Ballantine's have launched a late-night series here in Cairo in which they livestream their #TrueMusic Boiler Room sets from halfway across the world. Their first edition, which took place last February, comprised the live screening of Boiler Room x Ballantine's True Music Moscow with sets from artists fronting Russia's active (yet often scrutinised) underground scene. 
This Thursday, with a live broadcast of an upcoming Boiler Room #TrueMusic in Kyiv, Ukraine, Ballantine's will be revealing more of Eastern Europe's budding club culture. Set to make a virtual appearance in this anticipated late night edition at the Unicorn Garden is the avant-garde sound of techno artist Etapp Kyle, cryptic electro by Jana Woodstock, live bassline scattiness from Spekulant, and refined techno from Shakolin and Tofudi. To top things off, Cairo's DINA will be gracing us with a live set of her signature laser techno to close the night.
For a chance to win a set of Ballantine's Clubs Collection limited edition bottles, tag @ballantines.truemusic.eg and hasthtag your Instagram posts/stories at the party with #TrueMusic and #BallantinesEgypt.
Please note this is a private guest-list only event. If you know, you know.
Follow True Music on Facebook and Instagram.