Beat Hotel (Marrakech, Morroco)
March 28 - April 1
Morocco's newest festival comes courtesy of the famous Glastonbury stage; Beat Hotel. Glasto's main electronic music venue is bringing the standalone festival for the first time to Marrakech's Fellah Hotel between March 28th and April 1st. Asides from a heavyset lineup of the biggest underground DJs, the festival will also focus on talks, workshops and cuisine.
Sandbox (Gouna, Egypt)
June 13-15
Egypt's renowned electronic music festival Sandbox has been attracting international attention ever since its first edition in 2012. With bigger bookings and higher attendance every year, Egyptian promoters Nacelle are far from slowing down after expanding to two-stages in 2017, giving them the range to book both colossal acts and fresher underground talent from around Europe and the region. 2019's edition will take place between the 13-15th of June and the line-up is headed by Denis Sulta, Axel Boman, ÂME B2B Dixon, Dane, David August, Detroit Swindle and Baba Stiltz, Vaal and many more. Tier 2 tickets are currently on sale and are running out quick.
Gnaoua World Music Festival (Essaouira, Morocco)
June 20-23
Held in the Moroccan port city of Essaouira, the Gnaoua World Music Festival focuses primarily on the traditional and experimental Gnaoua artists of Morocco, turning the city on its head for several days thanks to several street performances and small stages. The lineup is varied, ranging from jazz and soul to rock and contemporary world music.
Atlas Electronic (Marrakech, Morocco)
August 29 - September 01
Under their newly announced theme of "Moving Forward", the music, arts and culture festival already confirmed the dates for its fourth edition in the end of August/beginning of September. Known for its chilled and intimate vibes and stunning setting by the backdrop of the Atlas Mountains, this festival is a gem for everyone who enjoys camping in the desert, waking up to yoga and dancing to music all day long. Tickets started at 123GBP and the early bird tickets have already sold out. The music lineup has been announced along with a Boiler Room stage. It doesn't stop there, but if you're subject to Moroccan visa fees, the festival will fully reimburse them.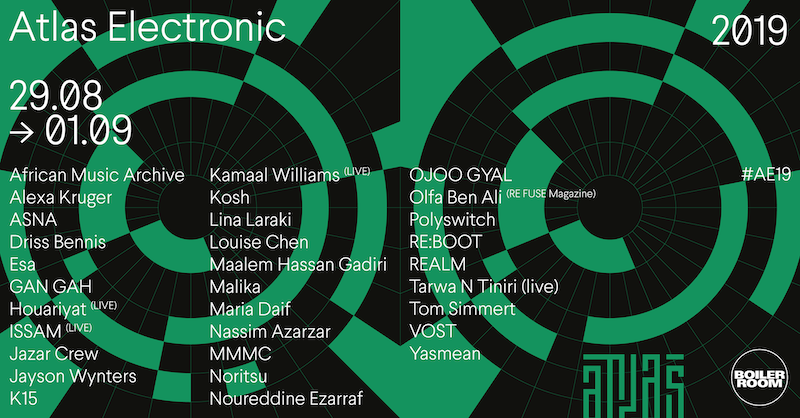 Chill O'posite (Dahab, Egypt)
August 13-16
Chill O'posite is a cross-border endeavor by Jordanian promoters Next Us taking place in Egypt's Red Sea retreat of Dahab. The festival prides itself on being a hub that equally supports undiscovered and established regional talent. Chill O'posite made a move towards booking internationals like Nick Warren and Just Emma in 2018 with plans to expand further in the coming years. The dates for 2019 are locked in for August 13-16 with the rest of the details still under wraps.
Oasis (Marrakech, Morocco)
September 13-15
What started out as arguably Morocco's biggest music festival has now cemented itself on the global festival circuit as an essential electronic music event for people from across Europe and the Middle East. Taking place in Marrakech, Oasis has managed to bring in most of the artists that represent the electronic music status quo, from Carl Cox to Richie Hawtin to younger, more low-key dynamos like Avalon Emerson and much more. The first phase of the lineup has been announced, featuring Apollonia, Seth Troxler, OR:LA, François K, Jayda G, Horse Meat Disco and more. The first and second tiers of the pre-sale tickets have sold out before a single name on the lineup was announced.
Wickerpark Festival (Batroun, Lebanon)
September
Wickerpark is an alternative music festival based in the coastal town of Batroun in Lebanon. In September the event invites the region's popular as well as on the rise artists for an eight day long celebration. Next to the concerts, the past festivals featured workshops like capoeira and instrument-making. For 2019, there have been no tickets or line-ups announced yet.
Les Dunes Electroniques (Tunisia)
September 20-22
After establishing itself as the leading electronic music festival in Tunisia since its debut 2014. Dunes Electroniques ran only for one more edition before going on a three year hiatus spanning 2016-2018. This year Dunes Electroniques announced its return to the iconic Stars Wars set the gave it its reputation. No further details were announced but previous edition hosted the likes of Derrick May, Sound Pellegrino, Jennifer Cardini, Pachanga Boys, and Deena Abdelwahed so we're likely in for a treat.
Cairo Jazz Festival (Cairo, Egypt)
October
The annual Cairo Jazz Festival embraces jazz music from all over the world. Especially appreciated for its comforting atmosphere, the event invites local and international artists to the AUC venue in Cairo for a of a kind jazz experience. On top, the jazz celebration includes after parties that take place in Cairo Jazz Club. Tickets or line-up are not yet announced.
Moga (Essaouira, Morocco)
October
Moga is an electronic music festival which is held in Essaouira, a Moroccan port city that charms with its historic old town and its small hidden alleys. In 2018, the three day long event excited with a huge line-up of international and local headliners like Acid Pauli, Agoria or Amine K. Moga aims to combine the old with the new as futuristic electronic dance music meets with the traditional culture of the region like Gnaoua music, dance, art and even includes exhibitions, readings as well as film screenings. Tickets or line-up haven't been confirmed yet.
Beirut & Beyond International Music Festival (Beirut, Lebanon)
December
In partnership with the Oslo World Music Festival,  the Arab region's independent music festival persuaded its visitors with a different guest curator every year. In the past Beirut & Beyond showcased a variety of local as well as international names ranging from superstars to newcomers such as Yasmine Hamdan, Lekfha or Basel Zayed. The festival that usually takes place every December in Beirut will be celebrating its 7th edition in 2019 and so far there is no line-up or ticket price yet announced.