It takes about 15 seconds to fall in love with this record. Juno's boisterous, quivering voice dives head first into a lush layer of vintage keys with a profound timbre singing, "bodies shaking left to right..." Goosebumps. When you understand the story behind the first track 'Coloured Mind', the song takes on a whole other emotional dimension, but we'll get into that later.
Immerse is the debut release by producer and songwriter, Hatem El Chiati, and singer-songwriter, Juno. Chiati, who is currently studying for his music technology bachelors at the American University in Cairo, is well known for his solo dance music project, but has recently used his multi-instrumental talents for a series of alternative collaborative projects, most recently with Shady Noor, Ahmed Kamel, an upcoming EP with Omar Emara and of course, Juno. In 2018 Jannah Emam, AKA Juno, performed her first solo single, 'Seasons', live at SceneNoise's Ramajam and gave us a hint at what's to come from the multi-talented young artist in the way of stellar vocal melodies.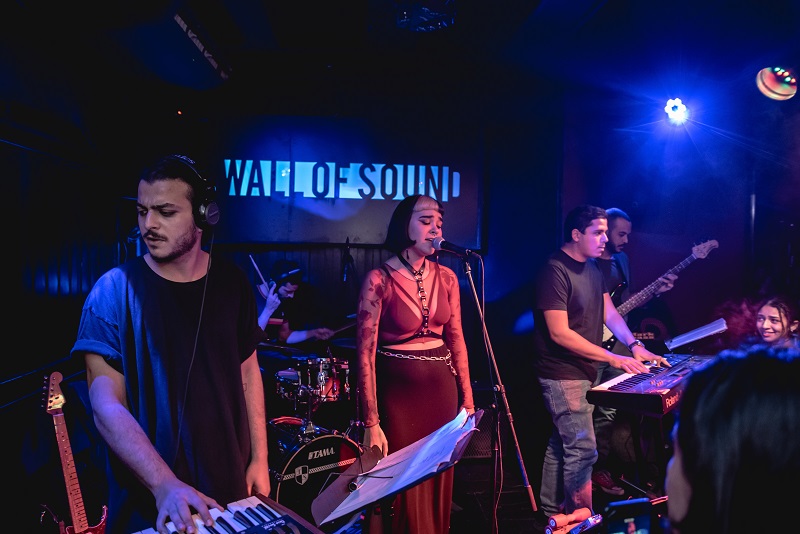 Combined, the duo have created indie-pop magic on the two-track release, having performed live across several Cairo venues with a full band over the last year. A defining feature of Immerse is how it takes it's time in a way music simply doesn't today. It carries the listener ever so slowly across each verse with crystal clear clarity, flowing through pensive jazzy undertones with pop sensibilities. 'Colored Mind' could easily come off as a James Bond's theme song. Meanwhile the ethereal title track 'Immerse' is beautiful and subtle, hinting at a Beach House or Lana Del Ray record, with a rollicking breakbeat building up to an all encompassing crescendo, rising and falling. Melancholic and uplifting. 
We caught up with Hatem Chiati and Juno to discuss how the EP came about...
What's the story of how you guys got together to start making music?
Chiati: Well at the end of 2018, I was somewhere that had an internet proxy where I couldn't access social media for a few weeks. I used to go on the dark net in order to access Instagram to listen to Juno's cover of 'Everything Stays', as well as her original song, 'Seasons'. Then, when I came back, I sent her a message and didn't get a reply. I made my manager Maged Abdel El Messih call her and tell her that someone wanted to speak to her, and I just told her hey it's Hatem El Chiati and I'd like to make music with you. 
Juno: I started out playing at a few gigs, mainly doing covers, but I knew that I wanted to work with someone on creating original material, and when Hatem reached out at the end of 2018, it felt like the perfect opportunity to learn from an experienced musician/ producer. So after a few sessions with him, I felt that we could actually create music that has a lot of potential. 
Did you have any particular bands in mind when you imagined where your music would go? 
Chiati: To be honest, each one had their own influences and it wasn't really something we had discussed in detail. In the beginning, when we were experimenting, I remember that our sound was infused with more electronic elements. As we started writing together, we reached an  aesthetic which inspired us. I wanted the music here to really complement Juno's voice and her tone, so we went with something ethereal. 
Juno: We never really had a discussion about our sound. It came naturally after we started working together. Nevertheless, I have my own musical inspirations such as Alice Phoebe Lou that I knew would influence how I wanted the music to sound like.
How does the music writing process work between you?
Chiati: In terms of lyrics and chords, each one of us wrote one of the songs on this EP. Juno wrote 'Immerse 'and I wrote 'Coloured Mind'. But I think in terms of melodic elements, which include the lead vocals and harmonies, we just pop ideas off each other. I think Juno is extremely talented at simply reading lyrics and creating a melody on the spot. 
Juno: Our songwriting process doesn't follow a specific pattern. Whenever me or Hatem have some lyrics or chords that seem to have a good structure, we share it and just start improvising together until we have a solid melody.
What is this EP, and the songs, about for you? Is it attached to a specific memory or time?
Chiati: I'll speak for 'Coloured Mind'. It was about an extremely difficult time in my life and the year and a half that followed it. At the end of 2018, I fell into a coma and the name and chorus of the song comes from me debunking the myth that people can see things whilst in that state. I couldn't see shit. For me, it was oblivion.
Juno: 'Immerse' was written while I was on a diving trip in the middle of the Red sea for a week. I wrote the song about the love that wasn't meant to be and the love that filled my heart in being surrounded by nature - finding the love within you to let go and immerse yourself with what you have in the moment. 
Were there specific instruments/equipment that you were particularly attached to that helped in forming this EP?
Chiati: Juno and I, being trained musicians, are fans of the analog medium. So my old Rhodes, Bass guitar, analog synths, some guitars and other elements, whether from the analog or digital medium. 
Is this a long term project?
Juno: In these times, I think any plans are uncertain, and the present is all we have, but for now me and Hatem will continue to develop our sound together in hopes to make better music.
Chiati: We don't really look ahead, but just for now we're committed to doing the best we can to woe on our sound and make more music. So you may, or may not expect another EP....
Juno & Hatem El Chiati 's Immerse is now available on all music streaming platforms.
Follow Hatem El Chiati on Instagram and Anghami.
Follow Juno on Instagram and Soundcloud.
____________________
EP Credits:
Immerse: Vocals: Juno (Jannah Emam) // Writer: Juno // Composition: Juno & Hatem El Chiati // Producer: Hatem El Chiati // Mixing Engineer : Mokhtar El Sayeh // Mastering Engineer: Nicolas Essig
Coloured Mind: Vocals: Juno (Jannah Emam) // Writer: Hatem El Chiati // Composition: Juno & Hatem El Chiati // Producer: Hatem El Chiati // Mixing Engineer: Hatem El Chiati // Mastering Engineer: Nicolas Essig
Artwork Credits: Jannah Emam, Omar Allam, Salah Diaa