While we might see plenty of  promoters on the Egyptian dance music scene pushing to curate the perfect getaway for music enthusiasts and offering a hub for like-minded people to connect, few have the balls to go all out and present something new or different – or even just expose their crowd to new music. Liquify All Assets have showed time and time again that they are one of the few, with their simple philosophy of pulling off a great party and leaving people having listened to something new.
In their last two seasons, we saw them curate intimate full day parties on several downtown rooftops. This season, they're making a strong comeback on Friday November 2nd, at Cairo's trendy new venue, the Unicorn Garden, only this time, they're changing the setup to add a unique twist to the venue, with industrial art installments by Chanel Arif and Noushka Farag's psychotropic visuals.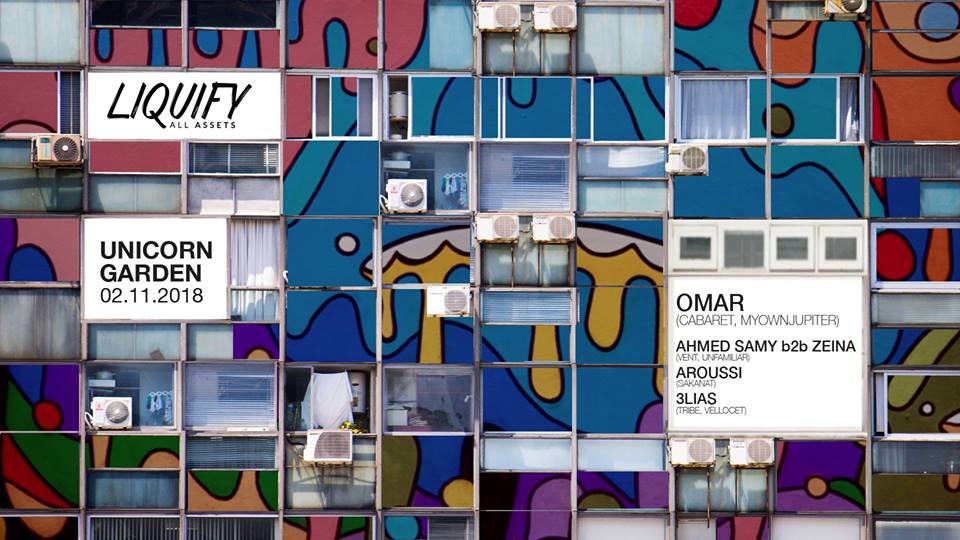 The 12-hour party will start at 1PM, taking advantage of what's left of Egypt's pleasant summer-ish weather, with a hefty lineup headlined by Uruguayan master and Cabaret and Time Passages signee, Omar, who's been making waves in recent times with his trademark electro sound. Joining him on the bill is Lebanon nightlife favourite, 3lias, who'll be making his long awaited Cairo debut, as well as the cream of Egypt's talen; Aroussi will be setting the tone for day and an exciting b2b set from veterans, Ahmed Samy and Zeina, is also on the cards.
Make sure you come early to enjoy some sun, have a drink and eat a bite that you will definitely need.
Send your name to liquifyallassets@gmail.com or call 01140826666 to put your name on the list.
Follow Liquify All Assets on Facebook.