I first encountered Marcelina last November at Reference Point, a bookstore and favourite haunt of London's artists tucked into a nook on The Strand. I was there to attend the inaugural exhibition of the West Asian and North African Women's Art Library, led by Evar Hussayni and curated by Zeinab Hasoon and Sara Bin Safwan, and paired with a line-up of live musical performances. On stage, Marcelina gave a layered and multisensory performance with a vocal distortion machine at her side, while body artist Anastasia painted herself in time with the music. With the music video for her latest single 'Il Awal' being released this week, Marcelina sat with SceneNoise to discuss her determination to probe experimental approaches to sound and performance even more this year.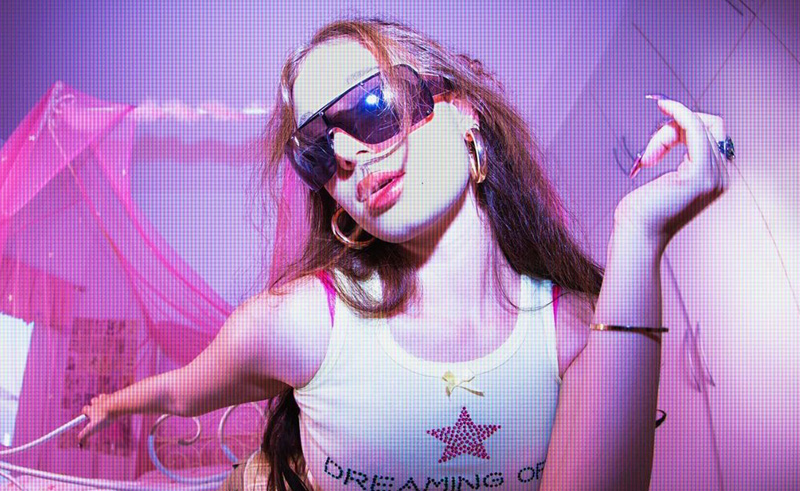 Pushing the voice to its limits, Marcelina is an emerging London-based music artist and will be one to watch as she puts out new tracks this year. Treading between R&B and soft pop in her earlier discography, Marcelina's new sound veers towards the dystopian and hyper-human in a way that brings to mind Grimes or Eartheater. The instrumentation of her latest single 'Il Awal' is built to envelop and overwhelm, veering between needly synths and growling bass that paints a thunderous soundscape. Pulsing breathy vocals through a voice distortion machine, Marcelina smudges and stretches her voice to acquire an almost spectral quality.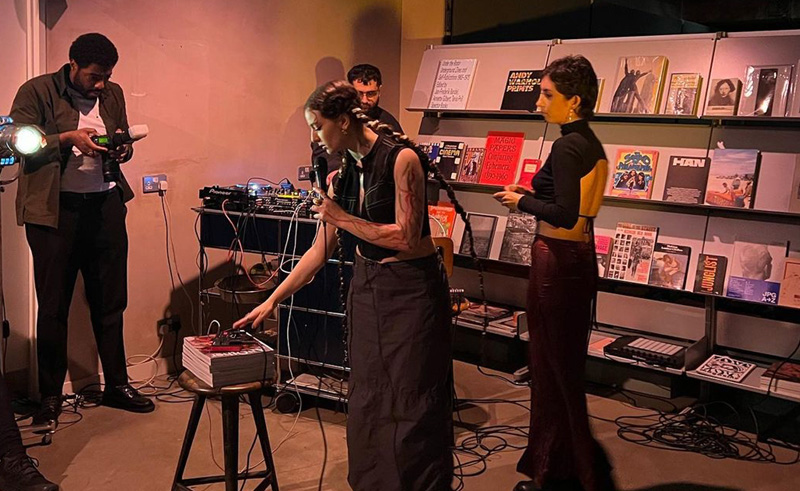 "I grew up in a really musical household," says Marcelina. "My brother and I played the piano, and my dad would take us to live classical music concerts when we were children." This, she explains, attuned her musical ear and developed her vocal range, which is evident from the high harmonies she often flaunts in her music. Aside from classical music, Marcelina shares her parents' passion for reggae, 70s disco and Arabic pop. "My first love was Bob Marley," she laughs. "I was such a reggae girl! I also loved the Bee Gees, and of course Arabic icons like Nancy and Elissa."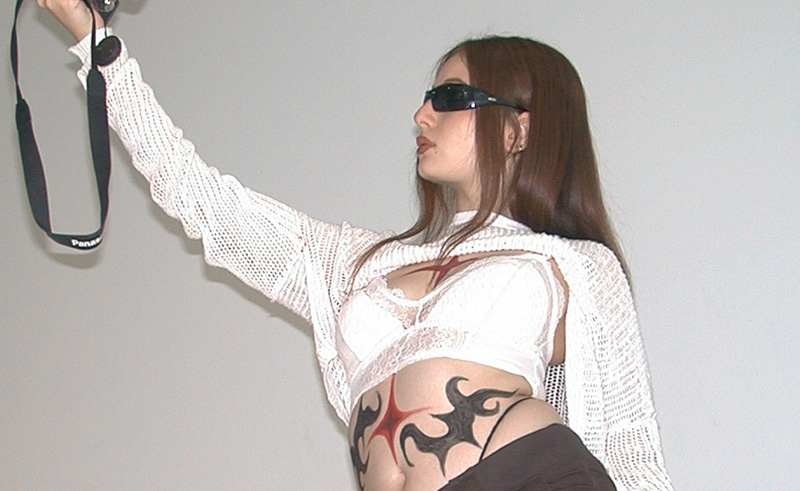 However, Marcelina wasn't always inclined to share her voice with the world. "I was very shy. I wouldn't let anyone hear me sing until I was sixteen! Theatre was my passion – I wanted to be a film actress." It was only through auditioning for a musical that she became awake to her love for singing, at which point she asked her mother for singing lessons. Her first foray into the world of music, Marcelina notes, were tentative SoundCloud uploads that proved to be more successful than she'd initially expected. This encouraged her to start releasing music consistently, leading to her first EP, 'Infinity'.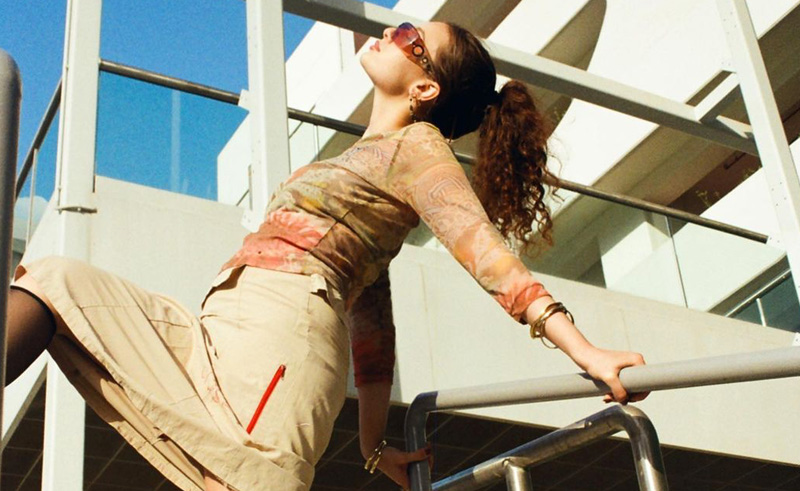 A city girl through and through, the singer grew up between California, Los Angeles, Dubai and Abu Dhabi, and has been based in London since 2017. This no doubt played a role in the smooth R&B, urban chill vibe of 'Infinity', a musical reflection on friendships, love, and life in one's late teens that came out in 2019. "The project ended very differently to how it started," Marcelina says. "My boyfriend at the time was the producer, and we'd work on everything together, but we broke up half-way through the process." Marcelina reveals that the project ended up taking so long that she didn't feel connected to the album by the time it was released. "But still, it's a base for me to look back on as an artist," she adds. "I wrote all the lyrics, and from start to end it tells a story. It's ethereal, psychedelic, introspective, melodic, bittersweet."
Released in 2022, 'Dunya' is the first single in which the singer branches out to the Arabic language within her lyrics. "It wasn't an intentional shift, but when I found the beat, it felt intuitive to speak in Arabic. I didn't want to write a whole song in Arabic, just a verse. But I enjoyed how Arabic songwriting engages a different part of my brain and how it takes more active efforts to figure out what will sound nice."
'Il Awal' is her second Arabic release, co-written with her friend Zainab Hasoon so that it would be sung entirely in the language. The track represents the artist's growing left-field tendencies that emanate an industrial or cyborg-like musical persona, with a sound palette that would be well-placed on the soundtrack of HBO series 'Euphoria'. "I'm learning how to use the voice even more literally as an instrument, to push what I can do with it, starting with a simple reverb effect."
Reflecting on the event at Reference Point where we first connected, Marcelina explains that she bought the vocal distortion machine two days before the performance. "It immediately felt right to use it, not only because of the futuristic sound it creates, but because of the special experience it creates for the audience watching," Marcelina says. "It adds an extra element of uniqueness and spontaneity, as it won't sound the same every time it's performed. I'm intrigued by the new machinery I'm being introduced to, the different pedals and effects. I want to use these more as I expand and grow my sound."
Marcelina is using the body as a canvas to add further dimension and playful experimentation to her stage presence. Collaborating with body artist Anastasia A., she has been painted during live performances in tune with the melodies and emotion of her voice. "Anastasia intuitively chose colours from her palette based on how she felt from the different emotions I was evoking, the colours she was drawn to in the moment. This is something I really enjoy exploring, collaborating with artists to find visual and sensory ways of telling a story." We see this in the music videos such as 'Eternal' as well as 'Il Awal', where the flames painted onto her body feed the motif of fire in the lyrics.
Putting herself out there in the Arabic community, Marcelina shares, has not come without its challenges. Marcelina performed at Dubai's esteemed SoleDXB, which brought together musical talents from across the region. "When I posted a video from SoleDXB, I got so much hate for what I was saying in Arabic, it's insane," she recalls. "When Shabjdeed sings similar lyrics, he blows up, but my self-expression as a woman triggers so much hatred. I removed the comments section of the video."
For Marcelina's first taste of such exposure, she's taking it pretty well. "It's hard to adjust your target audience. My music is within this niche of an underground, up-and-coming crowd. So when it reaches a mainstream audience, it's crazy to see the reactions. People are quick to glorify and quick to hate, before they understand. But I'm not deleting any of my posts, because, as my friends have advised me, we've seen so many cases of a song blowing up, being hated on and then being loved."
"The more creative collaborations I take part in, the more I realise I don't want to limit myself to a specific genre." When asked who her ideal collaboration would look like for a song release, Marcelina says, "The first thing to come to mind would be an independent, female experimental artist. Someone like Sezdaliza, who inspired my first EP. Collabs with bigger names would be anything from Björk to Kaytranada and SiR, and Coucouchloe!"
Currently studying for a Masters in Entertainment Law, and with a Bachelors in Law already under her belt, Marcelina will be well-placed to handle the technical and business sides of the music industry – the importance of which cannot be understated, given the global gender imbalance of artists, producers and executives in the scene. "It's given me a good grounding in the legal and business aspects," she shares. "The contracts, music negotiations, and all that. I'm still trying to figure out how I want to use the skills from the degree. As an artist, I'm looking for opportunities, but I also want to find work with a record label and be a part of the business team helping other artists and musicians."
Marcelina's vitality and dedication as an artist really shone through in our conversation, particularly when sharing her aspirations moving forward this year. "I'm turning 23 on October 23rd , and I want to push myself this year to a whole new level, expose myself to more creative inspiring energy, put myself out there more without fear or doubt or any self-limiting thoughts. I want to move in tune with my desires and what I believe in."