Earlier this month, the Paed Conca and Raed Yassin-helmed, 13-piece jazz outfit, Praed Orchestra, released their album Live In Sharjah via Berlin-based label Morphine Records, basing the work upon the duo's research into the traditional Shaabi and Mouled musical genres. The album expands upon its explorations of traditional Egyptian music by introducing elements of psychedelic rock, avant-jazz and free-jazz, electronica and opera into the mix.
In this latest work, Conca and Yassin reinterpret some of their iconic original recordings, bringing together an expansive lineup of accomplished artists and instrumentalists from a range of different disciplines into the 13-piece outfit, who's full roster includes Alan Bishop, Nadah El Shazly, Christine Kazarian, Hans Kock, Martin Küchen, Maurice Louca, Radwan Ghazi Moumneh, Sam Shalabi, Ute Wassermann, Khaled Yassine and Michael Zerang.
Each of the above artist were invited to join the Praed Orchestra based upon their ability to reinterpret Conca and Yassin's previously written works, and on their capacity to improvise in the live setting, with each musician falling into a specifically defined role to augment the overall scope of the band's endeavor. Recorded live in Sharjah's Calligraphy Square, the monolithic album preserves the energy of the intimate live setting in which it was recorded, spreading out the song lengths to over ten minutes each, and allowing ample room for each member of the roster to jam and shine on their own merit. 
It's difficult to fully encapsulate the energy of Live In Sharjah within one firmly defined genre. The album constantly shifts between different sonic territories, with pieces like the extended shaabi jams, 'Doomsday Survival Kit' and 'The Spy Who Spoke Too Much', offering moments of familiarity, rooted in thumping traditional rhythms that expand and shrink over the course of the song. It forms a framework for the melodically inclined musicians of the ensemble to let loose, riffing and bouncing musical ideas off each other in ways seem authentically organic,  excellently recreating the cacophonously infectious energy of a live shaabi street party, albeit with an ear towards pushing the genre into less familiar territories. 
The closing track, 'Il A3sab', serves as a perfect example of Praed Orchestra's psychedelic rock-leaning tendencies, drawing listeners on a journey that begins with the soft reverberations of arpeggiated guitar licks and an understated steady drum beat, slowing things down into a deceivingly blissful serenity before ramping up the distortion and dialing everything up to 11 as it culminates in a massive wall of sound.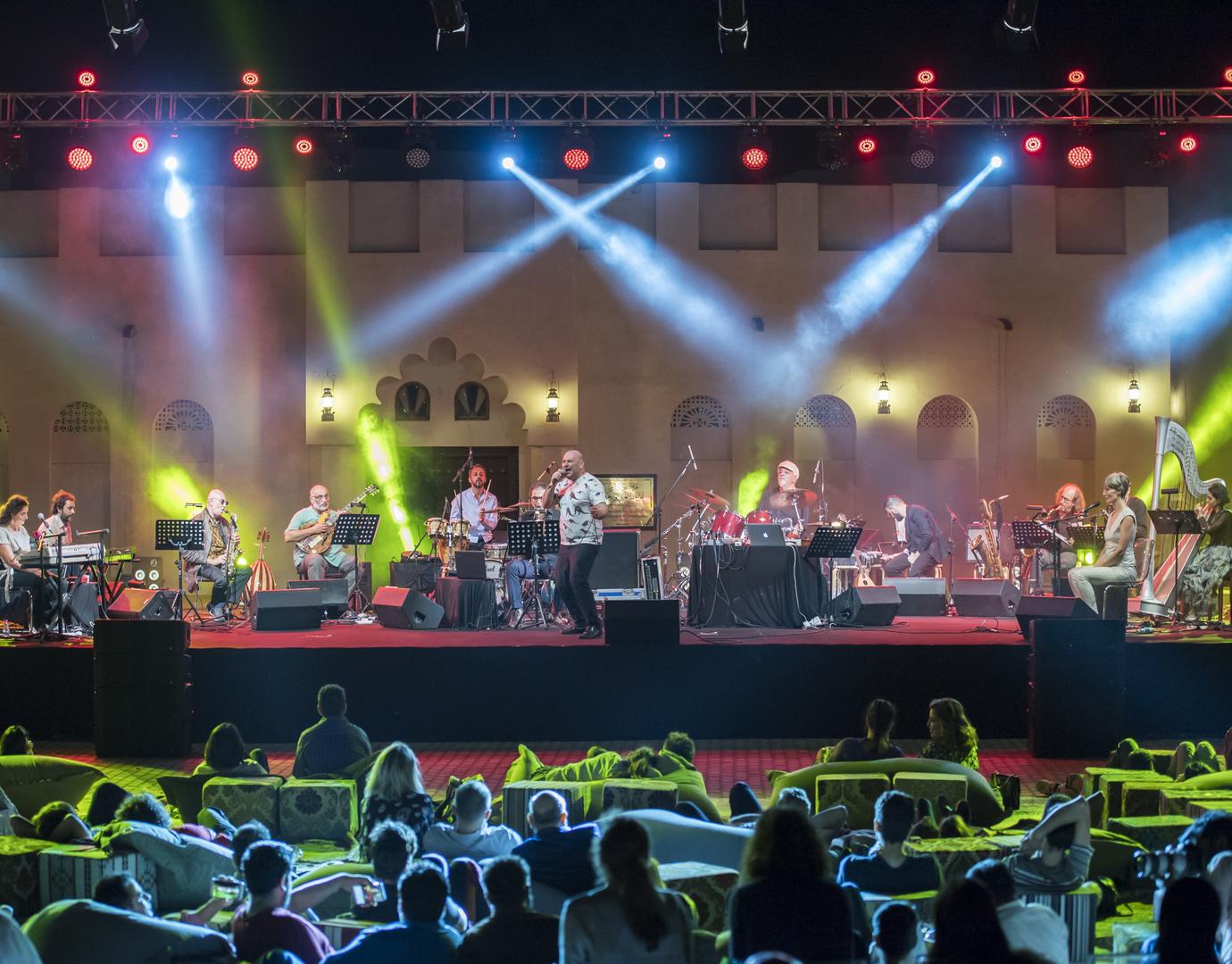 Other moments are jarring, at least to less experimentally inclined listeners, and certainly encapsulate the avant-garde inclinations of the group. The operatic introductory piece, 'The Last Invasion', or the fifth track, 'The Micro Dwarf Wave', reach moments of near formlessness, through their warped vocals and unhinged use of discordant electronics, and certainly bring some of the most challenging and exploratory moments on the project. 
With a scope of ambition as large and it's massive list of collaborating musicians, Praed Orchestra's Live In Sharjah serves as a both a monument in celebration of Shaabi and Mouled, and a glimpse into how far the two genres can be stretched, deconstructed, and reassembled through the ears of an ensemble of the most adventurous and forward-thinking instrumental musicians in both the MENA region and abroad. 
Live In Sharjah
is available to stream and purchase in full on Bandcamp, and is available in both digital versions and in the form of a 3xLP box set of colored vinyl.