One of the few Moroccan artists that have been making waves in the electronic music scene both regionally and abroad for the past year has been Morocco's Mouhcine Zouitina aka Polyswitch. Starting his DJ career around 2010, Polyswitch has managed to achieve some sizable milestones including regular gigs at Oasis and Atlas Festivals in Morocco, running his own party; LOSTFREQUENCY, several appearances on Amsterdam's Red Light Radio, international bookings and the launch of his own upcoming imprint - Astrofever Records. 
2018 has been an eventful year for Mouhcine as he landed performances in Jazzablanca as well as a special B2B slot at Oasis alongside Kamaal Williams' Henry Wu aka Wu Funk. Earlier in the year he also embarked on a four-date tour of several Chinese cities. He's also managed to release  his track "CSV Shuffle" on fellow Moroccan Driss Bennis's imprint Casa Voyager in October. With so much plans in the pipeline for Mouhcine I had to catch up with him and figure out how he managed to get where he is right now and what the future holds for him. 
So tell us about your childhood, where you grew up, what did you listen to?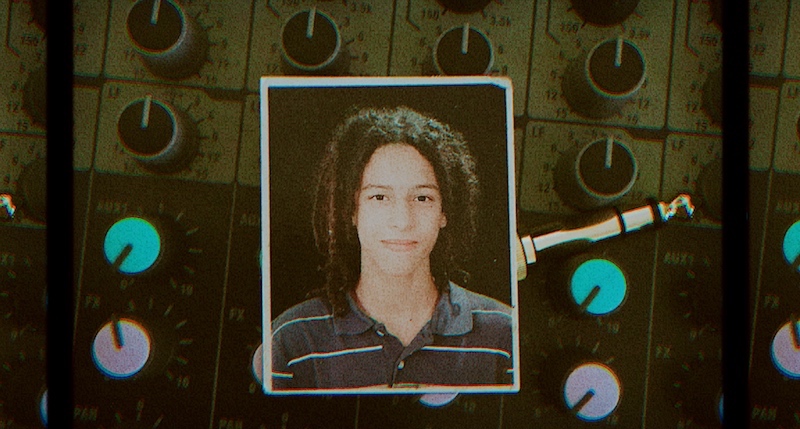 I was born and raised in Casablanca. the middle child in a family of three - son of two patriots. Our parents have been continuously injecting colossal efforts when it comes to our education. Truth is that class had a bitter feel back then and that was surely my rejection of the social norms and the whole enslaving machinery that came to the surface pretty early. I was doing good until high school, but I quickly realized that I wasn't going to follow the same path as everyone else, working from nine to five on a desk under some artificial light wasn't going to be the deal for me.
I grew up listening to a very wide range of music and watching video-clips on the satellite receiver which was revolutionary at the time. Later on I started to feel the urge and necessity of having my tunes on me everywhere I go, so my mom offered me a Walkman for my 11th birthday. I started overwriting tapes from the TV's audio output, and making my own playlists for the bus to school as well as for my roller blading sessions. I had my natty days, my punk days, my hip hop days, you know - it's just the same lap we '90s kids all went through. 
And how did you decide to pursue a career in music?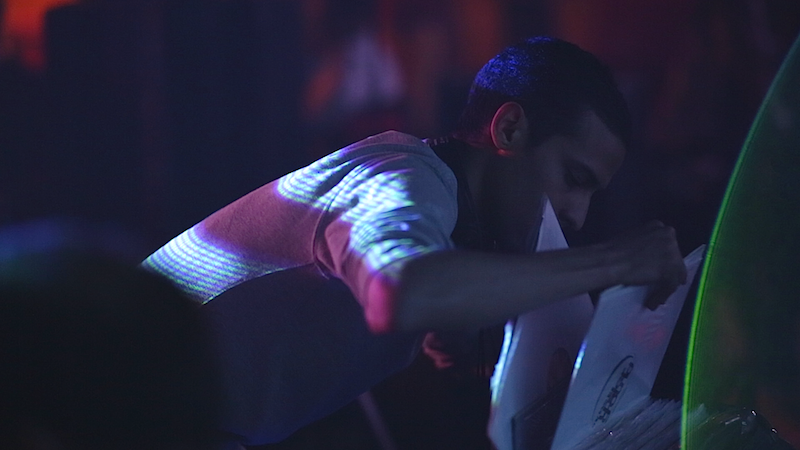 The computer era followed and I remember around 2005 my brother came up one day with a D.A.W. program that had me completely hooked; this was my introduction to music-making. DJing was the successor, and since then the ride has never stopped. In fact, going for the music has never been a firm decision I made, or a result that took effect out of a well calculated strategy. I was just lucky enough to be surrounded by people who saw something great in me, and gave me that extra push whenever I needed it.
I could definitely say that music saved me from taking the wrong path, as cliché as it sounds. But the reality behind what I'm saying is that most of the kids I grew up with in the same surroundings are now wrongdoing. Music opened so many doors and made me discover and meet astonishing places and people, and still I'm not taking any of this for granted. 
How would you describe your sound as a DJ?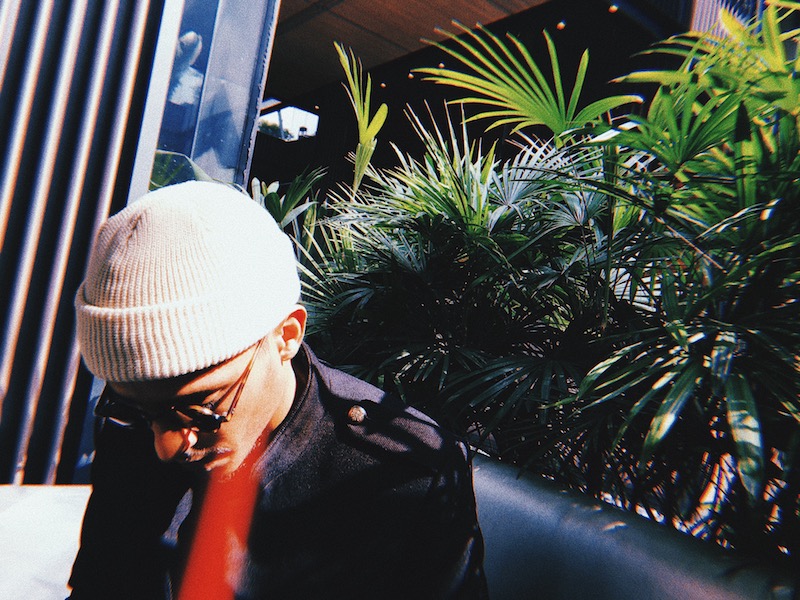 I wouldn't be able to describe my sound as one isolated, well-defined genre. My sound is a hybrid of everything I've been through, and I'm sure I won't be happy if I end up being labeled within a specific musical genre, not because my music is and has always been a work in progress, but also because musical knowledge grows only if you cut yourself off from the boxy norms and keep an open mind about the whole spectrum. 
What/Who do you enjoy listening to currently?
Everything with a soul. And of course J Dilla and Coltrane every morning. At the moment I have Black Milk's latest album on heavy rotation.
Did you/do you still struggle in making music your full-time job?
I've been through a lot and had to face some nasty shit! I'm also very aware of how the majority of independent artists have been struggling and still do. In addition to the never-ending hassle, the situation over here is like no other, it's just not a fertile ground for creatives. The political, religious and territorial restrictions are making it next to impossible for artists to stand out and fully express themselves, share and execute their vision. 
Truth is if I ever started with the idea of making a living out of music in mind, I would have already given up. The motive and what keeps me going is the love and passion I've always carried for it. We all spend our lives chasing money - that's the drive for almost everyone. In my case, I just believe that money doesn't come in the first chapter, especially if you chase it! But If you put enough love in your craft then it pays off.
Tell us a little bit about how you started Lost Frequency? And how do you see it growing in the future?
It started in 2012 and was the succession of a series of events I used to run between 2010-2011 amongst a community of artists who introduced me to the circuit. At the time, there was not much going on in town and the access to the venue where former events took place was still at my disposal. I remember back then bridging the gap was my main concern and this led to the birth of LOSTFREQUENCY. On the first night I had three people dancing in front of me and came back home totally frustrated. Three months later the venue was packed and everybody was dancing to our music. The vibe was one of a kind! The core of that gathering has never changed, it's always been about the musical appreciation as well as shedding light on local acts plus free entrance for everyone and not only our friends. I can surely say the initiative was a vanguard to the city's club scene.
LOSTFRREQUENCY is currently on hold but will surely reappear. I just can't dedicate any efforts to it at the moment. Over the past years, time wasn't my best friend - honing my craft, building the studio, traveling, becoming familiar with the equipment - all of this can be highly time-consuming. Furthermore, focusing on the record label has turned into a priority. I guess the city is no longer passive when it comes to parties; I'm very glad to see we've come a long way.
How did you manage to land several appearances on Red Light Radio in Amsterdam and during their presence in Atlas Electronic?
All spontaneous, no calculated moves. Shout out to Karim Mrabti, Khalil Ryahi and the whole AE crew for the brilliant initiative. The first appearance on Red light radio took place during their presence on site and marked my second performance for the festival's very first Edition. 
Mad props to Lorenzo Milleli who made it comfortable abroad. My trips to the Netherlands somehow occurred on perfect timings. Every time I visit I'll swing by the radio and spin a couple of records.
You seem to have a pretty decent record collection, tell us a little bit about your digging routine.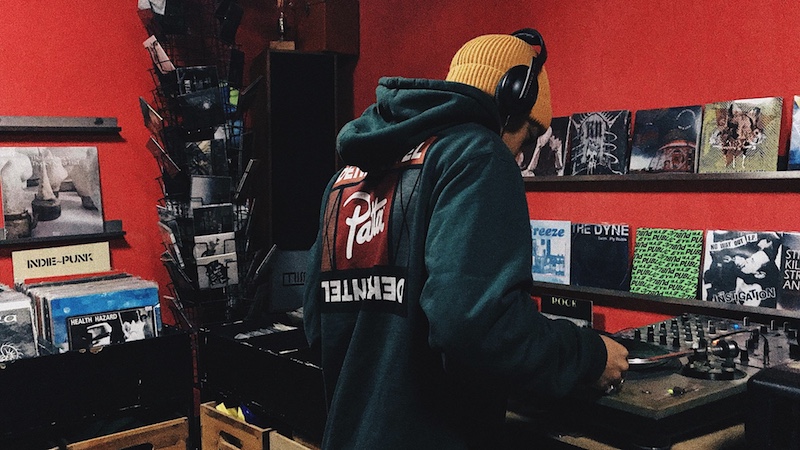 Yes, my collection gained some substantial volume throughout the years, but truth be told I'm not that geeky when it comes to records. Digging is occasional - whenever I'm in a town where there's a fresh record shop, I'll swing by and leave with a bag full of wax. However, I've never been one of those people spending four times the normal price of a record, getting it on the internet from speculators...this sounds very wrong to me because music has to be affordable and available for as many people as possible, and not in possession of an exclusive few. Furthermore, the whole ethos of being in a space entirely dedicated to records is missing and I'm someone who likes to experience things within their context. The fact that I don't pick records on a regular basis might be due to the absence of record shops in Morocco, but this situation will hopefully turn around, as I am currently working alongside a friend of mine (Mehdi Ayoub/ Tribe on Wax) who has taken the very brave initiative of opening a record shop in the heart of Casablanca, introducing a wide, cutting-edge selection of music amongst other music-focused activities. This space will undeniably turn into a real cultural hub.
You also toured China earlier this year. What was that experience like?
China was a true blessing for me. It was the first time I set foot on Asian ground. It felt so surreal at first! everything is happening on a bigger scale, time is precious and people are determined.
It was so inspiring to meet the masterminds behind the flourishing scene, and to witness how people are dealing with it while being totally disconnected from the rest of the world. The censorship is not as much of an obstacle as I thought it would be. My preconceptions vanished straight after dropping the first record during my first gig at (.TAG), a club in Chengdu. Chongqing was the next destination, I performed in a club called ECHOBAY, which is the only underground venue still running in town. 
The third appearance took place in Shanghai and was the goddamn highlight, all I remember is a screaming crowd and a packed dance floor. That is exactly the kind of moment every DJ would like to freeze for as long as possible.  
When are we going to see your record label Astrofever kick off and what do you have in store for the first release?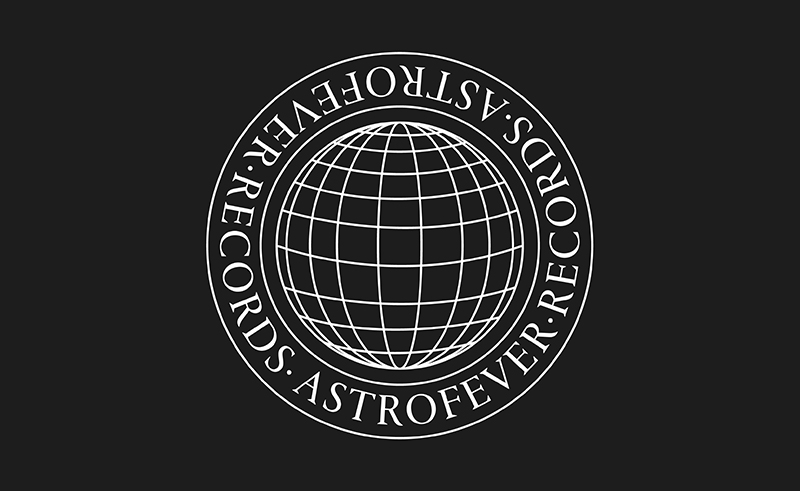 Astrofever is now operational. Debut release is on its way, scheduled for January 2019, the first EP - Feverish Cuts Vol. 1 - is produced by myself and consists of four songs I wrote between 2017-2018. Sound-wise it's a hybrid of everything, and it's definitely not a dance-floor oriented record, which is exactly what I'm trying to achieve, simply because this club/functional mentality is just too boring for me! To some extent thats just something anyone can do. The challenge was to come up with something that sounds different, not a clone of what has already been made and is being overused nowadays. The format is limited to a 12", now available for pre-order.
Do you have any more releases already lined up?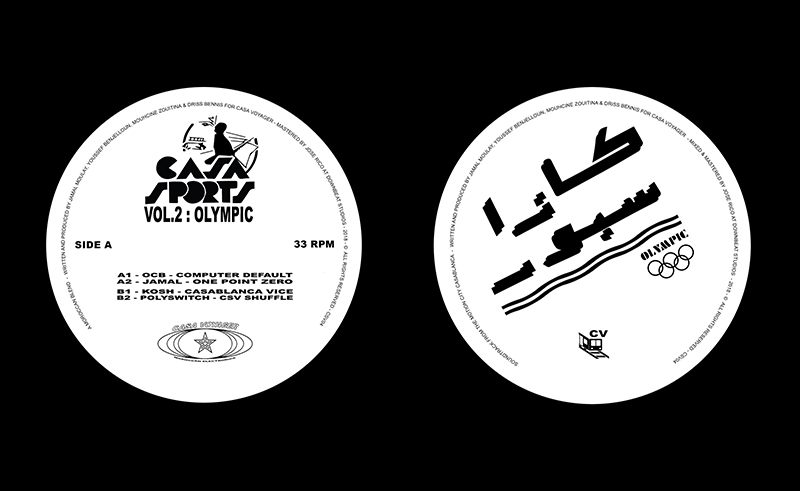 I have a couple of projects scheduled for 2019, and a fresh record now available! it's the latest 12" that marks the fourth release from Casa Voyager, a Moroccan Record label established by one of the most talented local activists, Driss Bennis.
How did you manage to land a B2B set with Henry Wu from Kamaal Williams at Oasis Festival this year, and what was it like?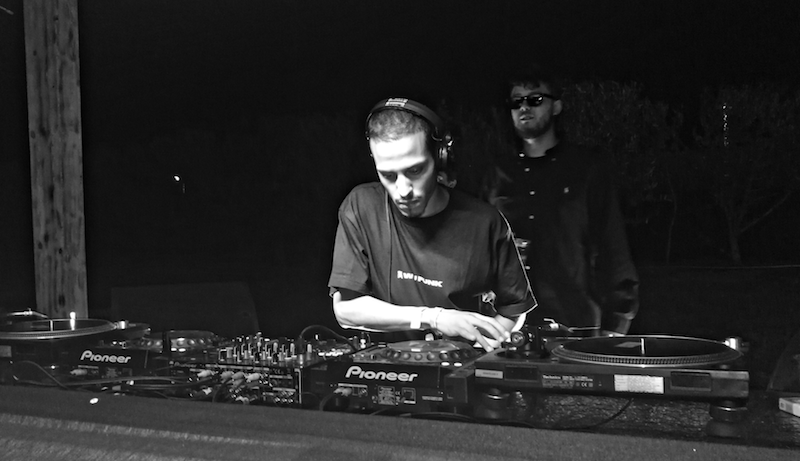 Oasis Festival was responsible for making that happen. As someone who genuinely appreciates Henry's music, I've always wanted to collaborate on something since I discovered his music a couple of years ago. We first met in 2016 during the first edition of Atlas Electronic Festival in Marrakech which I also took part in. He was invited to perform alongside K15 and appeared as WU15. 
Earlier this year I was given the opportunity to invite an artist of my choice to the Festival for a B2B, and I quickly reached out to Henry with the idea and the B2B it turned out to be a memorable performance. Such a great moment to witness, the set turned out to be one big one harmonious assembly.
How do you occupy your time when you're not doing anything music related to inspire yourself musically?
I exercise whenever I can to dump off all the bad energy that can affect you when you live in such a chaotic city. Inspiration to me could descend from anything, and can be everywhere. Traveling can also be a rejuvenating activity.
What do you want to achieve in terms of developing the Moroccan electronic music scene?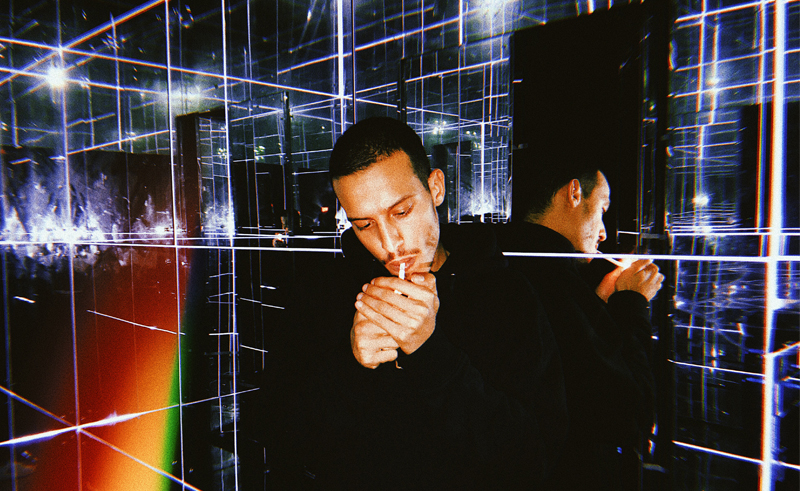 I believe big things can occur if we get more focused and disciplined. I'm working hard to represent my city brilliantly wherever I go. Help and develop the genuine talents is what I want to achieve through my own imprint. At the present time, there is enough room for everyone, but some tend to forget the core of it all, which is the art, the music and the culture, and that we have to spread it accurately; they find themselves dragged into the politics, which weakens the drive and creates even more obstacles. 
I would like to tell the newcomers to avoid rubbing salt on the wound; the divide and conquer mentality doesn't lead anywhere. Instead you can show some respect to the ones who laid the blueprint and try to conserve a healthy ground so we can all move forward and grow as one unit. 
On the other hand, I think that we shouldn't be dazzled or blinded by what's happening abroad. For instance, booking artists who have been playing five shows in a row and have them attend your event exhausted won't develop the scene, that's just wasted money. And it's even worse if you're doing it just for the social media craze. Instead, you can support your locals, invest in proper structures and contribute to the establishment of a solid eco-system so we can all break through and place our country on the world map as a vivid destination for music and subculture.
These are the values I would like to project onto the scene.