Reading like a script for some kind of coming-of-age film about a young Scottish boy trying to chase his dreams in music, Hector Barbour's journey to becoming Denis Sulta started when he landed his first ever job at legendary Glasgow record shop, Rubadub. It was there that he first started dabbling in production and DJing, as he began to form his own take on the kind of dance music that he'd grown to be fascinated with.
Fast forward a couple of decades or so and Sulta is sitting at the top of the mountain, riding the wave of being named DJ Mag's Best DJ in 2018 and being nominated for the same award in 2019.
In the run-up to my interview with DJ/producer, I'd heard a lot of different things from different people and you can make out what you will of his flamboyant, larger-than-life on-stage persona. One thing I knew for sure was that there was a huge buzz around his arrival in Egypt (and rightly so) to headline pals., a new, debuting event series.
Going in with a blank slate and no expectations, however, definitely lent itself to one of the most down to earth interviews I'd conducted in a long time. Rather than the 'superstar DJ diva' some might expect, I was met by a truly humble and grounded performer, who introduced himself by his real name and seemed to be bursting with excitement for his first proper live performance in a very long time.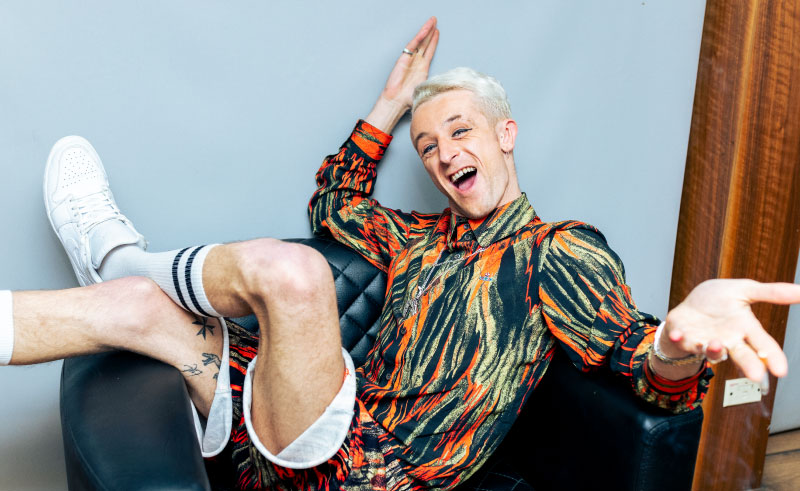 Over a brief, 30-minute interview and a couple drinks, Sulta showed no hesitation getting real, detailing in intimate detail the challenges of COVID-19 lockdown with an honesty and openness rarely seen from touring artists of his calibre. From the magic of setting up a new studio and forthcoming collaborations, to the shifting role of performers in a post-COVID music landscape, and confronting periods of darkness during isolation, Sulta seemed totally at ease going in-depth on his goings-on over the past couple months.
So how are you doing amidst the Coronavirus and lockdown?
This year's been really difficult, I won't lie. I'm sure that a lot of other people are feeling the same way. At the start of it I really struggled to find even a wee bit of balance. Going from a big, really heavy touring schedule to more or less nothing was one of the biggest challenges for me. When the shows and the parties stopped, I was lost.
I plateaued into depression and denial, which has since been dealt with, and right now I feel so hopeful and so excited for the future - and what better place to be hopeful and excited than in Egypt! You guys are so warm, friendly and fun. I'm feeling pretty full of life, to be honest. I think that there's some exciting things coming. 
It seems like the only two places in the world that are still like partying are Egypt and Tulum, and all the Instagram influencers went to Tulum. 
I know - but I'll tell you something, here's where the real people are, you know? Cairo is a real city.
In what sense?
You guys are young and seem passionate in what you do. The guys at pals. told me the concept last night, and that's real. That's real artists, that's real passion. That for me is something I really miss on my travels, meeting new people who do real shit. There's a real community vibe here, it's lovely.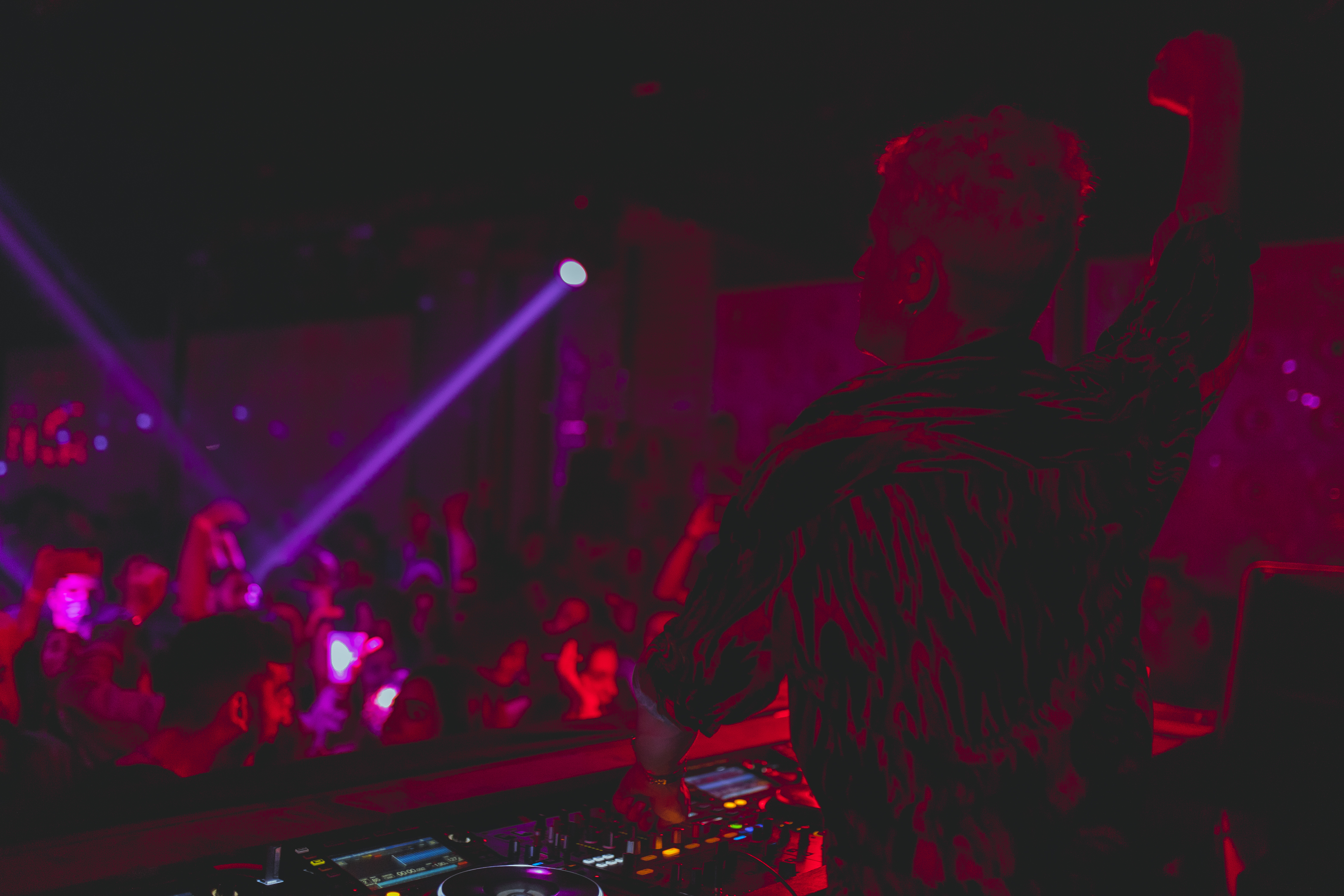 How has travelling changed for you over this past period?
In the UK, people are really struggling. So for me to get on that flight yesterday and to come here and to see how relaxed it was, it did wonders for my self confidence and I'm so glad I'm here because honestly, I've got such a fantastic vibe for tonight.
It's so great to see you guys finding your feet, so to speak. When a scene is this pure and this new, it's exciting. The whole fucking lockdown has really put things into perspective. People are focusing on things that really matter, like family, real friends, kindness, you know? These are things that —  a lot of the time — aren't very prevalent in our industry, and so to come over and see you guys doing it here is so unbelievably inspiring. 
Has lockdown lent itself to more studio time for you?
One thing I always hear when I come back from tour is, "now you've got some time to make music." I'm like, "yeah..." but I wasn't fucking avoiding it. I make music all the time, I was a producer before I was a DJ. At the same time, the lockdown allowed me to really hone in on a lot of skills over the summer. I was practicing a lot of DJing in the house and taking all the skills and experience I gained when I was away and bringing it back into the studio. 
This year I've been working with a band called Prima. The singer is Eva Dylan, the guitarist is Mason Owens and the keyboard player — and kind of visionary —  is Ragsie, he's the man.  I also built a studio with a group called Matter of Fact. They're two guys from Liverpool, who I absolutely adore and are both fantastic producers. We thought about it for a while, and were like: "how can we do something that's going to really influence us as people and really inspire the next musical journey?"
We found that the only way to do that is to do it in a space that we created ourselves, so we built a studio. We put the concrete in the ground and made the whole place ourselves. It's been great,  we've been doing a lot this summer.
How is this space compared to your previous studio, bedroom or otherwise? Building it up the way you want, what does that look like?
A lot of my music that I made when I was on tour was literally me sitting on the floor, headphones on. That was like my safe place… I always find the floor to be really safe. 
I mean it's grounding, no pun intended...
[Laughs] The sense of humor you guys have is so similar to me! I also worked in a studio this summer that was basically like a glorified living room. I was living there as well as working and there was a lot of footfall, so it wasn't the most inspirational place to be. It was inspiring for a lot of other reasons, and I got to see the real Liverpool people. My time there was really, really inspiring, and I would never change it for the world. However, now we have a space that we can control. We have a space that is quiet, safe and essentially how I felt when I was producing on the floor. 
It's like the space to make mistakes, a place to take risks, a place to be yourself, which is essentially what I take into my performances when I play, because all I ever really want is for people to feel safe and for them to feel that they can express who they are. 
Those are the best environments: when you've got everyone in the room, set up at their different stations or instruments, feeding off each other's energies.
Totally and I actually put together two big remixes this summer:  one was for Disclosure and Kelis, the other one was with this guy called Joseph, another Glaswegian boy. He and I worked on that together, and it's one of the best records I've made, I'm really, really proud of it. It's been great to reaffirm my ability in the studio and I've found that it all comes down to finding a little moment with someone you trust…
I had a moment with Mason Owens, who's going to be one of the most exciting artists to come out of Liverpool. We were just recording and having this writing session, and he brought out this song that was very, very close to his heart. We played through it a couple times and it was kind of getting there, but as I was recording it on my Mac, something went wrong, and it wasn't until that slight moment of jeopardy passed that him and I sat down together, saw eye-to-eye and really trusted each other. I said: "Mason, do it from the start to the end in one go, and that's going to be the take."
And then in one go, he picked his guitar and literally closed his eyes and I swear to God, the feeling I got at that moment was like, "this is what it's all about." It was a beautiful moment, and that's kind of what I really look for in any artist, the ability to feel open to being looked after.
Still, performing offers its own energy and inspiration. Does coming to Egypt mean that your touring schedule is ramping up again?
I think the next show that I've got booked is in April in Dubai, so that'll be good fun. It's with the guys from Fly, from Edinburgh. Tom Ketley is an absolute star, a fire musician who's been going from strength to strength. I will always back those guys.
In the UK right now everybody's still fucked. There's not going to be much movement on a club scene. There are socially-distanced things, and they're fun. People are doing anything to go out and have fun, it's actually insane. They're looking for any excuse to be outside, any excuse to be with people they love, any excuse to be smiling and dancing together. I think it's a really big benefit, because now people are seeing past all the other petty shit, or their petty problems. Tragedy and adversity bring people together in a strange way. It's an unfortunate reality, but it's the truth.
I can see stuff happening by the summer and I have a lot of hope and a lot of energy. I'll be there, just tell me where to be and I'll be there!
If things do indeed loosen up and become safer by then, what do you think music, or the arts in general, will be like?
I think that 2021 is going to be the Summer of Love, I'm telling you. I have a feeling something's gonna happen, and it's going to be like the 70s again! People are going to be giving it the free love, giving it their all.
For a while I thought, will we ever dance again? Will people love this after lockdown? Is my relevance going to just disappear? But just being in the UK and not running away to Tulum is really the right decision for me, because it's made me feel like I'm part of something.
Do you see the role of the DJ or the music performer shifting in this next period?
That's an interesting question. I've always felt the role of the performer is to recognise the people in the room, to recognise the space, to adapt and to also of course put on a good show. 
However, it isn't about me. You forget just how hard all these other guys work. Getting over your ego is something that my mum helped me do. She once said to me, "Hector, think about all the people that have got a babysitter, think of all the people that saved up for tickets, think of all the people that are working behind the bar, the door staff, everybody - all these people have all worked on this." 
So, realistically, the role of the performer I think will never really necessarily change, but it will definitely evolve. I think reining things back in again is the best way to go forward. It's like in wrestling, when you come back against the ropes, you have to push yourself against them to bounce back off again. You can't push yourself back off the ropes unless you've got your back against them.
You're touching some really important points. There's going to be this bounce back, a rebirth and there's gonna be a lot of new people coming up. There's going to be a very important transitionary period between what's now and what's coming… I can't say what's coming, but it's definitely gonna be different.
I love this, that's the fucking attitude, man. Who knows what's coming? But if we're all together, then we can fucking handle anything, right The uncertainty is the only guarantee in life. The only thing that you can guarantee is that you don't know what's coming, because realistically, the minute that you realise that you're never truly in control, that is bliss. That's happiness. You can never live a life thinking that you can control everything, you know? 
I got that quote from Jurassic World! I was sitting there watching it after a big weekend like whoa, that's the most profound shit I ever heard in my entire life!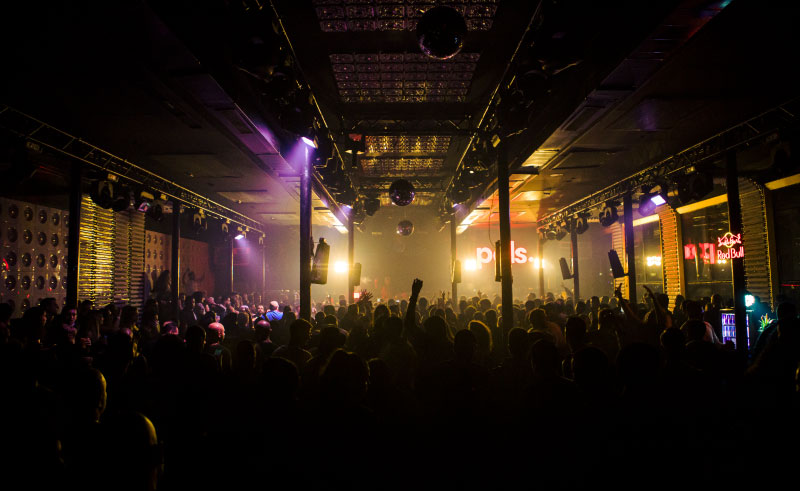 Alright, I know you have to get ready for your set - how are you feeling about it? By the way, don't be afraid to push an Egyptian crowd - they can take it.
Amazing, amazing. That sound's good to me! You know, it's quite easy to feel neglected when you're a smaller community of up-and-coming artists, when you know that there's a whole world of music going on abroad without you. But fucking hell man, I've been around the world three times and sold it out twice, and I tell you something, I've never seen shit like this. The smiles on you guys' faces are amazing. Keep at it, because what you have here is an honour to be a part of.
I can't wait to get back to Egypt in the summer, I love it here. I get the vibe, and I love it.
Photo Credits: CairoZoom / Omar Bahr