In 2016, Atlas Electronic festival made its debut on the fairly juvenile Moroccan festival circuit at Marrakech's Villa Janna. From the very first edition, Atlas has managed to stand out from its counterparts by incorporating several dimensions to its experience. From showcasing Gnawa and African music on its lineup and hosting on-site art exhibitions, to holding photography, cooking classes and cycling tours, it established itself as much more than just a plain music festival.

 
Another area where Atlas Festival completely stands out is their approach to creating a more inclusive festival for both performers and attendees. In other words, their heightened sense of social responsibility. Over the years they maintained a 50-50 attendance ratio in their crowd, carefully balancing the number of visitors from overseas with local festival attendees. As the festival returns this August, they'll be taking an extra step to ensure greater accessibility to a wider audience. It has been announced that in accordance with their new theme 'Moving Forward', travelers who are subject to Moroccan visa fees, will be fully reimbursed for their visa costs upon arrival.
I caught up with the festival's Dutch-born, Moroccan founder, Karim Mrabti, to find out how Atlas Electronic came to be, the continuously evolving vision behind it, and how they strive to achieve utmost inclusivity when it comes to attendees and performers.
Hi Karim, where are you right now and what are you up to?
I'm in Marrakech right now, working from Ridha's place. 
We're very busy with the festival, we just launched the new website, the first part of the program and the theme which you probably saw. And we're now basically just finalising the program and preparing for the upcoming period of reaching out to the world and our friends for 2019.
Before Atlas, where were you and what were you doing?
I was promoting events in Rotterdam where I was born and living. They were much smaller-scale events, club events focused mostly on electronic and underground music.
So how did you first get the idea to start a festival in Morocco?
While I was promoting parties in Holland, I was always thinking, "ok, I want to do something else, something different, something that people will remember." And the idea just popped up when I saw that there was a scene growing in Morocco, there were events happening, there were club events, there was a festival announced. And that's when I saw that "ok, it's now possible in Morocco to do the same thing I'm doing in Holland." Then I started researching it and made the decision to be a part of this movement.
And around what time was that?
That was 2015. That was when the idea was created.
How long was the period between getting the idea and the first edition of Atlas Electronic?
10 months, it was too short [laughs].
Obviously Atlas is much more than just a music festival. Over the years you've provided workshops and other experiences. So how important was it for you guys to not make music the main focus but everything else instead?
It's very important because we're doing a festival in Morocco, and at the same time we see and feel the responsibility that we have, and the positive impact that we can have. So that's why we take this opportunity to bring like-minded people together not only to have a great time, but also to have a positive impact. That's why we implemented talks, workshops and incorporated an art element, because we don't want to be there only for musicians, but also for other forms of art that don't necessarily have a platform here in Morocco, or art from abroad that can inspire people from Morocco or visitors in any way. So that was the reason that we chose to go in a more multidisciplinary direction and to create a more meaningful program.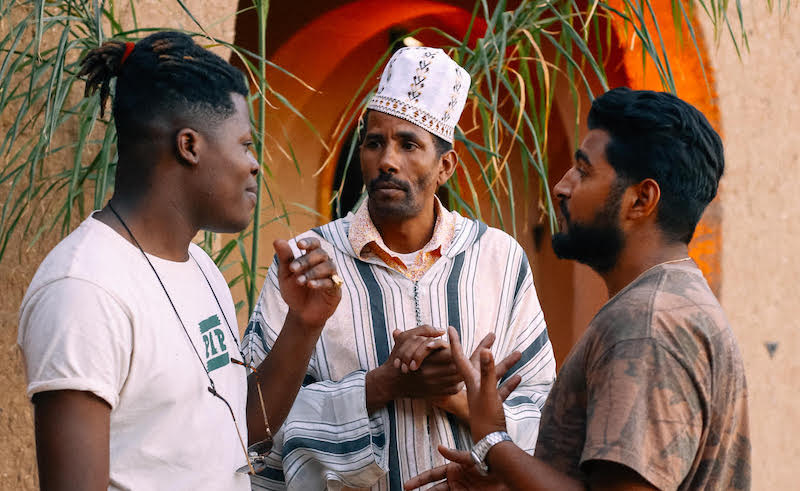 Philou Louzlo (left), Groupe Bana leader (center) and Karim Mrabti (right).
One of the main draws to Atlas Electronic is Amsterdam's Red Light Radio stage. Tell us how this partnership start?
When I travelled to Morocco to look for locations for the festival, I found Villa Janna where we hold the festival today. I took pictures and videos, went back to Holland, contacted everybody in my network that it could be interesting for. Through one of the team members, we approached Red Light Radio and told them, "We're gonna do a festival in Morocco, would you be interested in hosting a stage?" They were immediately very enthusiastic, Hugo van Heijningen and his team. We created a partnership and every year they're very happy with the way it works out. It's something unique for them, it's something unique for us. So we were very happy with being able to show the rest of world what we're doing here, which is an important element for a festival that has a maximum capacity of 2,000 people per day.

 
So the Red Light Radio stage is happening this year?
We're definitely going to have a partnership with Red Light Radio, but maybe not on that stage or maybe not all three days. This is because we have a confirmed partnership with Boiler Room for this upcoming edition. We also talked with Red Light Radio and they want to have more a meaningful partnership, maybe a different partnership, maybe a podcast or a workshop or do something with the local community with them. But they're very open to any kind of involvement, so maybe we're not necessarily going to do the stage, but they'll definitely be a part of the festival.
That's great news. Any details you can share on this Boiler Room collaboration?
What I can tell you is that Boiler Room will stream from the festival on multiple days. Last year we had Debora Ipekel on our lineup, who also works at Boiler Room and she was very enthusiastic about the festival. We got an email from Boiler Room saying "let's see if we can partner up next year," and now everything is confirmed. We're very happy with this collaboration because it will give an opportunity for local artists to be introduced to a broader audience. That really falls in line with what we want to do with the festival - give a platform to the local, and traditional music acts.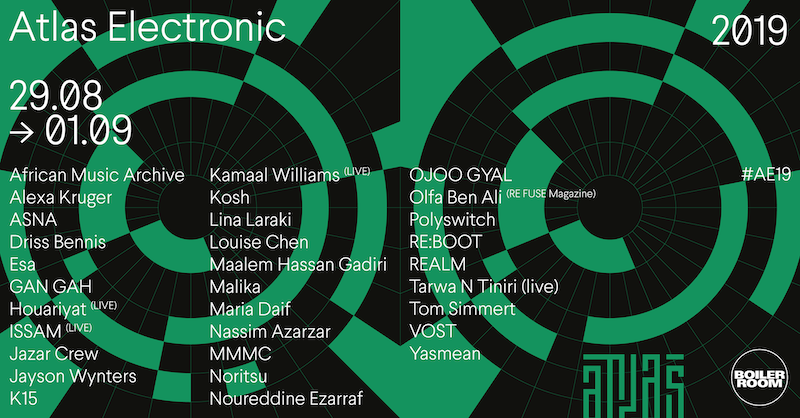 Another interesting aspect of the festival is that you maintain a 50-50 local and international attendee ratio?
Both the local crowd and international crowd are very important to us, because one of the main objectives of the festival is for people to connect and feel welcome. If it would've been mainly foreigners, it wouldn't work. If we were a festival that was mainly local, it would maybe work vibe wise. But part of the idea is that we also want locals to connect with like minded people from the rest of the world and see what comes out of that. So for us, having a 50-50 ratio sounds quite logical. We don't want to be a festival that comes and goes and is just like any other vacation destination, the festival is for the local community and we kind of want to protect that.
You have this theme for this year's edition, 'Moving Forward', and a big element of this theme is the fact you'll be reimbursing visa costs for travellers who require Moroccan visas. How did you get this idea and what kind of impact are you hoping this decision will have?
We were mainly focused on artists at first and how hard it is for artists from certain areas to come to Morocco. Then at a certain point we realised that it's not only the artists who face this difficulty, but also visitors from Africa and the Middle East..

 
We realised that we don't have a good representation of these groups in our festival, and decided we'd like to have full representation of these regions, more of them attending. And if you think about the fact that people from Europe can come to Morocco without any hassle and people from Africa cannot come to a festival like our's, where we promote African music, music from the Middle East and from the Maghreb region, that's a bit strange. So this decision also became a very obvious one.
Do you think hopefully more festival will try to follow suit with what you guys are doing?
We tried researching in attempt to find any festivals that had done this before, and we couldn't find anything online. We asked around and it hasn't been done before, or maybe it has, which still leaves us very happy to be connected with the festivals that are doing this. We're a small festival and this is a way for us to do our thing. If other festivals want to follow, that'll be great of course. I just want to say that it's definitely not a solution to the main problem, but it can create awareness and make it easier for others to attend.
Do you think perhaps other festivals in locations that require extensive travel permits and visas are morally obligated to make this move?
I don't know..I don't think so. It's a choice. I mean you can't compare all festivals with each other. It's an industry, we chose this theme, hence why we chose this move. If a festival doesn't speak out in the way we do, you can't expect them to do something like this. But yeah, if it inspires others, it'll definitely be great. If it's a solution for festivals to bring in a more diverse crowd, that's also great. If there are festivals that value that and they're like "listen we want as diverse of a crowd as possible," this could be a solution, a temporary one nonetheless.
Anything else you'd like to share about the upcoming edition?
Yeah, we're going to have more program releases that I can't speak of right now. What I can tell you is that we'll have a special discount this year for Moroccan attendees, where they can buy one ticket and get one free. This will be limited but it's something new that's we're introducing just to get more locals to the festival and accommodate the income of our local crowd.
What I can also say is that we'll have several artists curate parts of our program, one of them is Kamaal Williams who'll curate our main stage for one night.
Any collaborations with the Moroccan Casa Voyager crew perhaps since they're making tremendous waves abroad?
Casa Voyager will definitely be on our lineup, that's for sure. Two member of their crew were a part of the first edition actually.
Can you tell us about any of the panels, workshops or activities that'll be taking place on ground at the festival?
We have a first-time collaboration with African Music Archive from Germany and RE:BOOT, a DJ/visual collective from Germany. They will come over and do a workshop using music that they bring from the AMA and also a talk by one of archive's specialists.

 
We don't have the full program of the talks yet, as we're still discussions with the speakers and the artists, so it's something that will be released later. What I can say is that it won't be only talks focused on the festival's theme, it will be talks about the music and arts scene in the Middle East, it'll be talks about history, about the future of Africa with a musical focus. All of this information will be released in phases.