Founded in 2015, Maii Waleed's electro pop outfit - Ritza (sea urchin) may very well be the singer's least familiar project when compared to her solo work or to projects like Maii and Zeid which managed to create an impact not only in her native Egypt, but around the Arab world. Ritza's presence on the musical circuit was never a solid or consistent one, they were elusive even when fully active. With only one previously released single to their name - "Shuk", and limited appearances around Cairo venues, pop-up parties and festivals like Zigzag, CJC, Outs:de, and the prematurely obsolete Oshtoora respectively, Ritza has basically been under construction for the past four years.
On May 30th however, Ritza released their first full EP since their formation. The four-track release combines new and old material that they've previously performed but never issued like tracks "Shoofi" and "Tafha" along with "Ard Fadya" and their rendition of Nagat AlSaghira's classic "Bahlam Maak". The EP capitalizes on the band's spaced out, dreamy and uplifting sound that doesn't shy away from bolstering punchy kicks, fat synths or distorted soundscapes.
"Shoofi", kicks off the EP to an ethereal start by slowly establishing the song's mood using nothing but Maii's subdued vocals layered over a fragmented Rhodes piano. The eponymous track has a very emotional and cathartic feel to it without losing a bounce to its step, and a more organic, less electronic approach in comparison to their first single "Shuk".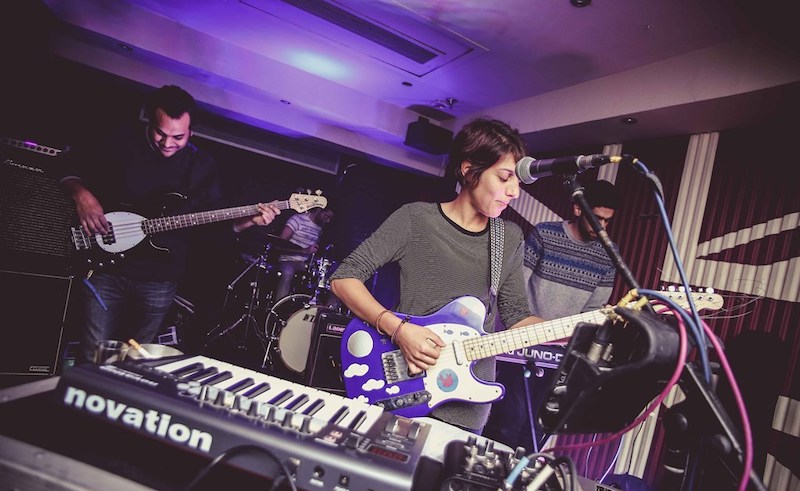 Ritza live at The Tap Maadi
Next up is Ritza's rendition of Nagat's "Bahlam Maak", which completely takes apart the original both lyrically and musically. Maii takes only bits and pieces of the original lyrics, combining them with pacy percussion and chin-bouncing bass groove. The song then slowly transitions into an extended outro that intertwines grungy synths with the lead singer's distanced voice hypnotically repeating "di rehla" or "it's a trip" until it fades out entirely.
"Ard Fadya" carries in the same vein of the two previous tracks with the exception of brandishing notably more drive, and subtle synth solos giving it a very vintage, '80s feel that's hard to dismiss. The final track "Tafha" stands out for its car chase-like feel and tempo, making it an irresistibly dance-y tune thanks to its repetitive melodies, lyrics and overall astonishing musicianship.
Ultimately, the "Shoofi" EP isn't just a long-awaited release of half old, half new material but rather a testament to the fact that the outfit's elusiveness doesn't come in vain. The EP is impeccably produced and thought out with a solidly original aesthetic that doesn't stray far from mass appeal. So there it is, Ritza are undoubtedly one of the best collectives in Egypt and we can't wait to see what they'll offer next, not that it'll be anytime soon..
Follow Ritza on Facebook, Soundcloud and Spotify.