Born out of the DIY spirit of a bedroom producer and the sounds of an insomniac in a post-revolutionary Cairo, PanSTARRS came to life as guitarist, singer and producer Youssef Abouzeid's solo project in February 2013 with the release of his first EP - Nothingness, a contemplative shoe-gaze record shrouded with haze and influences of Tame Impala, showcasing a young Abouzeid sonically experimenting with a project still in its musical inception. 
In October of the same year, Abouzeid teamed up with VENT brethrens Ahmed Nader and ZULI on the project's second record, Yestoday, producing a more alternative rock sound that's filled with deconstructed dance rhythms and brash lyricism, where songs sung in colloquial Arabic started to appear, automatically setting PanSTARRS as a unique act. Between the months-apart releases of Nothingness and Yestoday, PanSTARRS exhibited a stark and abrupt musical growth, an originality in sound and a disposition to delve into uncharted musical territories.
In 2015 they released Ghaby Ghaby Ghaby which saw the outfit draw on more electronic influences, leaving a lasting impression thanks to its evolved sound and aesthetic. In between PanSTARRS' releases, Abouzeid ventured into several projects such as KELAB, El Manzouma, Schlomo Casio, ana w dada, YK  and as of latest his surrealist TTM067 mix and his HIZZ signed debut album Captain Solo, showcasing his immeasurable appetite to explore the limits and boundaries of his music, an appetite that would only feed back into his eldest project's eponymous new LP.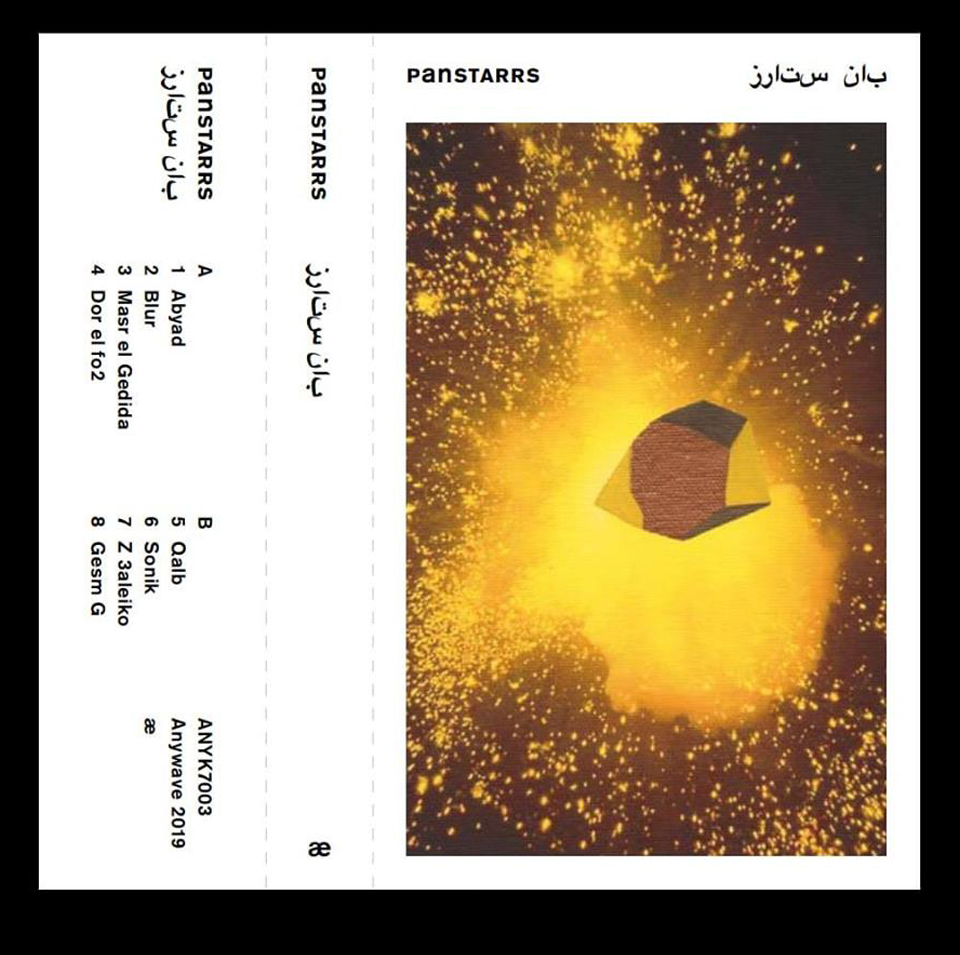 Released under the Paris-based label Anywave in July 2019, PanSTARRS' eponymous new 8-track LP sounds like a full fledged grunge record straight out of the '90s. Collaborating with bassist Nader Abozeid and drummer Karim Ghazoli, Youssef diverted from the multi directional experimentation of the project's previous work and focused the sound to a more cohesive, referential form of grunge rock.
With influences like Nirvana plastered all over the album, PanSTARRS managed to capture the pensive air of '90s grunge, a genre that's characterized by a willingness to enter your state of self-dissonance and disharmony, with its imperfection and untimely mannerism, and exporting it back into the music, its a willingness to expose a naked fragility, to inform a more moody, raw expression of rock. Reflecting one's inner neurosis, PanSTARRS is discordant, dirty and unapologetic - these are all attributes mirrored by Abouzeid's isolated, detached singing, Ghazoly's dry vulgar drums, and Nader's thumping bass. Interspersing, these elements are sonically sculpted into the record's harsh unrestrained mix, resulting in a soundscape that is reminiscent of the '90s genre.
Unfolding like a stream of consciousness, the album is filled with lyrics that equally speak of introspective metaphysical dilemmas and the mundane. In the album's opening track - 'Abyad Weswed', Abouzeid sings both of a co-existenstial crisis between black and white, and a cat. While in 'Sonic' Abouzeid speaks of a girl called Mariam who's in fright mode as she walks the streets, awaiting physical and sexual assault. At points, the album's lyricism is painted with abstract passages that are collaged together, giving it a surrealist feel.
Highlights from the album include 'Blur', a song that kicks off with a surf rock sound coupled with lazy guitar strokes by Abouzeid who lethargically sings disorganized phrases that echo in and out the verse. Carrying a surprise, the song explodes into a full-on grunge chorus with Youssef chanting a catchy wooh halfway in. In 'Sonic' and 'Z 3aleko', PanSTARRS intently go all the way, where in 'Sonic' the song's musical hook is composed of Ghazoly's manic drum shuffling, and Nader's bass overdrive and an eclectic hyper-fast guitar lick by Abouzeid.
In 'Z 3aleko', the instrumental track is untamed experimental rock chaos, with violent guitar shrieks that evolve and grow, and powerful bass and drum syncopation inflicting delirium and disorientation — It's these moments in PanSTARRS where you can appreciate the project's musical richness. 
The album exits with 'Gesm Gedeed', a song that describes an odd occurrence of body swapping, where Abouzeid experiences life with a completely new body and in turn, completely new senses. Closing the album on a quiet note, PanSTARRS sweeps you out of the jarring sonic experience of the record with the neo-romanticism of a shoe-gaze track, juxtaposed with lifelessly sung lyrics that speak of body exchange, re-affirming the sonic and psychological discordance behind the record, where the emotional narrative is often deconstructed to prime the songs with a new, deeply intertwined, and at times troubling meaning. Applying such transpositions to their lyrics and music, PanSTARRS managed to put out an Arabic record that delivers a modern, fresh and contemporary interpretation of alternative rock and grunge.
Follow PanSTARRS on Facebook and Soundcloud.