Hüma Utku, aka R.A.N. (Roads At Night) has had a productive and adventurous few years, having spent the past year traveling Europe and the Middle East, playing live, and even doing a stint in Cairo, participating in a residency at Yara Mekawei's Submarine Studio.
Utku's most recent career step has seen her joining Berlin-based experimental electronic label, Karlrecords. Her debut release on KARL is a brand-new EP, titled Şeb-i Yelda, a phrase originally translated from Persian, meaning "the longest night." In this release, out today on 12" vinyl and digital download, Utku was inspired by Ottoman era poet, Bosnian Sabit Efendi, channeling the ethos of his work into her own creation - a tremendously dark four tracks that emit "anger, anxiety, grief - but also empowerment and hope." The emotions that this album exudes are not just the angsty musings of Utku, however, but actually her transmitting her personal reflections of the "long lasting turmoil surrounding the geography of my homeland (Eurasia, Middle East) and my experience as both an individual who comes from a currently unstable country in this certain geography AND as someone who has been observing what has been happening in / inflicted upon the neighboring countries for more than two decades," a situation that she likens to a "long, long night, and no one knows when it will come to an end. Yet it will for sure come to an end."
It's hard to get much darker and still stay as musically beautiful as Şeb-i Yelda. Utku infuses the "rapid political changes, invasions based on false claims, wars, humanitarian crisis, political unrest in the region" that she has witnessed into the music. She mixes dirge-like electronic beats with distorted, growling frequencies to create a grim wall of black ambience. The first track, "Şeb-i Yelda", wastes no time in beginning the story that the EP takes us through, pitching us into the dismal depths of what feels like ultimate despair, and doesn't let up for almost nine minutes. Fractured, suffering human voices, mixed with electronic screeches, give way to a cascading rhythm, before dissolving into unrelenting static. It feels like being tumbled in an ocean of ink and blood, in the not so distant dystopic future, capturing perfectly the implacable violence that has engulfed parts of the Middle East. She has only performed this song a handful of times, the first being at a party at El-Warsha in Cairo. 
The second track, "Ay" (Moon), is less violently overwhelming, and more placidly melancholy, like it's namesake. Musically, it is simple: piano, which she played at a studio in Berlin, and a subdued drone, pretty much identical to the sound one experiences from inside an airplane. 
"Sabah" (The Morning) is the standout track. Crackling noise lays the ground for the echoing, somber notes of the bowed yayli tambur, leading into a heaving beat that grows in intensity before resolving back into the yayli tambur, which she recorded in İzmir during a studio session with master musician Ercüment Gümüşel, whom she instructed to improvise in the saba maqam. The instrument, with its immensely dark and enshrouding beauty, is one of Utku's favorites, and she sampled and processed parts of the hour long set she recorded for "Sabah."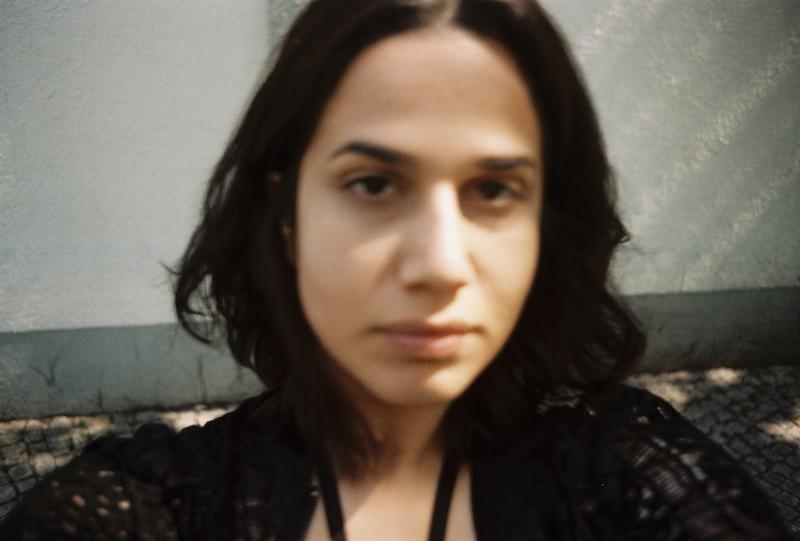 "Kul" (The Servant) leaves us in a haze of ambience; the calm after the storm, a long sigh of relief that never actually resolves. Equally as dark, with distorted human voices, it conveys perhaps a very particular kind of hopefulness, if not one mired in exhaustion. "'Kul' is about keeping hope alive and working tirelessly for the greater good in one's own way,"  says Utku, speaking the truth - the only way to maintain hope is to work through the despair, towards the dawn after the longest night.