The record label responsible for Maryam Saleh, Mourice Louca and Tamer Abu Ghazaleh's hit 'Teskar Tebki', off their acclaimed collaborative LP
Lekhfa
, is back with their latest album
Aghene Servicet
, a conceptual satire album outlining the rovings of one Lebanese microbus (servicet) driver as he roams the streets of Beirut, commuting different passengers while simultaneously striking conversations with them.
"The topics discussed in the album came from discrete research and listening on to conversations on 
Beirut's public transportation over a five year period." Mostakell writes in their press release. "For those who do not know, public transportation in the Arab world is one of the most accurate ways to capture the general political and social mood. Microbus drivers are open to all topics of life from security, political, religious, nationality and global affairs, where each driver has a different opinion on each subject matter. " Mostakell continues, further adding that these commutes extend beyond their reach as just means of transportation, becoming a 'salon' where conversations and spheres of dialogue regarding the public status quo are thrown back and forth between drivers and passengers.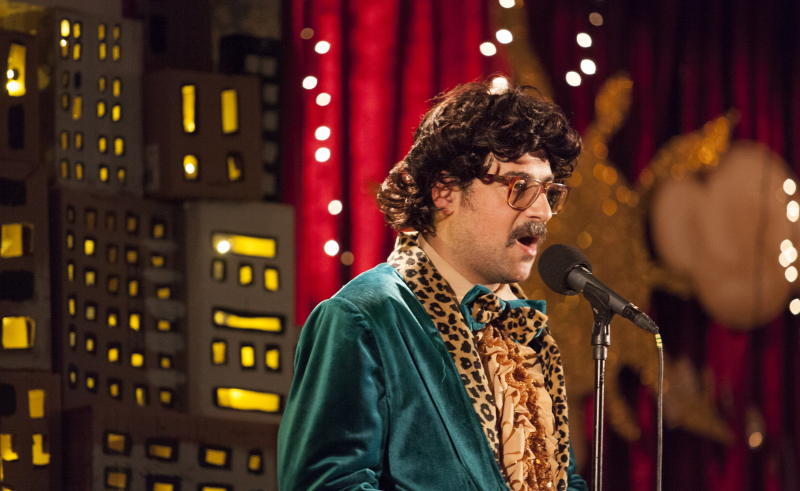 Tackling these sort of conversations through performance art and theatre is something Lebanese composer, director, screenwriter and songwriter Hisham Jaber is not a stranger to by any means. Founding one of Beirut's most prominent, active theaters Metro AlMadina in 2012, Jaber has constantly blurred the lines, mixing different mediums of witty political satire, comedy and elaborate musicals in a glorious, gripping mishmash. In a sense, Aghane Servicet is another extension of Jaber's work where his amusingly witty writings and compositions vibrantly came to life through the spectacular, unabashed performances of the artists featured on this record. 
In quirky, witty and equally erotic fashion,
Aghene Servicet's
lead video single 'Wazwaz ElMoto' stars Lebanese actress and Beirut's cabaret girl Yasmina Fayed, star of the acclaimed Metro Al Madina-produced cabaret show 'Hishik Bishik', center stage as she performs a sizzling, campy number in a night club. The song's lyrics revolve around Yasmina as she fantasizes about a Biker Boy, sardonically admiring the rather sleazy details that come with the craft; hair that's coiffed with coconut gel, an exhaust engine that drives her to the edge and the occasional habit or two of him catcalling girls and snatching their handbags.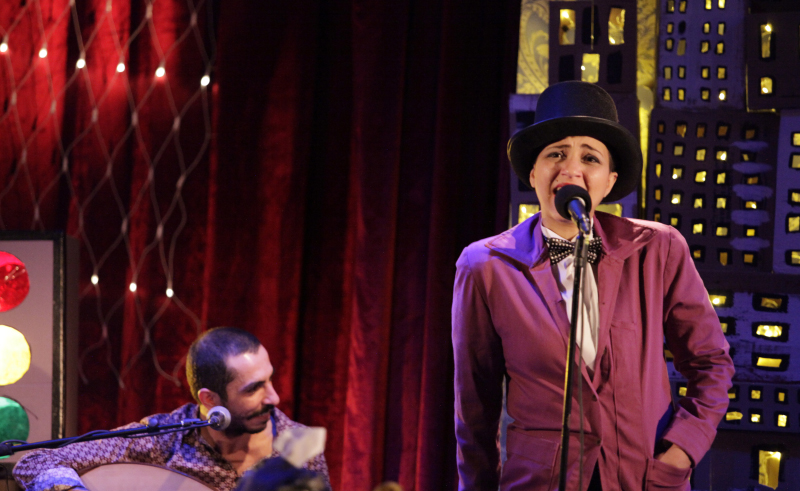 My love
Your love is a gas that's going to set us on fire
Your passion is a 1000 pounds in loose change
Your tenderness is all kushari and dukkah
Your love smells like Dettol
Your kiss is prime meat and omelet
And I... I suffer from cholesterol
Maryam Saleh sings on the unequivocally salty love song 'Ya Habibi (or Cholestrol)' that equally serves as the albums opening track - setting the tone for shameless absurdity that's about to ensue. The song features the Egyptian singer, obviously bitter, performing against seemingly joyous traditionalist folk instrumentation, creating a brash contrast that's hard to ignore.    
On 'Bibayte Fi Bsein (or Miaou), Roberto Kobrosli (Hisham Jaber's alterego) proceeds to vocalize cat meows as robust tango instrumentation kick off the song. 
In my house there's a cat
With a Muslim brother's beard
Kobrosli sings on the politically charged track of which its premise revolves around resembling the brotherhood to a devious, sly cat whose intentions are malicious and dishonest. Through divulging the cat's annoying habits which include scratching, pricking holes to see things shatter and garnering an overt liking to the Americans, Imaginary Roberto manages to highlight the actions of the politically tabooed brotherhood while delivering a dark. humorous number.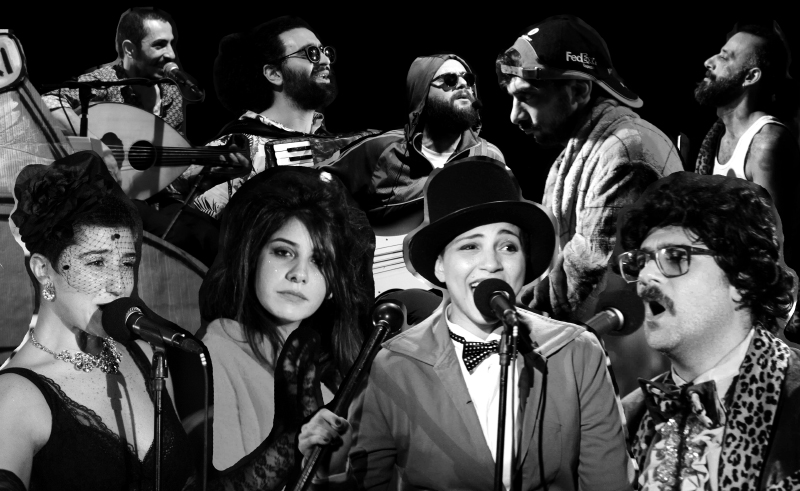 Similarly the rest of Aghene Servicet follows this black-comedy thread of abrupt, over the top narratives that deconstruct and reframe Beirut and the region's socio-political issues in a comically peculiar safe space. What perhaps sets this album unique is the witty and equally jarring songwriting of seasoned writer Hisham Jaber, packaged with rich, live, acoustic performances that layers the album and the notions it discusses with a tangible, pressing sense of reality and an undeniable presence.