Sara Barry (a.k.a Teen Idle) is an Egyptian-American singer/songwriter based between New Jersey and New York. Despite having put together hundreds of musical ideas and sketches over the years, Sara only began releasing music in the summer of 2018, and has steadily built up a catalogue of singles and EPs that pair her lush voice with a hazy, dream-pop tinged instrumentals. Recently, our contributing writer 200 Shams caught up with Teen Idle for a discussion on inspirations, influences, side hustles, and future plans. 
Hello Sara, tell us a bit about yourself; where are you from, and what do you do?
Thanks for including me, I've always wanted to be in an Egyptian magazine. 
I'm a 23-year-old Egyptian-American musician and writer who lives in New Jersey.Both of my parents are Egyptian, so for my entire life, I was surrounded by Egyptian cousins and traditions. I've visited Egypt a lot throughout my life and we have an apartment there. I really love the culture and feel closer to it every day. When I was younger, I only used to speak Arabic. I don't speak it as well now, but I understand everything people say in Egyptian Arabic. It's hard to understand Levantine dialect though, or Moroccan. 
After moving back home after college, I've basically been working on music all the time. I released my first EP this June, called "Insomniac Dreams", which I'm proud of.
Your song "The Haze" reminds me of early Beach House, and from listening to your music I assume they have a great influence on your work. Who would you say are your influences?  
Beach House is definitely one of my favorite bands and influenced my first EP, but I really listen to a huge variety of music. I like everything from new wave bands like Talking Heads, to Fleetwood Mac, to 60s rock. Lindsey Buckingham, the guitarist of Fleetwood Mac, is definitely my biggest influence guitar and production-wise. I have so many influences, so the music I make is just whatever I'm feeling at the time and which sound I want to explore. I would consider myself a rock artist who uses the structure of pop music in my songs. Each album explores something a little different sonically, but I want everything to still sound cohesive somehow. 
You sing, write, and play all the instruments yourself. Was that always the case, and do you produce, mix and master your own music as well? 
On my EP, I brought some friends into the studio to play bass, synth, and drums, but technically I can play those all myself. That album was also mixed and mastered by a professional. Ever since I recorded the EP, however, I have been recording everything at home and playing all the instruments, except drums, however I leave the mixing and mastering to an engineer who knows what they're doing. The mix is very important so I want it to sound great, even if I have to pay a little more.
Your lyrics come across as deeply personal, and deal with topics like sadness, regret, and heartbreak. Are your lyrics a reflection of your personal life? 
My lyrics are mostly personal. Even if the song isn't directly about me, it's about a person who influenced me or something I observed in my life that affected me, even if it's a YouTube video about the life of some actress from 50 years ago. I'm not someone who sits down and tries to write a song from the perspective of a fictional character, for example. It's hard for me to role-play in songwriting. The songs from the EP are very personal and dealt with close relationships in my life.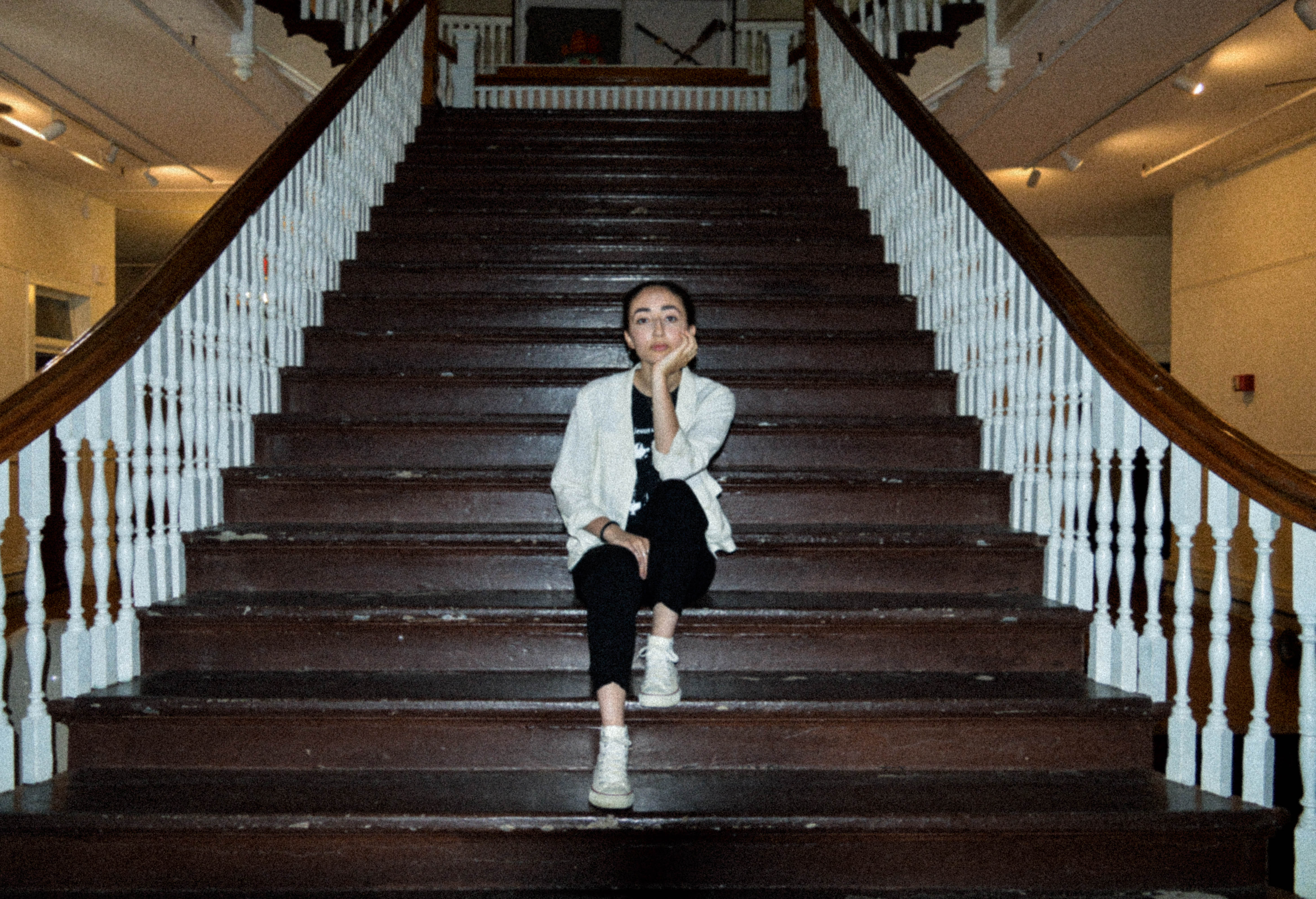 I think your songs "Sometimes" and "The Haze" are my favorites so far. Can you tell us a little bit about the ideas and technical process behind them?
"The Haze" is an interesting one. Someone mentioned that it's the most pop-oriented song off of the EP, which I can totally see now that I reflect back on it. That was a song written mostly in one sitting in the Fall of 2018, while I was sitting in my apartment in New York with a mini keyboard. The lyrics came together way quicker than I expected. That was one of four songs we recorded in the studio near my house, with my friend Max playing the synth/organ and my friend Danny playing drums and drum machine. It was produced by me, Max, and my friend Jon, who owns the studio. I'm proud of the production on that song, especially the bridge part that comes right before the second chorus, which was a last minute production addition I did.
"Sometimes" has a different story, because that was one of the two songs, along with "Memories", that I recorded by myself at home, except the drums which were done by my friend. After we recorded those four songs in the studio, a few months later I wrote these two songs that sounded like they needed to be on the EP. Just like "The Haze", the song deals with the idealization and longing for someone or something. Somehow the song is cohesive even though it was recorded in a totally different environment. To me, the guitar solo at the end of this song is one of the moments on the EP that I am the proudest of.
Do you listen to any Egyptian music, both classic and contemporary? 
I love a lot of Egyptian music, although I don't listen to it that often. I have an Arabic music playlist on Spotify, so sometimes I get really into the mood to listen to it. I of course love Umm Kulthum, who is my dad's favorite, as well as the classic corny pop stuff like Amr Diab. My dad showed me Omar Khorshid recently, who I thought was incredible and very unique for his time. Fairouz is definitely the Arabic artist I gravitate towards the most, but I would really like to discover some more Egyptian alternative pop or rock. It might be cool to include some Egyptian Arabic lyrics in my songs one day. And I'd love to play a show in Egypt and meet more Arab musicians. 
Your music screams 'dream pop', in a good way. Would you consider this genre your comfort zone, or are you open to exploring other sonic territory?
The "dream pop" label is interesting, because I do agree that my first album was definitely shoegaze and dream pop-inspired, but I think I tried to bring some experimental elements to it also. That was the sound that felt right to explore at the time because I went really deep into the classic shoegaze and dream pop albums at the time, and was pretty much only listening to that because it matches my mood. I think there are some songs on my EP though, like "In the Morning," which show which musical direction I'm moving towards for my next body of work. Everything I do with Teen Idle will really just be what feels natural at the time. But to me it will all be rock music that takes different forms. Teen Idle is never suddenly just switching to making jazz music. That might be a side project. 
It's clear that you're experimenting with vocal harmonies and more complex layering, is this something you plan on continuing in the future? 
I love harmonies! I think that may be due to listening to a lot of 60s music and Fleetwood Mac. I definitely plan to continue doing interesting things with harmonies in the future. I've been trying to learn a little bit more about nontraditional harmonies.  
Given that you're doing everything pretty much yourself, do you plan on continuing music full time or is it more of a side-hustle these days? 
I definitely take music very seriously. It's the thing I dedicate the most energy and time to in my life, so it's not a side hustle. That being said, I have plans to get a full-time job to pay the bills and stuff, so I'll probably have to write and record on the weekends at that point. But once I feel like I'm making enough money to sustain myself from my art, whenever that may happen, I plan to hopefully quit whatever job I have.  
It's been a pleasure talking to you Sara  
Thank you
Follow Teen Idle on
Soundcloud
,
Instagram
, and
Twitter