You'd have to be living under a rock to not have been swept along by the buzz around Berlin-based South Korean DJ and producer, Peggy Gou. It only takes one bar of her hit track 'It Makes You Forget (Itgehane)', released earlier this summer, for crowds to go berserk. The giraffe aficionado (yes, giraffes) doesn't only hold a charismatic presence behind the decks, but her impeccable track selections, silky smooth flow and  ability to steer any ,crowd into unexpected places continues to win her fans from all quarters.
We met with her on the bottom of Y-40, the world's deepest pool, following her set in the latest Desperados experiment, Deep House, made in collaboration with iconic party producer elrow —an epic party in the deepest pool in the world, reaching an impressive depth of 42 meters, epic laser light shows, to earth shaking sound systems, where we prodded and poked Peggy about her eclectic influences, her increasing fame and the hurdles of trying to stay true to her sound.
How did growing up in South Korea Influence your music?
I wouldn't say that Korea really influenced me, as I grew up listening to what every kid in Korea was listening to. But my brother was always that guy that listened to music that average kids don't listen to. He was listening to classical music when he was 12, and I learned piano at that time. I was eight. So, I guess that's what influenced me at the time. But I think I was a lot more influenced when I moved to London, which was at the very young age of 14.
'It Makes You Forget' is your most famous track and crowds always sing along - I even heard it in an H&M store in Egypt. But what do the lyrics really mean?
The lyrics are very hard to translate in English, and some words would hardly make sense in Korean. But what they're trying to say is that we're all the same and we all have something that we want to forget. It's quite cheesy, but the lyrics are very beautiful. This is how I see the world. I actually need to thank my best friend, now that the track became big.
It's even on the tracklist for FIFA 19 - how did that feel?
I don't know much about football, but I do know Cristiano Ronaldo, obviously, and that FIFA is the biggest football video game in the world. I saw the artist list on the game and was like, 'is my name really there with all these artists?' That's fucking amazing! Sometimes I can't really describe my feelings, so I just use the word 'wow'. 
For DJs, there's always a battle between giving the crowd or promoter what they want and staying true to yourself and maybe even trying new things. How do you tackle that balance and do you think you'll ever be at a point where a promoter trusts you to do your thing?
I still don't think I've reached that point yet, but I think it's very important to experiment. Playing a set with only four to the floor beats is quite easy - a lot of people can do that. Sometimes, I get pressured when playing at festivals and start thinking that I should do other stuff, but i wouldn't know it until I try. I think people who've heard my sets now know that I don't just play one genre. I need to keep it that way because, for example, I remember in the beginning when I was playing banging stuff, one of my mentors told me "you need to learn how to give up the kick." Now I'm experimenting more and every gig teaches me something. I think the best of artists are the ones doing 50% of their thing and 50% giving people what they want. My aim is to keep that 50-50 balance.
Away from music, what other arts inspire you?
I love going to galleries and exhibitions. One of the things that i miss the most in London is their galleries and museums because they have amazing exhibitions. Any kind of artist, photographer, illustrator, who create something from a different perspective inspire me. Maybe I don't always understand the art the way they want me to, but I think that's the beauty of it.
You played a memorable set at Sandbox, Egypt that occasionally leaned towards techno. Is there a darker sound that bubbling that was influenced by living in Berlin?
Yes 100%. I'm going to be very honest because I don't like to pretend "oh, I was always listening to good music since I was born." No, I used to listen to shitty music, I used to make a lot of mistakes by playing the wrong tracks at the wrong times and people we're like WTF? But through that I learned. Before I went to Berlin, I was more house. At first, I started to always go to Panorama Bar, and did not really go downstairs [Berghain], until I started 'getting it'. Living in Berlin meant more music, working at the record store and getting exposed to more genres, until I found myself dancing in Berghain. Berlin upgraded my taste.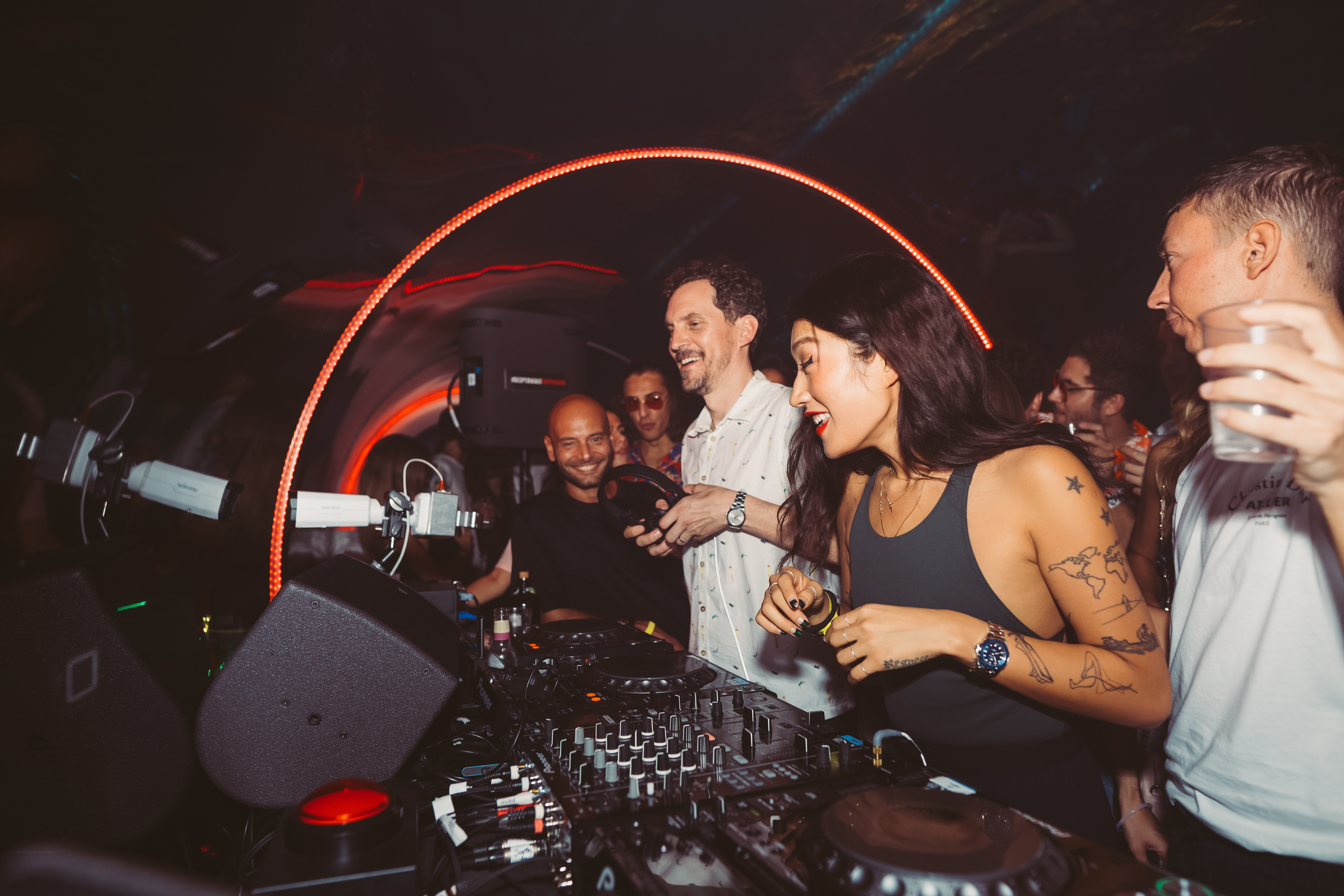 So, Desperados curated an interesting experiment by having DJs play underwater, which sort of says that there's no specific place to play music, no specific place to dance. Do you agree?
Playing underwater in the deepest dancefloor in the world was a very unique experience for me. You're right, anywhere can be a dancefloor. My house is a dancefloor. I'm always having parties. So, I like the motto — anywhere you go, can be a dancefloor if you use your imagination. I love that!
The first one before that, they did it on hot air balloons with Honey Dijon.
I heard about it! Why didn't you invite me to that one? I would've loved that! 
They also did one with Mount Kimbie on a train. If you were to create a new experience that Desperados would take, what next? 
First DJ in space would be pretty cool but can you dance there? 
Here's a tricky one - what do you prefer more, producing or DJing?
I like both, but I'm more of a DJ. You only like what you like when it is done. [With producing] sometimes it takes long, sometimes you don't like it, sometimes you think you killed it, but then two weeks later, you listen to it and think, what the fuck is this? DJing is more about connecting with people, and I'd rather be out there connecting with people than being on my own in the studio. I like to share my vision, I like to share my taste. I guess this is one of the reasons why I try to express my tastes and preferences, although some people might not like it.
They might not like it, but surely this is good for the crowds you play to, right?
Exactly. For example, I just played in Korea recently, where the EDM scene is still bigger [than house or techno]. And I decided to play exactly the same kind of sets that I'd play in Europe. They need to hear it, otherwise they won't know because a lot of Asia is a little bit behind in music. I needed to be the one that shows them this music. So yeah, in a way it is educating, but who am I to educate anyways? But if I can be somebody who can influence other people on new music, then yes, I'll take that responsibility.