If there's something called fast food and something called fast fashion, surely there's an argument to be made that, at this point in our human existence, there's also something called fast music. It's become more apparent than ever with the COVID-19 pandemic. There's been an explosion of creativity during the lockdown, as artists from across the Middle East push out release after release. Some of it has been fantastic and a browse through the 'New Music' and 'Reviews' sections on SceneNoise attests to that. Some of it even owes its essence to the lockdown, as some artists get to grips with both the practical challenges and existential stirrings of living through a global pandemic. Some of it, however, has been 'fast music'; predictable, conventional and floating untethered from any grander visions or plans, even when they're ultimately satisfying enough.
Even outside of the context of the pandemic, it's rare to find a musical project as intricate and unrestrainedly created as 91 Portraits. As the brainchild of the Berlin-based Eqtibasat (aka 29-year-old Syrian artist, Hekmat Alkassar), it's an expansive, ambitious piece of work in which Alkassar uses another of his talents: illustration. The two crafts come together as something of a cathartic exercise for Alkassar, the project allowing him to address and work through depression and post-traumatic stress.
You see, beyond being a nine-track album that traverses a number of different style and soundscapes, 91 Portraits is also a book that, as the name suggests, features 91 original illustrations that convey human emotion. The Homs-born, Damascus-raised artist first begun creating the illustrations in September 2019; he would produce one almost every day and when he wasn't doing that, he was creating the music – essentially doing both things simultaneously for several months, giving the whole thing a unique symbiosis, as each fed of the other.

When you listen to the album and/or scroll through the illustrations, you can find your own interpretations, with some of the illustrations inviting you to seek its detail. The music is very much experiential and transformative in nature, too, leaving it open to interpretation, wither alone or alongside the illustrations. But a work of this density, thought and dedication demands that the man behind it all explains it himself.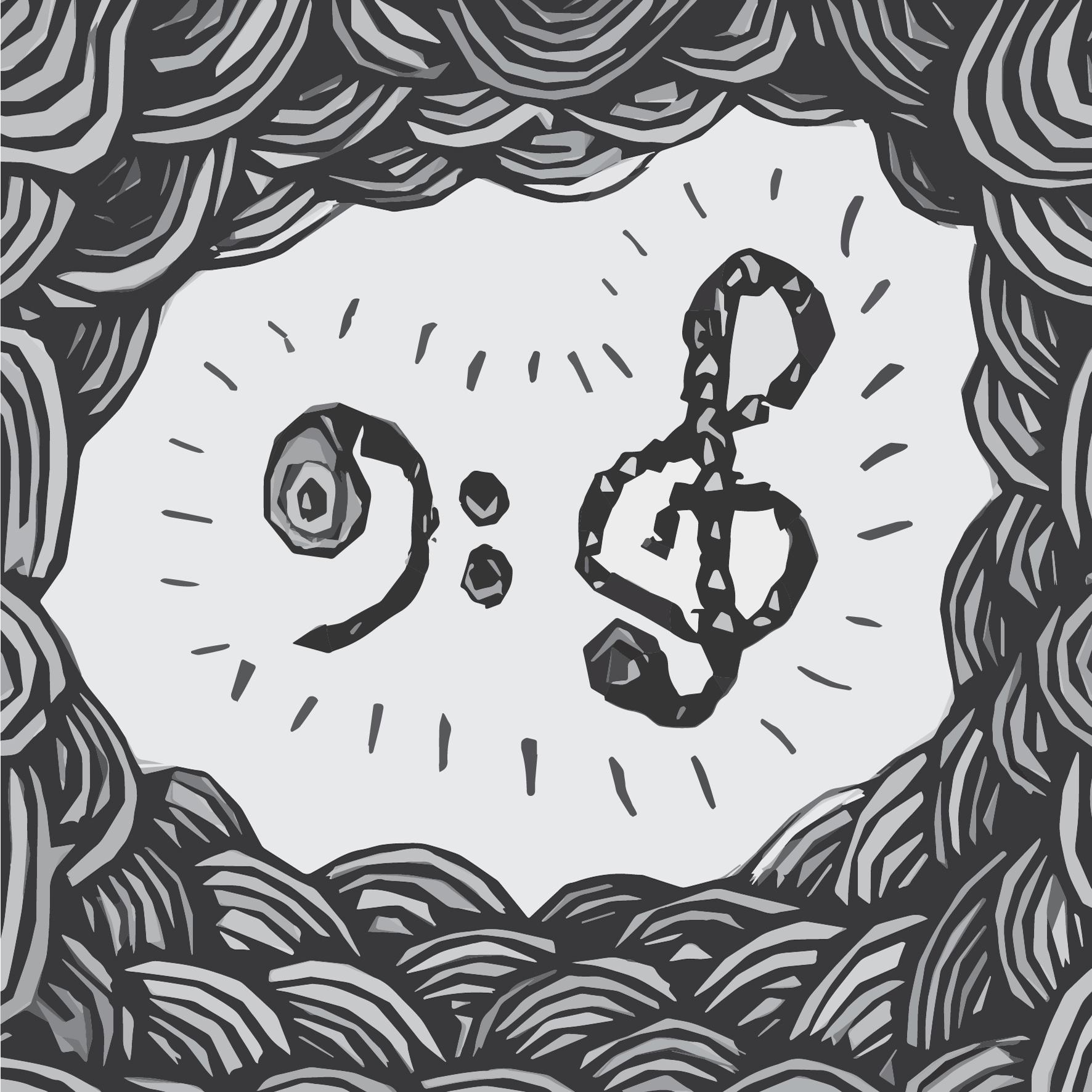 -Before we start, I have to tell you that I felt really awkward about how to ask you if you were a man or a woman…
No awkwardness at all, I would ask the same. I'm male, but I love the fact that the name Hekmat can be both male and female.
-Alright, before we get to 91 Portraits, tell me a little about your background as a musician, because there are many that will recognise you outside of Eqtibasat.
I used to play with a lot of cover bands in Damascus, but I officially started making original music in 2013. That's when I recorded as a guitarist with [Syrian-Lebanese post-rock band] Khebez Dawle. Our first album was titled Khebez Dawle. After we recorded the album, I also joined [Psychedelic-Indie/Dream-Pop band] The Last Postman in 2014. We recorded a few singles, and an album of five songs in Berlin in 2016 titled Two Years Later, which was released in 2019.
It was in 2018 that I founded Eqtibasat as a solo project where I make music related to illustrations/visual videos.
-Take me even further back – how did you get hooked on this crazy drug called music?
I taught myself through the internet how to play. Firstly, metal music, influenced by heavy metal/thrash metal bands. I also used to cover music from video games and films, which was a variety of musical genres, mostly classical, sometimes ambient, sometimes rock/metal. That was basically how I learned to play guitar and piano.
-With all of that in mind, who do you consider to be your musical influences?
As a teenager, I was very much influenced by a Japanese composer named Nobuo Uematsu, who is known for the music of Final Fantasy, a game I used to play a lot. Strangely, Metallica have also been a big influence on my guitar passion, especially when learning to play the electric guitar. Later on, I started to meet/know the alternative Arabic scene, and bands like Tanjaret Daght and El Morabba3, as well as Khebez Dawle, before we became band members.
I've been inspired by a lot of musicians, but recently I've been influenced by the work of Alva Noto, especially his collaboration with Ryuichi Sakamoto and their album, Vrioon. Nils Fraham is also a newer influence.
-Here's the big one: who or what is Eqtibasat?
It's a solo project of my work as a musician and also a visual designer/illustrator. I started two years ago when I would draw to overcome depression, traumas and experiences with psychotic episodes – and even to just express unspoken thoughts and emotions.
The name Eqtibasat – which means 'quotes' in Arabic – came after the idea of this need to express traumatic thoughts and emotions. For me, each of them came with a feeling, like when I read a quote in a book. Instead of writing a book about what I experience, I would express the quotes of different experiences, from the past or the present, or a future [with illustrations and music].
-How did 91 Portraits come to be and how did you come up with the concept?
Basically, it's an album and an illustration book about 91 emotions. The book consists of 184 pages; 91 hand-drawn illustrations, 91 of the same illustrations modified digitally, and two empty pages in the same style of the book for the owner to draw their own illustrations on. The illustrations are divided up into: 27 Portraits of Existence, 39 Portraits of Misery and 24 Portraits of Love.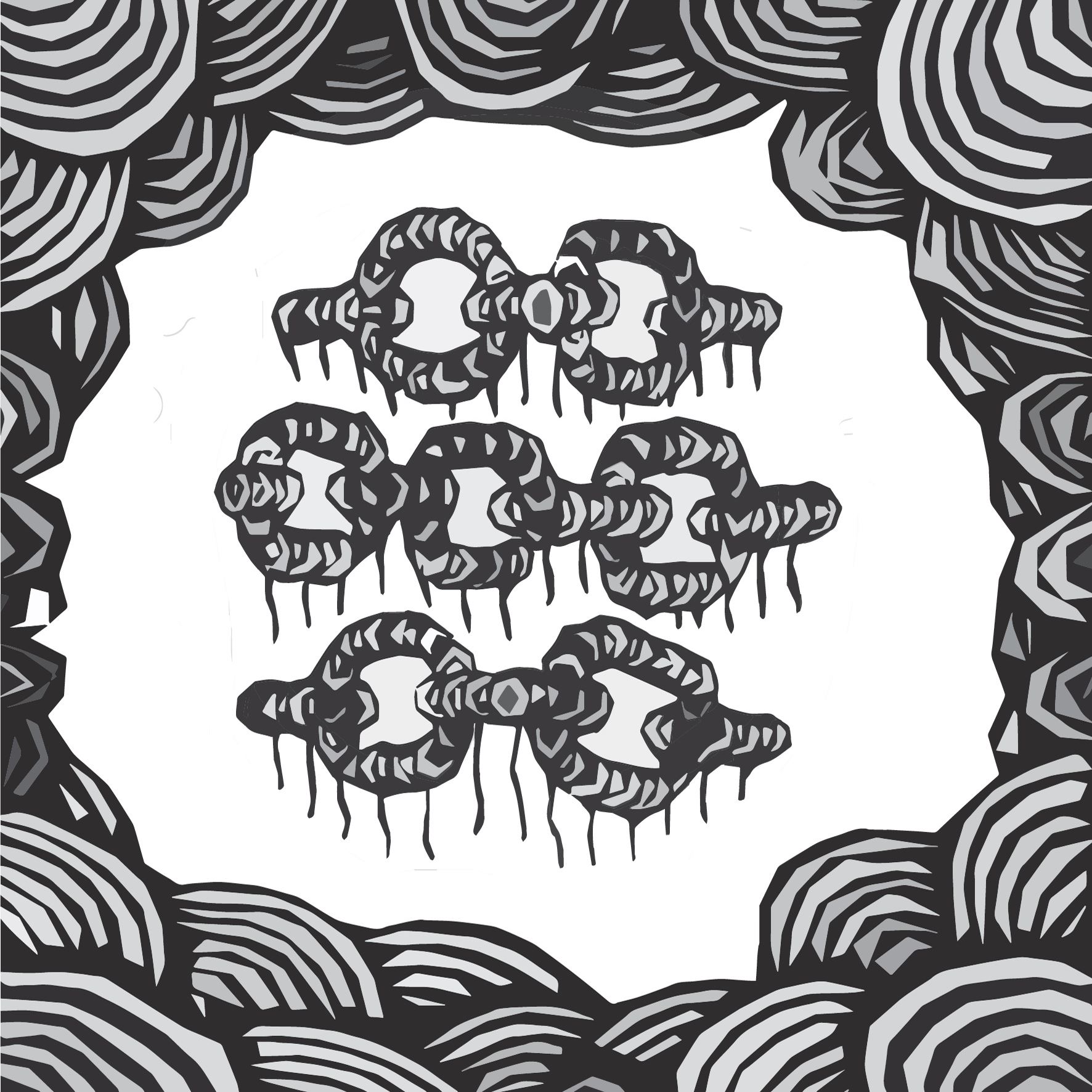 I actually started as an idea when I read an article about the 20 words/degrees of love in the Arabic language. It just felt interesting to me as a concept itself. I was looking for something to draw and, at the same time, had wanted to create a book of illustrations that have the same style. At one point, I decided to expand the 20 degrees of love into different emotions, so I made a list of 91.
-There must be a reason behind the number 91…
There are two reasons. Firstly, the notebook I used for the project had 92 pages, so I decided that I would use one to create the cover, leaving me with 91 pages. It's also the year I was born, 1991. So, I decided to create portraits of 91 emotions as a diary of my experiences with depressions, therapy and medication.
-The album sways between a lot of different sounds and genres. What was the process of 'creating' in that regard?
Well, the main approach to starting a song as Eqtibasat is that it has to initially be a piano piece. I add all the other elements later. The first Eqtibasat EP, Quotes, was recorded like that. Same goes for 91 Portraits; I started by making melodies on piano, then I added elements of glitch music and other experimental sounds.
I even used glitch effects on the piano melodies themselves. For example, '28 Portraits of Existence' was a simple piano melody. I added glitch effects, which I found interesting, so I added another layer of piano on top, then another, and so on. Of course, the beats and the other elements coma along to sauce-up the music even more.  I chose 'Q', one of Eqtibasat's characters, to sing the song. 'Q' has a robotic voice that speaks English. 'Q' can be seen on the Eqtibasat website.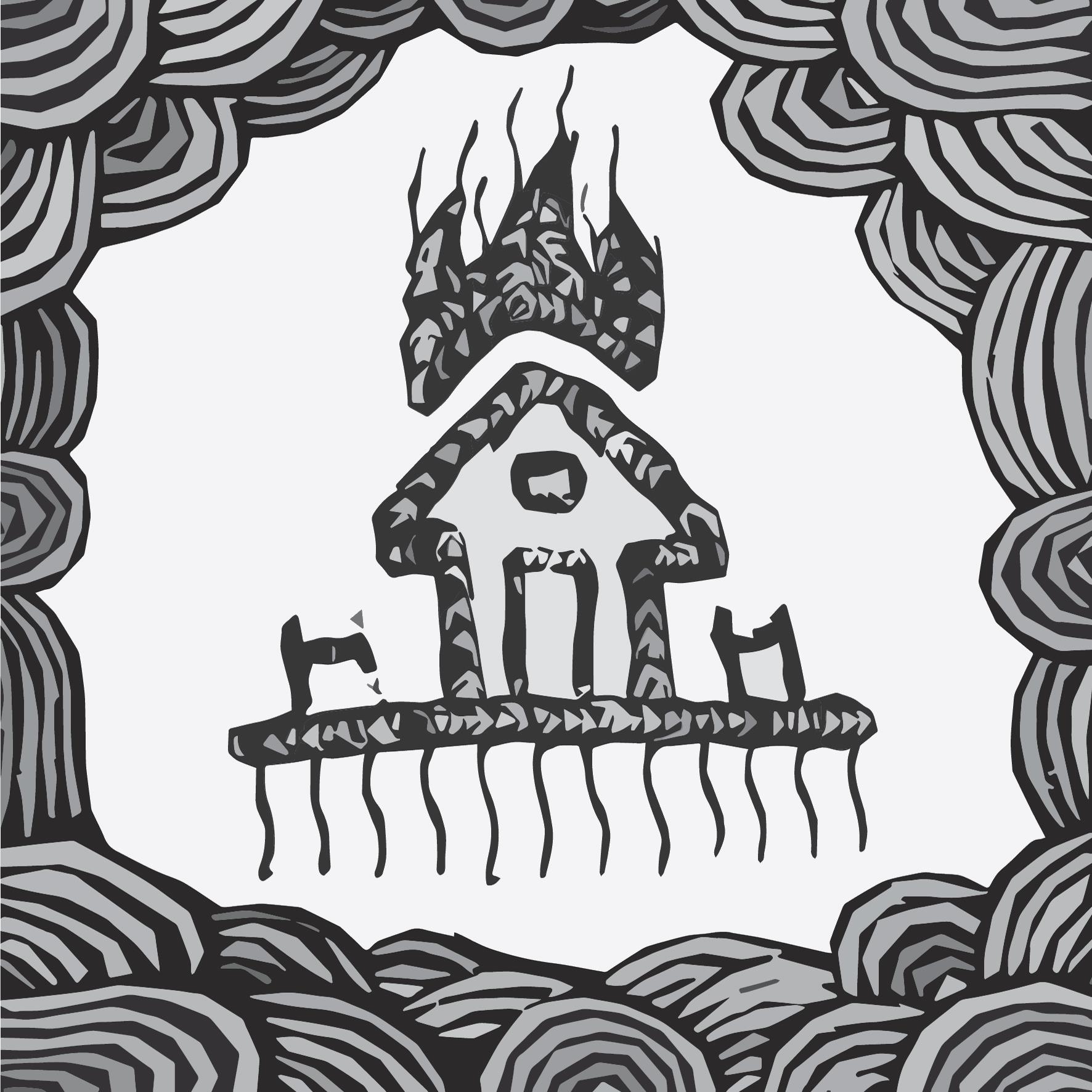 -What kind of equipment did you use and who on earth is 'Q'?
The album was mainly recorded through VSTs (Virtual Studio Technology), using Ableton as the main interface. The album has a mixture of piano VSTs to create a natural, interesting sound of piano, whether for the glitch parts, or the pieces of piano such as '1 Step Backward 10 Steps Forward'. The main approach was layering on as many piano layers and effects as much as possible - without overdoing it, of course - and trying to make it sound live as much as possible.
The 'Q' voice is from a robot voice generator that works in a similar way to Google Translate. I also used robot voice VSTs to add some effects, in order to give it his/her own character.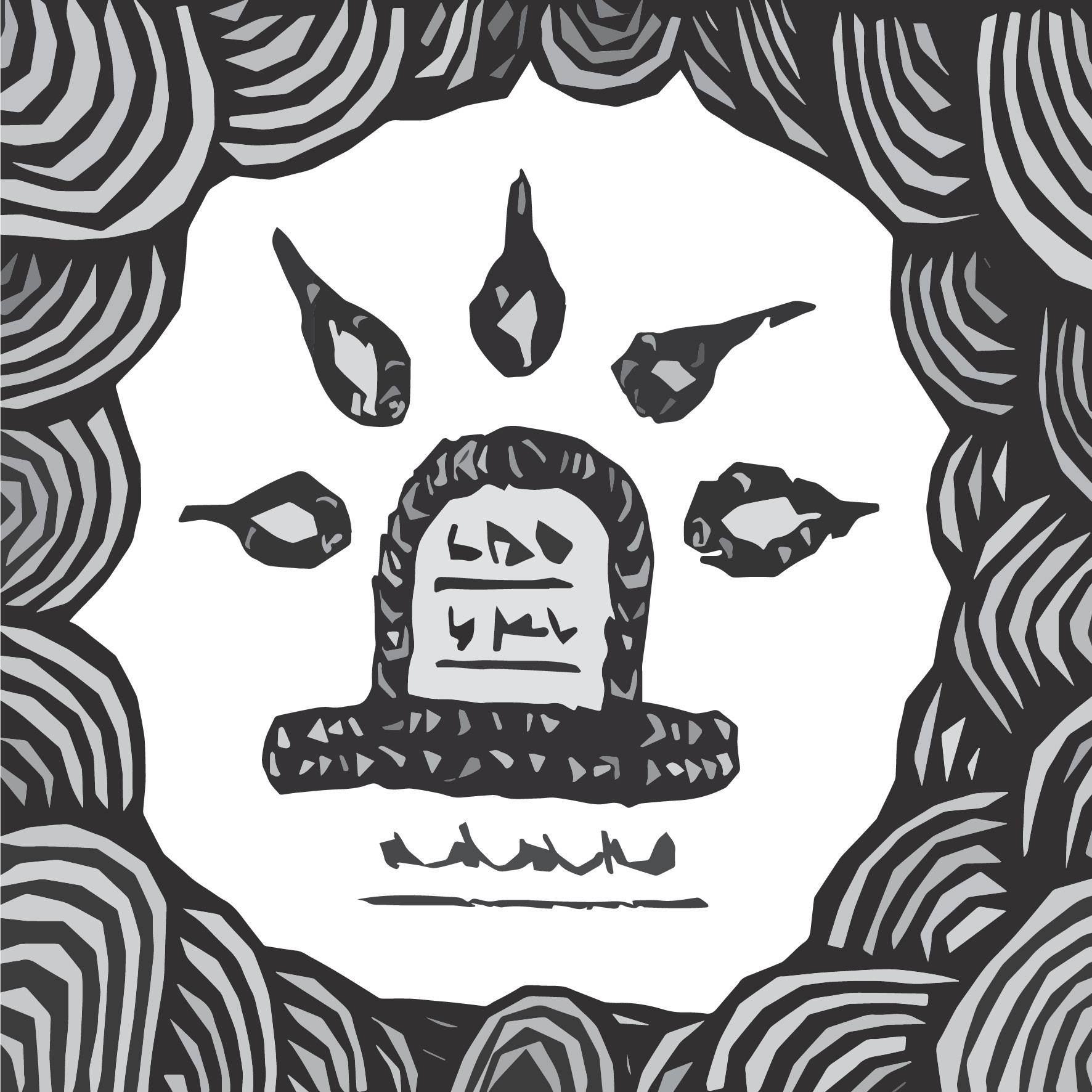 -How long did this all take to complete?
It took a total of nine months, starting from September 2nd, 2019. I first released it on June 19th on YouTube and Facebook, before putting it on streaming platforms and the website. I finished the book on January 11th. I wanted to finish it on my birthday, as a sort-of therapy to start a new path against depression and to start expressing more. 
Check out the full collection of illustrations here and purchase the music album on Bandcamp here. 
Follow Eqtibasat on his official website.