Cairo's accordion playing darling Youssra El Hawary has just made her grand comeback, reentering the Cairo music scene with a well-composed and energetic new album, No'oum Nasyeen. Beyond being an accordionist, Youssra is a singer, songwriter, composer and actress.
As a child in Kuwait, Youssra began to play piano, and after returning to Egypt she began to study music at the Cairo Music Centre. Later, she attended the Faculty of Fine Arts, earning a degree in cinema design and theatre. Following this, she performed with Salam Yousry's El-Tamye theatre troupe, later touring the Arab world with him and The Choir Project.
Youssra's foray into her own musical world began in 2011, with the upload of some songs to SoundCloud, followed by her first performance in 2012. Though she was steadily gaining an audience with her narrative songs about her personal life and political perspective in Cairo, the release of her first music video "El Soor," showing Youssra in the early morning playing along the cumbersome and prohibitive Cairo walls, pushed her career to the next level. The video won her the anti-corruption themed Fair Play International Music Award and an invitation to perform in Brazil.
Youssra, who was a self-taught accordion player, decided she wanted to take her craft to the next level and study professionally. So naturally, she went to France. But not just anywhere in France: Youssra spent two years studying at the renowned National and International Centre of Music and Accordion, receiving a grant from the French Cultural Institute that funded her study.
A long time coming, Youssra's debut album No'oum Nasyeen shows a labor of love and attention to dynamics and detail. It is immaculately orchestrated and textured, drawing the listener into a quirky and whimsical world, reminiscent of a soundtrack for an Egyptian version of a Jean-Pierre Jeunet film. We recently wrote about the release of the sleek single off the album, "Bes Kollo Yehoon," which was a treat to lead us into the rest of No'oum Nasyeen, an album that merges elements of French accordion music, chanteuse, blues, funk, Brazilian forro, zydeco and Arabic parlor tunes.
One of the major highlights on the album is "Wana Mashi," a quirky track that begins with Youssra crooning over an eerie organ before a harmonica leads us into a cadenced mood change, mandolin and violin sweeping in, propelled by a rolling drum kit. "Kashkouly" is a percussive, lush track illuminated by a lilting recorder floating over and intertwining with everything."Sallem 3ala al beit" is one of the only tracks on the album with an oriental feel, starting off with a tabla groove and a spunky Arabic accordion line bouncing over it. It fills out with zills and piano, coming together beautifully, bringing to mind a smokey rococo bordello in French occupied Cairo. It is an instrumental track, showing off Youssra's accordion prowess. "Mafeesh Amar" is the most funky and bluesy track on the album, highlighting suave Farfisa-like organ chords, harmonica and seductive guitar.
Her live performance showcased a vast array of instruments including guitar, bass, recorder, harmonica, keyboard, three relatives of the mandolin, drum kit, and a full percussion section including bongos and tabla. Last, and obviously not least, Youssra gracefully wielded her accordion, front and center.
The vibe of the show was intimate and warm. The setting of the stage portrayed a cozy, festive living room, and often went dark, accentuating the loops of string lights above the band. Youssra has a devoted fan base, who were wholeheartedly engaged throughout the show, laughing with her, singing and clapping along to almost every song. Youssra was somewhat nervous, though in a charming way that added to the homey vibe. Despite some technical issues, the live performance immaculately captured Youssra's music. Her album translates perfectly to the stage, a feat that is often not achieved even by accomplished musicians. Her band was noticeably tight, and the performance highlighted the thematic element of her music.
I had a chat with Youssra about her debut album, her live performances and the Cairo music scene. 
Was there an overall theme to this album? 
For me the theme of this album was a closure to those last 5 years since the day I started playing alone with my accordion, and then forming the band, creating new songs, touring. We've been experimenting and trying new things. We have been through this all together and then I think we have reached that sound that we want with this formation of instruments. Before we could move to any other projects we had to make a documentation of this period, especially what happened in this very intense period in our lives - with all the events happening in Cairo since 2011 I think we have all changed and we have been living this all together. So that was the main thing, when we thought, "yalla let's make an album," that's what we thought about. 
What are the main things you try to convey through your music?
There is a saying by Nina Simone that I really like. She says "an artist's duty…is to reflect the times." I always try to express how I feel and how I see things, how we manage to play and make music in Cairo, the relationships between us and the musicians and how we blend our musical backgrounds together. So I hope that the album can give a true image about the time and place this was created.
How long was the process of making it?
I remember we made the decision in the end of 2015, just before I went to France. I was traveling for one year, which became two years, to study accordion there. At this time, I thought, let's do this album, but I thought it would be better to do this after I study some styles of music that I was planning to record or have in the album, so we started the preparation in the beginning of 2016. At first, we were trying to choose which songs we were going to have, because in our repertoire we had more than 20 songs. But we also wanted to present something new to our fans so that it isn't disappointing for them to have an album with just old songs, so we wanted to work on the arrangements and have our latest compositions and work. We spent a lot of time working on the budget and getting information about music production and making decisions like whether to record Cairo or outside, how we were going to fund the project. Then we organized a residency, which took place in August of 2016, for us to work on the arrangements and record a demo. We actually payed for the expenses of this residency ourselves but it was important to have a solid project that we could present to the funders later. Two tracks were added to the album after the residency, so we had to meet again in February 2017 to work on them, and then the recording was in July 2017.
What was the biggest challenge?
The money of course is the first thing. The second thing is that it isn't easy to make music in Cairo. I know it isn't easy anywhere; music production and art production aren't easy. Here, there is no one helping artists to find the place or time to produce something. The paperwork and all the legal process you go through is sometimes very…I don't know the right word…but sometimes I feel like "why the hell am I going through all of this?" You pay a lot of money for nothing, for taxes and paper, so to have this consistency, you have to find the reason and power every day to continue. For me, I have people working for me so I have to convince them and to give them some oomph, my energy, for them to continue working on that project. I have to say, I got lucky with my band because they have been very supportive, and they work without taking their money. Adham the music producer joined us at the beginning of '17 and he was the latest person to join, but he was very passionate about the album and he really put part of his soul in this project. It was very surprising for me that he could easily become one of us, if not even more; he was really passionate and dedicated to this project. The challenge which I am really proud that we overcame was recording this album the way that we wanted it exactly. We had this idea of recording live instruments together, the mixing and mastering, it all happened exactly as we wished. So that's what I care about, everything else is not important. 
Was it all recorded in Cairo?
Yes, it was recorded in Cairo in the same studio we have always been recording at. When we recorded "El Soor," the first song we recorded was there, so it feels like home. And because we wanted to record live we had to have a lot of rehearsals before recording, so I think we spent 15 days in the studio. 
You worked with a poet right? Have you always used his work? 
I wrote two songs and the rest of the songs are with five other poets, not only one. So some of them are friends of mine, and we don't actually work together. They don't give me their words and ask me to compose them. What happens actually is that I read them somewhere in their blog or in a book and I just decide to compose it, then I ask them if I can use it in the album. I think it is always personal to me, like something that touched me in a way, and I felt like composing it.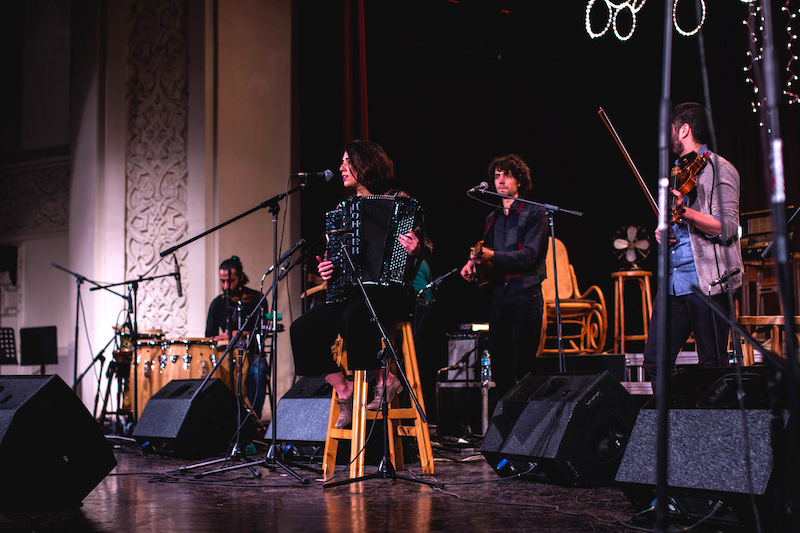 Do you plan to tour for the album?
Of course I plan to tour for the album, but I'm really so exhausted. Trying to organize this concert in Cairo was very… you remember you met me that day, and I was about to have a nervous breakdown. We are trying to have concerts in Europe this summer but nothing is confirmed yet. 
What do you think about the music scene in Cairo right now? 
I think it is very inspiring what's happening now. Because now after working on the production of this album and organizing this concert I know how hard it is. Sometimes you feel like they don't want you to make music, making every step that hard. So when I find the bands and musicians actually achieving things and producing, I feel very inspired and very proud to be part of this movement, especially this year with the many productions that came out. 
For example, what happened with Cairokee and how they insisted to go on with their album, actually achieving that success…and the Lekhfa album, and Masar Egbari and each one has a different model of producing. For example we depended on the crowdfunding, while Cairokee managed to have their own way of producing music. And it's nice because there are very different projects; you can sense the variety and ways of styles and productions. I think this is how it should be everywhere, and when you see this, you say yea now we're speaking. We have people producing their own music and expressing their own ideas and music style, and what they really want to do. It was not like that before. 
I was very happy with what happened with Cairokee's concert. When they got banned, their fans decided not to refund their tickets just to support the band. Their fans are really young people, so to find them having these ideas and this way of supporting the music and bands they like is actually very good. 
The vibe was really warm at your debut show. How did you feel about that performance compared to Cairo Jazz Club?
I prefer small gigs you know when you are very close to the audience. You feel like you are freer to make jokes and play and interact with people. We are on the same level, not on that big stage. These are the kind of gigs I prefer. I was really actually sad that I had to make that big concert for the album launch but we were expecting a large number so this is why. 
For more information on Youssra El Hawary check out her website and follow her on SoundCloud and Facebook. 
Photography by @MO4Network
Photographer: Bashar Galal