In the first part of Under The Desert Sky, we took the opportunity to introduce you to Oman's electronic music scene via DJ Faizan Kaizi. Often overlooked, a lot has been going on in the neighbor of the more glitzy United Arab Emirates, and the scene continues to grow. Lately Kaizi's hustle to push electronic music in Oman has been bearing fruit.
Other than Kaizi, the M Project is considered one of the actors that has been highly involved in shaping the country's scene. Founded in 2016, the M Project is a collective of individuals that aims "to bring together people who are passionate about the music, art, dance and lifestyle that moves us" as founder Zahra Santos explains. Santos, aka Um Ailana when behind the decks, combined her talent and experience in organizing events with her passion for music.
In fact, Um Ailana can be viewed as a pioneer of house music in Oman. As early as 2007, the DJ brought house music to her home country, subsequently becoming the first female nightlife DJ in the Sultanate. This fact, as well as her versatile range of sounds within the house and techno genre, carried her to widespread recognition. The M Project founder got into DJing while studying in Australia, and since then she has played all around the world from the US, to the Middle East and South East Asia, at intimate gatherings and large raves, encompassing sounds from deep, eclectic ethnic house to more techy arena style beats.
Next to creating music, she worked for Titan Events, one of the largest event companies in Oman. Her expertise, paired with her passion for music and art, finally lead her to produce her own highly-attended events under the shelter of the M Project. From the first outdoor music festival in Oman, called Secret Garden, held at legendary The Bustan Palace to Nocturnal, the first all-female DJ event in the country, this woman clearly is a pioneer.
After being highly involved in the Muscat-scene for two years, 2018 marked the year of new challenges for the artist. While she visited Kenya many times during her childhood, Santos returned for a visit earlier this year, a visit that changed everything: "I was disappointed to see the increasingly sedentary lifestyle of children, distracted by technology and neglecting to participate in physical activity". Slowly, a vision of bringing the M Project to Nairobi evolved, and was finally realized.
The Nairobi-edition of the M Project is already involved in a variety of activities. "We host flow dance workshops and provide fire and light dance routines for major nightlife and festival events, as well as high-profile artists" Santos shares with us. Apart from that, the new-born collective has also been commissioned to create avant-garde string art installations that have received recognition from various outlets.
But the new branch in Kenya's buzzing capital doesn't mean the end of its original version; instead Santos is working on creating an artist flow between the two countries. As for the scene in Muscat, she has warm words:  "I feel if you do keep pushing for what you believe in and keep it consistent then you have only one way but up. Hats off to those still there making a change and educating the nation about good quality sound"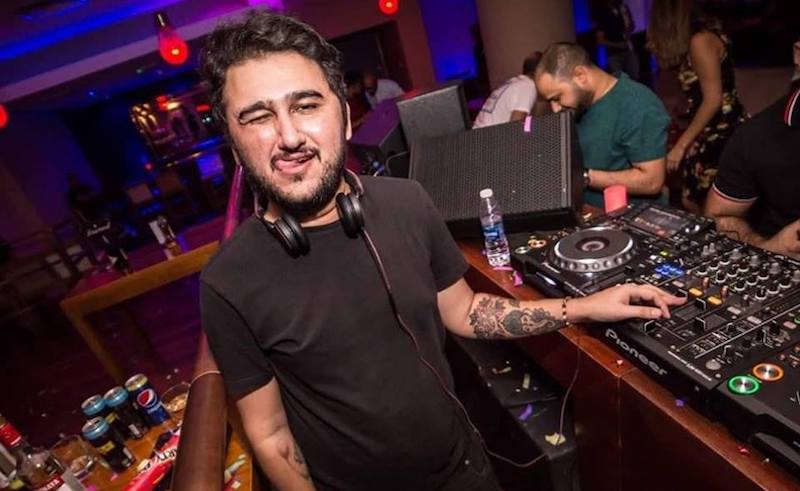 Still based in Muscat, and highly involved in shaping the scene is the Omani-born Indian DJ Maitrai. "Music has been always the most important thing in my life and I've always wanted to be a part of it in some way, either by being in the business or by being a DJ", Maitraj says. Staying true to what he loves most, he first started working in the industry itself, in order to understand it before climbing behind the decks, going to India to pursue a career as an international artist and tour manager. As a result he handled tours for international headliners like Armin van Buuren, Tiesto or Richie Hawtin.
This is what lead the Muscat-based artist to the management of Ankytrixx, who is one of the biggest underground DJs in India. Together they formed Ankytrixx and Friends and curated CTRL ALT DANCE, a boutique festival in Goa, India's party hotspot. It is considered the only underground festival supporting local artists.
After a few years in the business, the music enthusiast decided to take on a new challenge, and returned to Muscat with big plans. He knew that the scene wouldn't be easy for him, and "in the beginning it was a bit difficult since I was not living here for a long time, and I didn't know the party circle. Hip hop was one of the most popular genre that time". Nonetheless Maitrai managed to get into the business and organized a few events in different genres to get the feel of the market.
At some point, he decided it was about time to shoot for something bigger, and introduced his project Wunderground to the Sultanates capital, something he had established back in Mumbai. "I started off by getting my audio visual friend Pixtron and did my first Wunderground event, which also happened to be the first event in Oman to have 3D mapping along with electronic music" Maitraj shares. Just recently, Wunderground celebrated its one year anniversary, clearly marking the beginning of something big, as slowly but surely the underground music scene improved and diversified.
Around that time local promoters also started to book DJs to have deep house played at their events - a big step for the local electronic music scene in. In DJ Maitrai's eyes, someone who really contributed to that shift of styles is Blake, the manager of the Muscat-based venue On the Rocks. "He believed in my vision and stuck to the artists. He was also highly involved in the booking of the Ukrainian electronic music project ARTBAT, which clearly marked the start of something big" he looks back. Despite all the hurdles - the time, effort, money, emails, and the patience needed to finally book international DJs and artists - Oman's house music pioneer would do it all over again: "The response from the crowd was amazing and that gave us extra motivation to book bigger artists and do bigger events".
Not only as an organizer but also behind the decks, the DJ had a huge influence on the evolving scene. Even though playing in Muscat can be quite challenging, it was the music that kept him going, explaining that "it's really difficult over here when a DJ gets booked to play for an event and they request you to play pop music or top 40 or even Bollywood. I lost a lot of gigs because of that and it took some time for the venues and promoters to know that house music is my genre and that I am not compromising here", the producer adds, "because in the end if you are not true to your sound, it becomes a bit difficult for the crowd to understand your journey as well". Leaving the long and winding road behind, Maitrai has now established himself as an organizer as well as a DJ in the Muscat scene. He even holds a residency at Muscat Hills signature event Beats by the Beach where internationally acclaimed house DJs from across the globe are invited on a regular base.
"I feel really blessed with what I am doing as a DJ and for the scene, Muscat, and having the right crowd behind me who are ready to experience new sounds and genres. There is just so much music in this world to share - it's unbelievable. I feel very lucky to share that music with my crowd every weekend".
Looking back on a long, adventurous journey so far, it is safe to say that the Omani electronic music movement is still growing. Can't stop, won't stop, or as Maitrai explains: "I still feel Oman has much more potential when it comes to electronic music. It surely has got a lot of us working together to reach that same goal".
Follow Maitrai on Instagram and Soundcloud.