If alternative Turkish music falls within your scope, you might be familiar with the name of electric saz player and composer, Murat Ertel. As founding member and frontman of BaBa ZuLa, Murat has been instrumental in developing the band's own 'Istanbul psychedelia' sound, alongside bandmates Levent Akman, Ümit Adakale and Periklis Tsoukalas. The sound is centered around the country's Anatolian/Turkish psychedelic rock from the '60s and '70s and helped them achieved near-cult status since their formation in 1996 
Nearly a decade ago, Murat has set out to pursue music beyond the confines of BaBa ZuLa, while still maintaining, or perhaps even expanding on, their multidisciplinary approach. But before we delve into the story of Murat's current band, Mavi Güneş 69, we must explore its unique roots in Ertel's childhood.
Translating to Blue Sun in English, Mavi Güneş 69 was the Murat Ertel's first band, formed when he was only five years old. Though the original MG69 was quite short-lived, it experienced a reincarnation in 2011 alongside Murat's then-partner, and now-wife Esma Ertel. The duo gathered unique influences from Turkish shadow theatre, which found their way into their live performances in the form of shadow dancing.
Fast forward eight years later, Mavi Güneş has released their debut EP 3 Çember / Yafta on novice London-based imprint, Zel Zele. The hypnotic two-track EP sees Murat move into a more electronic direction with Esma accompanying him on vocals, and even featuring their two children on both tracks.
We caught up with Murat and Esma to discuss their dynamic workflow, their aesthetic as a duo and what it's like to work with your family.
Hey guys, where are you speaking to us from and what are you up to?
Esma Ertel: Right now we're in Istanbul preparing some sound installations for an exhibition about Cihat Burak, one of the most unique and extraordinary figures in Turkish painting history. I'm curating it and it will be open next week. 
So Mavi Güneş was the first band Murat formed when he was five years old. Can you tell us how Mavi Güneş 69 made a comeback, decades later?
Murat: When I got together with Esma who later became my wife, there was an offer for some low budget gigs in Brazil for BaBa ZuLa who turned it down. We did this tour together in Brazil in 2011 with Can Aydemir, who plays bass on our recordings. Our show involved a curtain and shadow dancing. From then on we'd rarely perform, only with some special guests like with Nourah, Otoji + Ray in Tokyo, and in Berlin with Dirk Dresselhaus aka Schneider TM. We also performed in Milas when Esma was 8 months pregnant with our first child, and then numerous times in Istanbul. Now it's the real first rays of MG69 with our first ever release.
What do you think Mavi Güneş 69 offers differently from BaBa ZuLa, both musically and aesthetically?
Murat: The most important difference is the presence, creativity and the mastermind of Esma. She writes all the lyrics and at least half of the music. She is also a dancer and supports the multidisciplinary approach of MG69. She's also Turkey's first theremin dancer.
Aesthetically, a beautiful woman singing, playing music and dancing is powerful enough to change the whole world. It's the closest thing to my ideal utopian world.
I was a little frustrated, and slowly experiencing an increasing heaviness with BaBa ZuLa. To change and move away from its links with our multidisciplinary approach to art, so I feel more free and just lightning fast with MG69.
Your children accompany you on both tracks of the EP, how did this come about?
Esma: When I was writing 'Yafta', my son Eren Devran came to the table and said, "hey mom what's going on?" I told him "I'm writing a new song and asked him if he's interested in it."
He seemed fairly intrigued and asked me to read it to him. There was a line in the song saying "I saw borders" and he stopped me and said "mom, let's change this line to I overcame borders instead." After that I offered him [the chance] to join us in studio. They also sang with us also on the song '3 Circles' when we were in Gallipoli. 
Are there certain feelings that making music with your family evokes as opposed to with a regular band?
Esma: There is a strong empathy and telepathy between us. There is no ego, and there are no firm rules. Everybody is searching for their music in their hearts.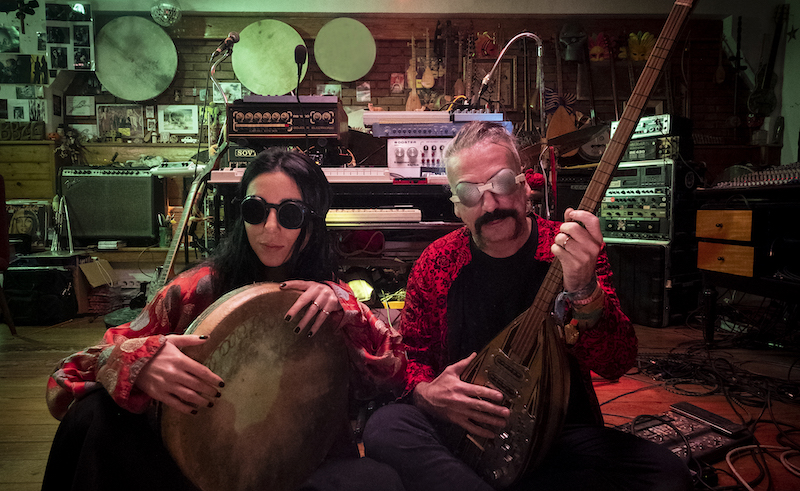 What's the work flow like? And is it hard to direct your kids around the studio?
Murat: Generally, Esma comes up with some lyrics and I try to find a groove to go with it. And while she tries to sing these lyrics to the groove she finds a melody, which I then try to build a scale around. That's pretty much the main idea. Then we add some other overdubs and ideas while trying to keep it simple and not overproduced.
It's very easy to direct our kids at the studio for a short amount of time. Their concentration is very high and intense, so you have to keep up with them and try to capture this in the recordings. Then after this short and magical amount of time they lose their concentration, and it becomes very hard, almost impossible to direct them, and they just go away. You have to focus really hard and share the moment with them.
What inspired the heavy incorporation of electronic music on the 3 Çember / Yafta EP?
Murat: I love electronic music. My father, apart from being a big graphic artist, was friends with one of the genre's innovators, Ilhan Mimaroglu, so this love for the music stems from my childhood in a sense. I also love psychedelia with layers of electronic music, and I just love dancing of course. The genre is also continuously growing in popularity more and more among younger generations in Turkey.
Murat, you recently celebrated 20 years of BaBa Zula; do you see yourself responsible for propelling or innovating in Turkey's psychedelic rock genre?
Murat: I've loved the Turkish psychedelic music since my childhood, and I think it's still my favorite genre of music, together with dub. I see myself as a humble generator of electric saz's marriage with electronic music and effects. I pioneered this approach and linked it with the a lot of '60s music. After the coups of 1970 and 1980, no one was that interested in the Turkish psychedelia that existed long before us as artists. Now the whole world is starting to grasp it slowly, but it took a really long time.
Do you have any big upcoming plans?
Apart from the exhibition Esma mentioned in which we made two songs complete with their videos,  we wrote four songs using the poems of a famous Turkish poet which we performed at the opening of another exhibition about him. So we already have six more songs and we're gearing up for a new album in 2020.