With the festival circuit in the MENA region continuously expanding, and showing massive growth since the end of the Arab spring, a multitude of festivals boasting original concepts/production or location popped up during the last five or more years. One of these festivals and perhaps Tunisia's leading electronic music gathering - Les Dunes Electroniques - made its debut in 2014. The catch? It's a festival held for 30 hours of nonstop music on the set of Star Wars near the Tunisian oasis of Tozeur in Southern Tunisia, a location recognizable to the Star Wars fans as planet 'Tatooine', which made its appearance in multiple movies within the colossal franchise.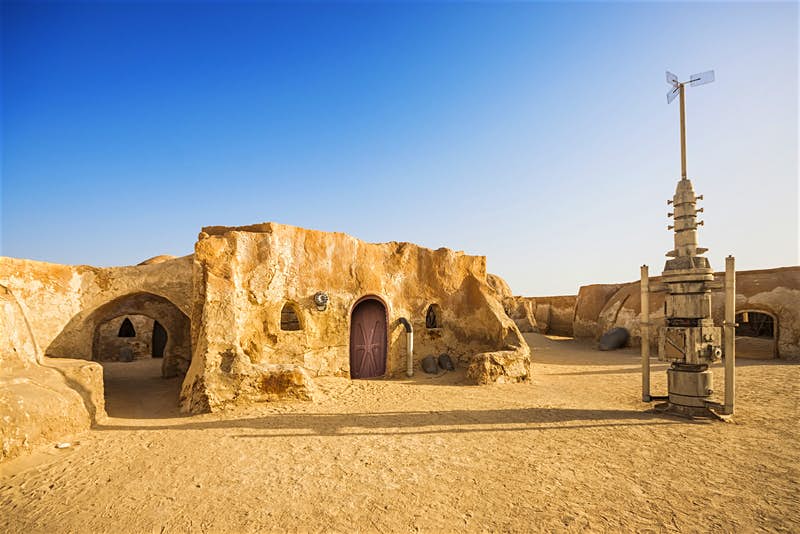 For the first two editions, Les Dunes Electroniques brought over the likes of Derrick May, Jennifer Cardini & David Shaw, Kölsch, Superpitcher and Rebolledo along with countless more local and regional acts like Deena Abdelwahed, Haze-M and Neobyrd. The festival then went on a mysterious three year hiatus between 2016 and 2018. Amazingly, Les Dunes Electroniques is set to return this next weekend for another 48 hour music marathon between the 16th and 17th of November. 
The lineup this year will see Apollonia, Archie Hamilton, Nicolas Lutz, Archie Hamilton, Konstantin Sibold, Audiofly, Stimming [Live] and more international headliners descend upon Tunisia with local and regional support by Palestine's SAMA' and DAOX B2B M.A.O.U to name a few. To shed more light on the festival's origin story, and to find out where Les Dunes Electroniques is bringing back this year, we caught up with French company Panda Events' Matthieu Corosine ahead of the festival, here's what he had to say.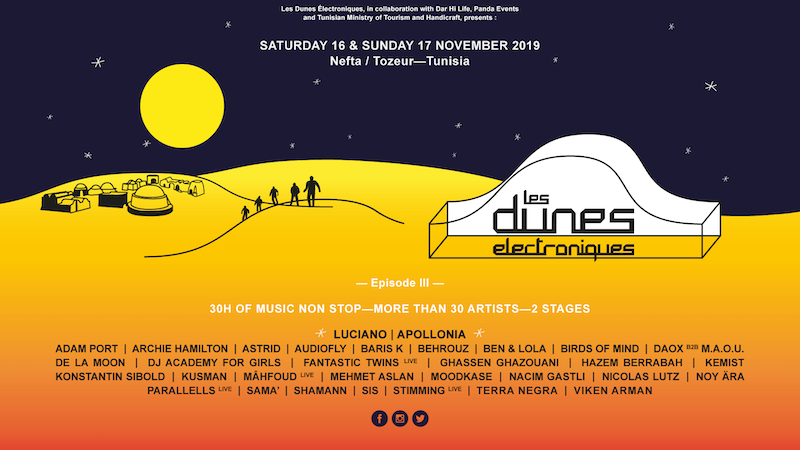 Hey Matthieu, can you tell us how the idea to throw a festival on the Tunisian set of Star Wars first come about?  
The history of the festival can be traced back to Nice, where we were organising parties on the Promenade des Anglais in conjunction with our friends, Patrick Elouarghi and Philippe Chapelet. These were located on a private beach and were named the 'Hi Beach parties'. Following this, a unique eco-lodge was created in Nefta, near the desert in Tunisia, and we were invited to rest there after the season. Of course, we found out Star Wars was filmed just minutes away and we immediately thought it'd be a nice idea to throw a party there. Through his connection, Patrick put the idea to the Ministry of Tourism, who really supported the idea from the beginning. 
One important thing to note here is that the project started in the aftermath of the Arab Spring, and the revolution of the Tunisian people. We didn't plan it like that, but Les Dunes Electroniques definitely came about at a time when the youth would celebrate the "new" Tunisia. So we're very proud to be involved in such a project too. From the start, we envisaged an event for 1,500 people in the desert -- but 8,000 people came from all over the world! It was a difficult event to produce but, one of our favourites nonetheless.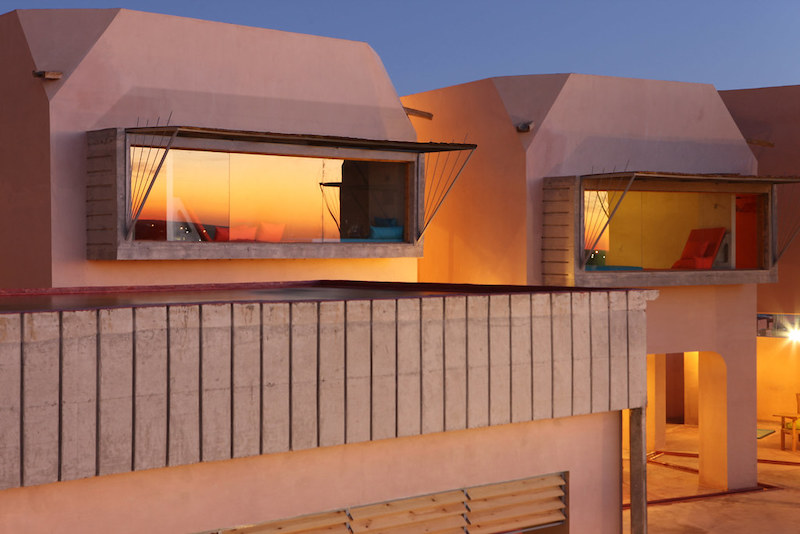 And how would you describe this festival to those who haven't heard of it before?
It's a musical experience and a cultural adventure. Be ready to enjoy the full desert experience for 30 hours of music with some of the best international and Tunisian artists with the original Star Wars movie set as a background. Les Dunes Electroniques is more than a festival though. Through the event we develop several initiatives around Les Dunes Electroniques, including the Dunes Lab - a workshops with collectives, design & architecture schools, Dunes Green which involves local eco-friendly collectives to help making the festival greener, Dunes Spirit - to make the festival goers find their inner peace thanks to our yoga and wellness programs and finally, Dunes Art which will see artists from Tunisia and OBEY install the Obey Sphere that was under the Eiffel tower during the COP21.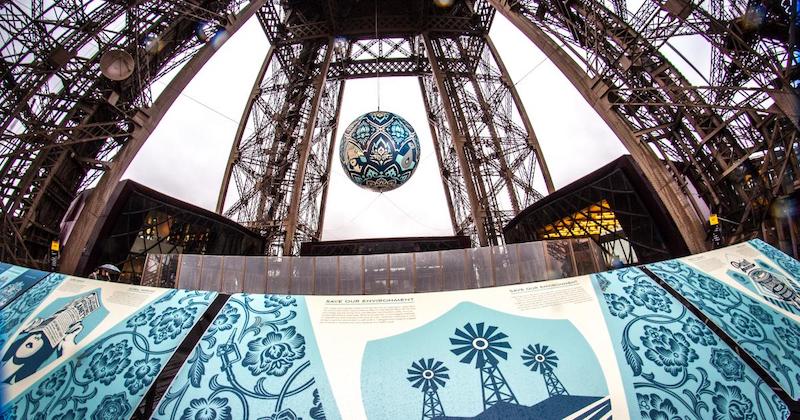 What do you think sets the festival apart (asides from its unique location) from other festivals in the MENA region?
First of all, the fact that it's completely open air. Les Dunes is unique is that in the MENA region and it is very hard to get authorizations to allowing you to sell alcohol outdoors. Les Dunes Electroniques also has a proper rave format (30 hours straight of non-stop music), which is far from the usual boutique festival in private hotels that you can usually find in the region. 
What are the major challenges faced (be it logistical or otherwise) while setting up an event of this scale in Tunisia?
Beside the fact that we are in a foreign country, what's special about Les Dunes Electroniques is the desert, which is 7 hours away by car from the capital and surrounded by sand dunes with no electricity, no water, nothing. In terms of production you have to build everything from scratch and think about every single detail because if you forget something while in the desert, there is no second chance nor a guy you can call last minute to help you out. 
These conditions also require you to be creative and be smart because resources, supplies and energy are very limited. It takes more effort to put an event like this together than it takes for us to set up our 40,000 people festival 'Les Plages Electronique' which we do in Cannes. 
To produce Les Dunes Electroniques, it takes a lot of trips, full support and collaboration with the local authorities, a skilled team with a good mix of Tunisians and Pandas, reliable sound and light partners, financial support from sponsors, but most importantly a lot of energy and a big appetite for challenges (and also very few hours of sleep).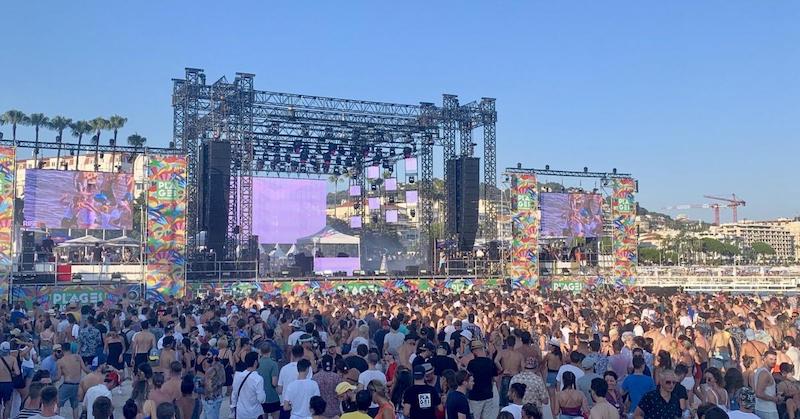 You've also included a variety of local/regional acts in your previous lineups as well as this upcoming edition's. Do you think this is an essential element when it comes to vitalizing the local scene and talent pool in both Tunisia and the region?
Tunisia is increasingly one of the top destinations in the world for electronic music. Cities like Sousse or Hammamet and now Gammarth or Tunis have been welcoming so many big names for decades. You can ask any party goer about the top 30 DJs in Resident Advisor's annual ranking, they will know all of them by heart. So the scene here in Tunisia is absolutely amazing, with all kinds of influences from techno to house or minimal from DJs to collectives and labels. It is a real accomplishment to participate to the development of this scene. 
Also, whenever you go to a foreign country to produce an event, the very least you can do is to give back everything to the country that welcomed you. Everywhere, there are tons of talents and energy that will help you take an event to another level. It's interesting for Tunisian DJs to play in front of a different crowd, mixed with tourists, usual party goers, first time festival goers, young, older, etc. The media coverage of the festival also offers an interesting to show the rest of the world that Tunisian DJs are amazing! 
What can the attendees expect from this upcoming edition?
Lots of fun, good music and unique experience in the beautiful desert of Tunisia. Don't forget your lightsabers!
Les Dunes Festival takes place from 16-17th November in Nefta, Tunisia. For further information and tickets, see: https://www.dunes-electroniques.com