Born and bred in Leeds yet currently residing in Ibiza, DJ and record producer George Evelyn, aka Nightmares On Wax, has been dominating the British trip hop music scene for the last 30 years. Not long after the outfit's establishment in 1988 with producer
 John Halnon and musician Kevin Harper, Evelyn took sole charge and, 
ever since, has been spearheading the development of trip hop. His sound - an eclectic mix between soul, funk, hip-hop and jazz - is emblematic of the quintessential British genre, which last weekend made its way to Dubai's Wake Up Call festival. 
Massively influenced by his social surrounding, which during the 1970s was heaving with reggae-dub sounds and an amalgamating  rave scene, Evelyn grew up breakdancing (at times, competitively) to the boom-box sounds of electric boogey artists such as Cybotron and Imperial brothers, as well as MCing and DJing. In 1991, only a couple years after its formation, Nightmares On Wax put out their debut album A Word of Science (The 1st and Final Chapter) through the distinguished Warp label, to whom Evelyn has remained loyal ever since. Featuring their first funky, breakbeat-laden track "Dextrous" along with laid-back, chill-heavy tracks like "Nights Interlude" and "Back Into Time," the album was a ground-breaking body of work.
Over the years, the Nightmares On Wax artist has released a selection of mixes, performed countless gigs and put out seven albums. Evelyn's DJ-Kicks mix was released in 2000 and features a jumble of hip-hop home-listening tracks. His most recognised gig, at Boiler Room in 2013, has garnered a colossal eight million views (and counting). 
Evelyn's latest album,
Shape The Future
is fused with
 a consistent, jazzy-reggae groove occasionally accompanied by trippy dub-beats such as in "On It Maestro" and spoken word samples like in "Back to Nature".
We met with George Evelyn ahead of his set at Wake Up Call at the W Dubai to talk about his youth, Leeds vs Ibiza, his latest/newest music, and finally what he promised to bring to the festival.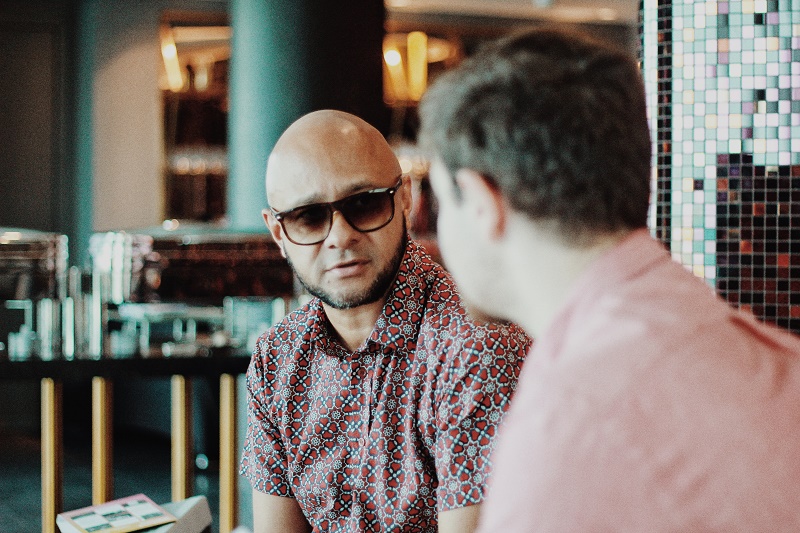 First of all, how are you?
I'm good, I've acclimatised now. I arrived here yesterday which is an absolute luxury with my travel schedule. I'm well-rested and ready to spread some good vibes today. 
This isn't your first time performing in Dubai. How are you feeling about this weekend?
It's great being back in Dubai, I always have a great time here. When I first came here which was probably seven or eight years ago I didn't know what to expect. Over time, I've seen the different parties and scenes that have evolved here and it's good. I feel that people are really open to music in general. I'm excited to just play and spread good vibes. 
How has your year been so far?
If I can remember it, really busy but also really really joyful. When you are touring a lot and doing as many shows as I'm doing, you tend to lose track and think, 'hang on, did it happen this year or last year?' But you know I love what I do and I'm very privileged that music takes me to where I am. 
The headlines in the last years have revealed a changing socio-political climate in the UK. How has it influenced your recent music, particularly your album Shape the Future?
I don't isolate the changes to the UK only. I see the changes happening everywhere I go to be honest with you. While touring in China, Beirut, Australia, America and talking to local people to try to get some sort of insight in what was happening socially in all these places, I found a common ground in what everybody wanted. I couldn't really understand the narrative that was being spread across the news because when you talk to people, everybody wants the same... everybody wants a bit of peace and quiet, to be able to provide for their families and have some fun you know? It's a universal thing, it's within all our spirits. I feel that the future relies on how we see it, not how it is. We should start focusing on what we want, rather than on what we don't want. This is what inspired me to write Shape the Future.
You're originally from Leeds. Can you tell us a bit about your youth there and how you got into music?   

Leeds is an amazing city; very multicultural with an industrial past. It's always had a really strong music scene. I was inspired by the many reggae sounds that were emanating from the area I grew up in called Hyde Park. This was in the 70s so I wasn't old enough to go to all the events...but I'd sit and listen to the music and the windows rattling. Music was always around me, more in a street sense... I didn't learn to play an instrument or anything, it was just a strong part of my social life. And when hip hop officially came into my life in 1982, that's what changed me. Hip hop gave me a voice and an avenue to express myself, whether verbally or by experimenting with records. 
In what way has your sound evolved from when you founded Nightmares on Wax 30 years ago to now? 
I think during your formative years, you spend a lot of time trying to be like your peers or like your inspirations but at some point you have to find yourself. You learn a method from somebody that inspires you and then from that, you start to find yourself. I think I've come to a point where I'm closer to finding myself in my music. There's still a lot more to discover and a lot I want to achieve but, if anything, I've come to the point of understanding how to simplify all the information I am faced with so that I can create my own space in music. 
Making music and, through it, occupying a space is the most important thing for me.
What have your career highlights been? Did you ever imagine yourself getting over eight million views on a Boiler Room set? 
I didn't imagine that to happen at all. To be completely honest with you, I didn't even know what Boiler Room was when I went to go do it. I was on a promo tour in which I did BBC 6 music, NTS, and Boiler Room was in the same schedule. Truth is, I was putting music together in the back of a taxi on my way to the Boiler Room studio as I hadn't put together a set. I arrived, and I played naturally. For me, the Boiler Room set is a reminder to myself to keep being in the moment and to be natural when DJing.
You're currently based in Ibiza. Do you encounter any difficulties in maintaining the Leeds sound-culture you've spearheaded, from there?
No, I don't think I do. Like I said, the environment I grew up in nurtured my music production but because I've travelled to so many places my perceptions have become a lot broader. I get inspiration from all over the world, not just from one environment. I try to incorporate my various experiences from everywhere into my musical expression. I don't know what that expression is until I'm at home, feeling balanced. That's when, and where, my experiences manifest themselves into music.
In what ways specifically do both Ibiza and the UK vary in inspiring your music? 
The UK has got an edge I would say. The thing about Ibiza is that it's a beautiful place, a great island but you're not going to find an edge there. It's great to write music from but I often feel the need to go back to Leeds. I need to be in the city because the city tells me something. I listen to my demos while walking around Leeds and I know straight away what needs to be done. I can be all blissed-out in Ibiza and make something really shiny and polished but it won't give me what I need to deliver the edge I try to capture in my music. 
Have you been following musical developments in the Middle East and, if so, what's your take on them?
I'm not going to pretend I know a lot about what's happening here. I'm open to it though. If anyone wants to send me new music, please do hit me up on Instagram...I am all ears. I think that the fact that electronic music is spreading across the planet, in places that you would never expect it to, is a beautiful thing.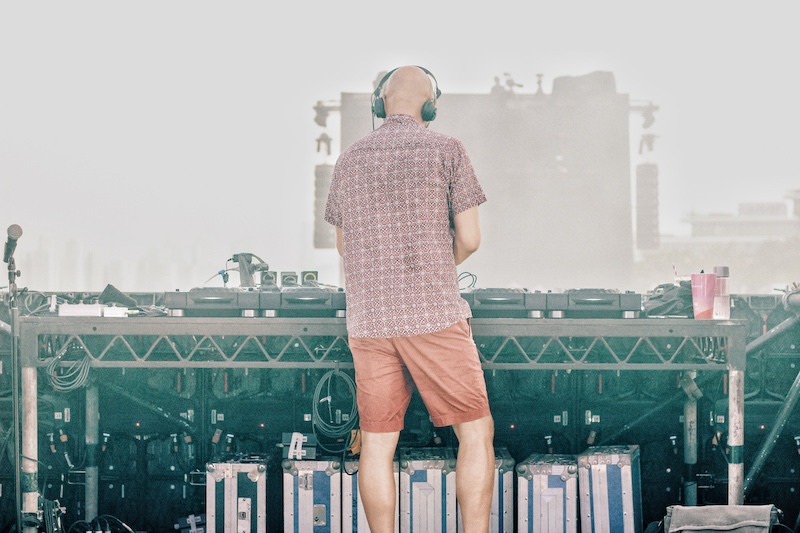 How do you feel about the increasing commercialisation of the club culture (in Ibiza and UK)? Have you ever felt like it has led you to compromise on your artistic image/mission?  

No, I don't feel like it has. Have I ever felt like I've had to play and not been myself? Probably yes, a long long time ago. But I'm always honest with my music. The fact that I have been is why I am sat here talking to you today, so why would I interfere with that?
Are you working on new music at the moment? If so, what's inspiring it? 
I'm always working on new music and putting sketches down. I've spent the last five days in the studio with a new artist. I can't really say a lot about it apart from that I'm really excited and feel like I'm entering a new chapter in song-writing, a new chapter in production. I'm sensing a new maturity in what I'm gravitating towards and writing. I don't like to say I'm writing an album...if I sit there and say to myself  'Ok, right I'm writing an album,' it becomes artificial. I think about how I feel, create something out of it and then let it fall into a space, naturally.
What are the main things you usually take from travelling to different countries to perform? And what can you expect from your session at Wake Up Call?
Food is a really important factor because I love food...but also meeting people, as I believe that people always have something valuable to say in some shape or form. Knowledge is such an important part of life and everyone holds a golden nugget somewhere. What can I expect? To be honest, I don't go into things with any expectations. I know what I'm going to bring though and that's good vibes. I'll make people dance. 
Interview conducted by Tareq ElKatbi