Radwan Ghazi Moumneh, of
Montreal-Beirut based audio-visual duo Jerusalem In My Heart, 
is one of the essential geniuses of contemporary Arabic music, though you very well may not have heard of him. The Lebanese-Canadian composer is undefinable, eluding genre and consistently creating work that feels like it shatters its own foundation.
Last year, Jerusalem In My Heart released their third LP, Daqa'iq Tudaiq (translating as "minutes that bother/oppress/harass"). Radwan Ghazi Moumneh composes the music, while the visuals - mainly during live performances - are handled by Charles-André Coderre, primarily in 16mm film. 
Moumneh was born in Lebanon in 1975, the first year of a civil war that would consume the country for the next 15 years, duly setting up Moumneh for a life in exile. His family quickly fled to Oman, staying for 16 years before moving onto Canada. 
Years later, Moumneh's whole family followed his father, who had never adjusted to life in North America, back to Lebanon. Moumneh, however, had begun to flourish in Montreal: he was playing music, and wanted to go to audio-engineering school, thus deciding to stay in Canada to pursue this passion. Later, he would move to Lebanon for around a year, an experience that added layers of complexity to his diaspora child identity puzzle, and ultimately gave him a newfound appreciation for his musical community in Montreal. 
Moumneh's first musical love was hardcore punk, and his first legitimate band, IRE, featured some heavy hitters in the genre. Via his participation in this group, he began to channel his growing awareness of international politics in the Middle East - specifically that surrounding Israel - into the music. When IRE disbanded, Moumneh formed The Black Hand, intensifying his message about the Palestinian cause. 
This commitment to using his art as a vehicle for his political beliefs, and his solidarity with the BDS (Boycott, Divestment and Sanctions), has brought some obstacles into his path. On numerous occasions, with both The Black Hand and in the past couple years with Jerusalem In My Heart, there have been attempts to have him boycotted, and he has been harassed by pro-Israel audience members. Mere weeks ago, Mjut venue in Leipzig, Germany, cancelled a JIMH performance, ironically claiming that Moumneh - who is Arab, and thus semite - was an "anti-semite" and defending a one-sided agenda. This exemplifies part of a recent wider campaign across Europe to censor BDS allied artists.  
Apart from producing his own music, Moumneh is joint owner and producer at renowned Montreal recording studio, Hotel2Tango. In fact, most of his time is spent engineering the albums of others - he just produced
Inner Rhyme,
the sublime debut album of Lebanese violinist Layale Chaker. 
Daqa'iq Tudaiq follows the debut album Mo7it Al-Mo7it, and 2015's well-received If He Dies, If If If If If If. While all the albums espouse an avant-garde approach to producing contemporary Arabic music, Daqa'iq Tudaiq marks a distinctive step for Moumneh into the discipline of classical Arabic music: the first side is an orchestral interpretation - a "re-imagination" of Mohammed Abdel Wahab's classic "Ya Garat Al Wadi". According to the album write-up, it had been a lasting dream of Moumneh's to record a modern orchestral version of the track - he did exactly that, hand-picking a 15-piece orchestra in Beirut, and teaming up with long-time friend, Egyptian-Canadian composer Sam Shalabi, as director and arranger. 
Daqa'iq Tudaiq is, without doubt, one of the best Middle Eastern albums of 2018, if not the best, and one of the most important contemporary Arabic albums of the era. Moumneh executed Side One with such hauntingly beautiful passion and originality, it tears the fabric of Arabic classical music, re-stitching it with such rich and tangible vibrancy, that it feels reborn. He speaks about trying to capture a specific essence that is beyond words, foregoing precision and virtuosity for raw, pure energy; whatever this essence may be, this music is evidently brimming with it. In it, he has ruptured the surface of an art form that has largely remained placid, approaching it with a punk mentality of catharsis and channeled vigor - administered with a light hand - thus reigniting and adding his voice to the historical conversation that is Arabic art. It reflects the epitome of Moumneh's talent for metamorphosing chaos into epic beauty. 
The second side of the album reveals a slightly different path, consisting of four tracks of avant-garde compositions, stripped down to buzuk, voice and electronics, which are more akin to Moumneh's previous explorations and improvisations within the framework of Arabic music. The track that stands out is "Thahab, Mish Roujou', Thahab," a sonically intimidating, sinister piece of music, with Moumneh's voice crackling through a thick crust of electrical disturbance. It is accompanied by a captivating video produced by Charles-André Coderre
I talked to Moumneh about this breathtaking album, to get a peek into the obviously brilliant, intricate, and righteous mind of the Lebanese avant-garde artist. 
Why recreate a Abdelwahab song "Ya Garat Al Wadi" now? What is its relevance right now for you? And what was the process of selecting the orchestra/band like?
It is a piece that has been with me since a very young age. It's what is considered a 'classic' and has such a deep and layered meaning to it both lyrically and musically. It has been on my mind for a good five years now to do this, and it took a LOT of work to get here. Naturally the biggest question was 'who should play in the orchestra?'. I went about it by thinking of people whom I admire musically in Beirut and constructing it from there, with certain musicians playing a creative role and others playing the role of absolute performer. The first piece of the puzzle was the fantastic duo Two or the Dragon, comprised of Abed Kobeissy and Ali Hout. From there I assembled the players one by one, keeping in mind the role each one had to play. There were some amazing accidents with the ultra-talented Firas Andary playing viola on the record, which proved to be a crucial part of guiding me in how to interpret the vocals.
How did you end up enlisting Sam Shalabi for this?
Sam has been a long-time friend and collaborator on many levels. We have been playing music together for about 15 years, and so it was an obvious path to take to enlist him to help me with the arrangements.
What inspired you to change the title from "Ya Garat Al Wadi" to "Wa ta'atalat Loughat Al Kalam"?
The piece from my perspective is not a cover. Although we did use the original as a very firm placeholder for the parts, I feel that it is more of a 're-imagining' of the piece. And in doing so, I wanted to cannibalize the piece, emphasizing different aspects of it than those that are highlighted in the original composition. I wanted to bring to the front this idea that language is constantly malfunctioning, and communication is a hurdle in all its aspects. To state that the language of speech has broken down really summarizes how I often feel about what I want to say in my work.
What were the challenges of recording that piece?
Well, singing was so damn hard! It's only when you start dissecting a masterpiece of music like this that you truly understand the genius that that era was in terms of composition and performance. We are miiiiiiiiiles away from that sadly. I am under no illusion that we come near that 'azama' or 'awesomeness'. Besides that, it was challenging to capture the essence of what I wanted with musicians who were given so little information as to not form their direction. I wanted this to be a real 'moment' and it took us a while, but we got there, in my opinion.
Is there a concept marrying sides A and B? Or are they disparate. 
They very much are linked. It's a germination for me, and one cannot exist without the other. Side A as a standalone track is just a silly proposition. It cannot make sense without the assemblage that is the vinyl LP. I conceived it that way. I HATE online music streaming for that specific reason. Although the merits are many, it limits ideas like this and reduces them to 'singles' which is far from what is happening. The whole record is meant to be consumed as one. Even the ID markers splitting side A into four irritates me.
What parts of you do the two sides come from or represent? 
All of me! I don't know that I can see it any other way. I am simultaneously all of it and none of it.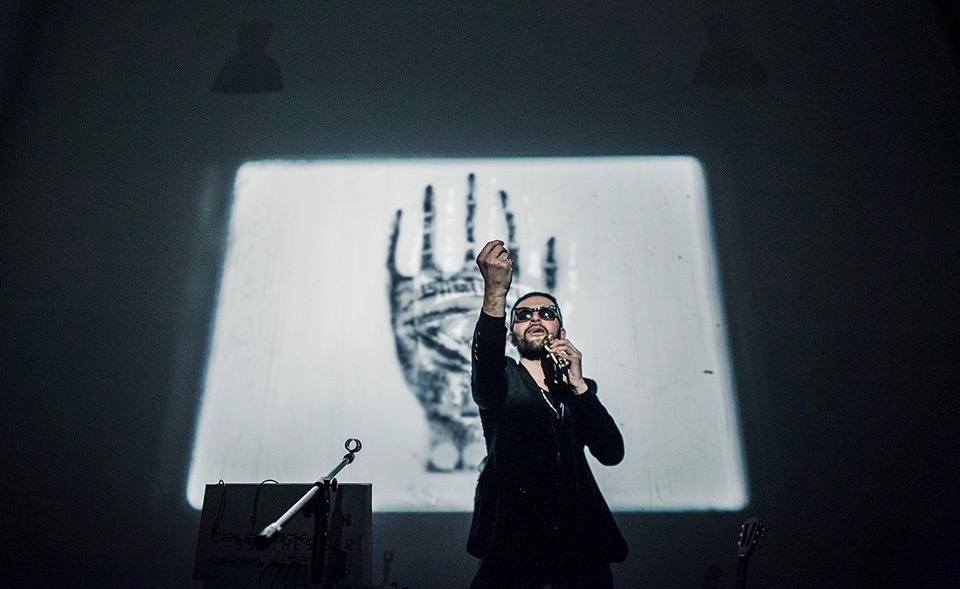 The production quality is interesting; almost tape-like. What aesthetic were you going for when recording/producing it. 
I brought with me from Montreal almost all of the recording gear (soundcard, mics, pre-amps etc). I had a very specific aesthetic that I was going after. The most important factor was the location, which was a 300 + year old palace in the heart of Beirut. We recorded in the main room which had an extremely long reverb tail. The musicians uniformly were against the location but I insisted that that was what I wanted. The challenge was to play at a ridiculously low volume - one could easily have a low volume conversation over the orchestra. I wanted the space and the air, but I didn't want it to get excited. So, a violin playing in a massive space but at low, low volume produces quite a unique sound, as you end up with so much of the room's character without having waves bouncing all over the place. The two percussionists (Eliana Awad and Ali Hout) were absolute masters at maintaining the very relaxed intensity. I credit them with making the record a sonic success actually. 
You describe trying to capture a feeling that is far more important than having a product that embodies clean cut perfection. What is that feeling, that energetic bull's eye? Would you relate it to a concept like "tarab", for example?
Well, to sit here and talk about 'tarab' is absurd to me. I am not a tarab musician. I absolutely adore tarab but I am light years away from lumping myself into that category. However, tarab does embody 'that feeling', which is to say that there is a magic in the music that one cannot put into words, but rather into sentiment, and that's of course not exclusive to Oriental music, but rather, universal to all cultures that have a history of music. I was looking for 'that feeling' and I got it. It checked all the boxes in my mind that I needed checked for me to feel that we 'got it'.
Are the buzuq pieces improvised? 
No and yes. I start with "No", as there is always a seed that inspires what the improvisation will be. It has always been an homage. You can dig through my record collection and you will find (albeit much better played) versions of the opening to all 3 improvisations on my records. They start that way, as a nod to the musicians who have guided me in my musical journey, and from there I take it to where I feel it can / I want it go.
What is the relationship between the music and visuals in JIMH? And how do you think the visuals your project produces are different than other music-visual projects?
One does not exist without the other. It always has been, since the project's inception. It's not so much 'visuals' but rather an installation from my perspective, and one that is uninterrupted with a departure, a travel and an arrival. We create a little world, and we invite an audience to take a stroll in that little word, leaving much room for one to connect the dots however they want, all depending on a person's given state in that moment. It's really wonderful to witness people really allowing themselves to be taken down a path like the one we propose.
It seems like you travel back and forth between Montreal and Beirut a lot, both places with active creative scenes. Have you been a conduit for any collaborations between artists from the two places, or anything like that?
Yes, very much so. Every so often, I am asked to propose artists from my Montreal world to bring to Beirut, and each and every time it has been an absolutely memorable experience. And vice versa, I also am asked regularly to propose Lebanese artists for European or Canadian shows. Then there are the collaborations that happen there, which I cherish so much of course.
Is there a specific audience you are targeting, or have in mind when you are making this music?
Only one that has a heart, and is willing to open it.
Living or dead - who would you collaborate with if you could? 
Ouf, straight up impossible to answer. I'm going to go with Dariush Dolat-Shahi.