We present High Note Episode 2, our series that sets local bands writing original music in different elevated locations around Cairo. Our first edition showed off the punk attitude of duo Coke Machine, while our second presents the somber cool of Living Too late. 
Living Too Late is a Cairo based indie band, made up of Omar Fada on vocals and bass, Elle K. River on vocals, Hashem El Safi on guitar, and Hazem El Shamy on drums. With two releases under their belt, the light-hearted Living Too Late EP, and more restrained and melancholic Songs From A Cuckoo's Nest, the indie-rock and lo-fi group has established a brand of psychedelic pop that slowly sinks into you, rather than hooking straight away with accessible hits. 
Though Living Too Late has been together since 2013, the current formation of the band came together in 2016, after Elle fell musically for Omar and Hashem during a late night/early morning jam involving two acoustic guitars, a microphone, and a heartfelt rendition of The Velvet Underground's "Heroin." Elle, a journalist by trade and training, began to write lyrics for them in November of 2016, and by January of 2017 they were in the studio. She describes each song off the new album as a political allegory, "an absurdist abstraction of my journalistic work, " saying she "could write an investigative report on each song."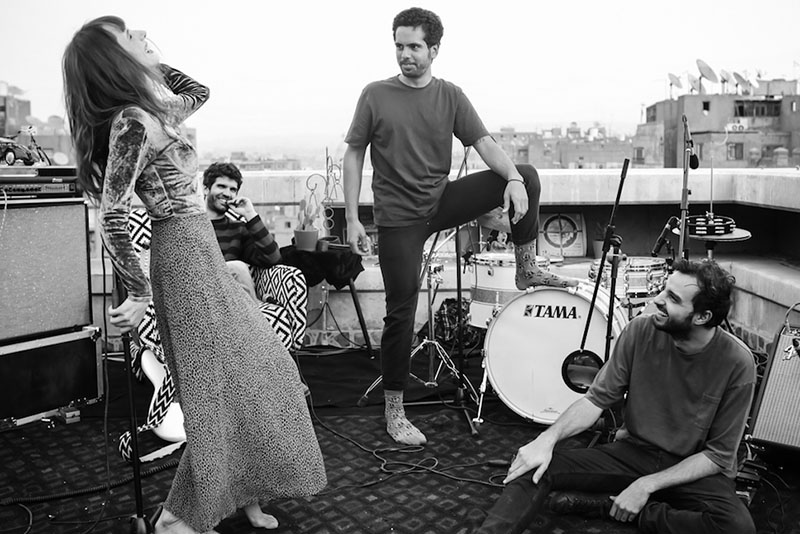 Lofted high above the streets of downtown Cairo, Living Too Late jammed out to their pleasantly opiated track "Ghost Towns," framed with vintage chairs, some select vinyl records, and a lovely rosy sky. The track is off their newest album, Shake Old Laws, out today. 
Follow Living Too Late on Facebook and SoundCloud. 
Video and photos by @SceneNoise
Directed by Mariam Mansour and Videography by Jo Emad.
Photos taken by Bashar Galal