Nestled right in the middle of our 26 Record Labels Shaping Dance Music in The Middle East list from last year is Lebanese imprint Feedasoul, a label founded by Byblos duo Majd Al Alam aka MAYHM/Papa Soul and Patrick Nakhle aka Patch. Launched in 2016, the label sits to among the top regional imprints thanks to a variety factors, starting with the founders' dedication and vision, and ending with the niche house sound which they saw was under-served and needed more exposure in Lebanon.
Over the past three years, FAS has managed to not only support local and regional acts like Adham Zahran, 3LIASand Rolbac, but also push young talent from around Europe and the US like Bootie Grove, Never Dull, Etur Usheo, Jeff Tuts, b0n and more. One release at a time, Patch and Majd solidified their position as one of the sole caterers of lo-fi, groovy and soulful house cuts in the Middle East.
Patrick and Majd recently saw three years of hard work pay off when they hosted their first-ever label showcase at one of Beirut's finest establishments, The Ballroom Blitz, this past April. Not only that, but Majd also played on the Boiler Room Beirut lineup for the venue's season closer. Keeping our eye on the Feedasoul crew and how far they've come in the space of only a couple of years, we decided that it was time to shed light on the developments they went through, upcoming projects and the difficulties facing labels in the Middle East today.
Hey guys, where are you right now and what are you up to? 
Majd: Right now we're sitting in our studio in Byblos, grabbing a coffee and finishing up a few EPs to be released on Feedasoul pretty soon, and going through some records for our b2b set at Beirut In The Mix's Float happening next week.
So how did you get into electronic music? 
Patrick: I think I had a thing for house music before I even knew what it was called, and what helped define that would have to be Defected Records. Every house classic they released completely blew my mind. That's powerful and it still sticks with me today in realising how big of an impact a label can have on a culture. 
Majd: My introduction to electronic music was completely left field when compared to Patch's. It started off in the hip hop realm. I was completely fascinated with people like Dilla, Madlib, Kankick, Wu Tang (RZA) and Q-Tip. What these guys were doing through sampling was just beyond anything I ever imagined could be done with music. Most of their tracks sounded like full bands to me, but in reality it was just one person with a stack of records, banging away on his MPC. 
So when and how did you meet? 
Patrick: Funny story actually. We used to DJ in rival clubs in Byblos's old souk and honestly, we weren't really friends. And throughout the years, although we crossed paths a lot, there wasn't really all that much there. It wasn't until August 2013 that Majd and a few of our common friends decided to organise a party called VOIE13 (the street where we all grew up) and reach out to me for a slot on the line up. The rest is history. 
When did the idea of starting a label first come about? 
Majd: I think it all goes back to growing up in Jbeil; maybe it's something in our water. It mostly stemmed from the frustration of finding ourselves following whatever music was being played in Beirut, and at the time it was techno. Feedasoul was born over a coffee shop conversation between a group of friends. We didn't necessarily want to change anything, but we just wanted to break down a door and show people that there is another way to go about it.
How did you manage to sustain a steady stream of releases on Feedasoul over the years? 
Patrick: It wasn't easy in the beginning, but it then developed into some sort of domino effect. Once artists realised that we would do our best to get their voices heard, while entirely respecting their art at the same time, a certain kind of trust developed, which encouraged other artists to either reach out to us and know that they're in safe hands from the get go. 
Do you look for anything specific in the artists you sign? 
Majd: I think the drive and staying true to yourself as an artist are the most important things. If somebody has the drive but lacks the skill, put in time to teach them and just watch them go. 
Patrick: It has to be the music, but it's also the approach and the production of this music. Anybody can open up a loop library and give you a perfectly clean mix that's a dancefloor banger, but that's most probably where he loses us. 
What's the most memorable release on Feedasoul so far? 
Patrick: Definitely Souls On Acid. We wanted to create a VA with a back story behind it, so we asked some really amazing artists to use a 303 or an emulation to put their own twists on what they think a combination of acid, house and jazz would sound like. 
How do you guys split the label work between you? Who's in charge of what? 
Patrick: Well Majd takes care of the label's vision and direction as well as the artistic side of the label. He works closely with our artists to polish off their music and with graphic designers to perfect the artwork for each release. 
Majd: Patrick's more on the business side. He deals with distributors and stores, release scheduling, promotional campaigns, label management and A&R, legal contracts and finances. Ryan Wehbe takes care of the engineering needs of the label. Anything from designing our studio to making sure everything works. Finally, Jad Yazbeck being everywhere all the time, deals with the public relations locally. 
What would you say are the major difficulties in running a label in the Middle East today? 
Patrick: The absence of pressing plants and cash-flow. If you really want to look out for your artists and keep it underground at the same time, labels aren't going to make money - and if you're in it for the money then you're in the wrong business. 
Majd: On my part it's getting Lebanese artists to actually follow what they want and not what the market needs. Artistry before compromise, always.
What do you see yourself offering differently as a label to local and regional talent? 
Patrick: Feedasoul is like a family, and we try to extend that family-like comfort to the artists as well. Be it from the way we talk to them, walk them through our process or just showing them the respect they deserve. Our goal isn't just releasing music, we're more interested in developing the artists and their sound. Majd spends a lot of time consulting and helping our artists reach their potential all while maintaining the sound that defines both themselves as individuals as well as our label.
Would you say starting a label helped shape your personal music careers in any way? 
Patrick: Definitely, but not in a way one might expect. Having the label honestly drove me a little further from DJing to where I realised that working with artists, helping them shape their sound and reach their potential holds more meaning to me than just killing a dancefloor. 
Majd: I never thought I would be part of something that helped shape house music in Lebanon. Playing Boiler Room Beirut a few weeks ago maybe would've never happened if I'd approached this individually. We've met and shared the booth with a lot of amazing talents over the past few years, and as far as I am concerned that's all because of Feedasoul. 
I heard you guys are also preparing a sample pack. Can you tell us more about this project? 
Patrick: We've been wanting to put out something that might help artists move towards what we feel Feedasoul should sound like. This sample pack - SOULDRMS - will be a collection of sounds curated over the years by Majd on his MPC and run through some of our vintage gear and processed by our label mate Ryan Wehbe the engineer on his Neve mixer. Also, this will be the first in a series, and it will be available as a free download. We're very excited to see how far artists will take these sounds. 
You recently hosted a showcase at The Ballroom Blitz - how did that go? 
Patrick: First off, I just want to say it wouldn't have happened without Ronald Hajjar 'Ronin' and The Ballroom Blitz' team! They've raised the standard so much during their first season and have opened doors for a lot of amazing local talents that previously had been neglected, and for that, we are eternally grateful.
Majd: The takeover itself was just incredible on so many levels. It was our first ever showcase, as we had held off putting our name on anything before the time was right. We brought in some of our friends who've been highlighting house music in Lebanon like Nader Yunes AKA Audioblend and Ralph Nasr who is the founder of Retrogroove and an amazing selector. 
Patrick: The Lobby at the Ballroom Blitz is supposed to be a lounge-like area where people can take some time off from the other two rooms, but that wasn't the case at all. The lobby was jam-packed shoulder to shoulder! It was surreal, so many old and new friends of ours in one room, all having a good time.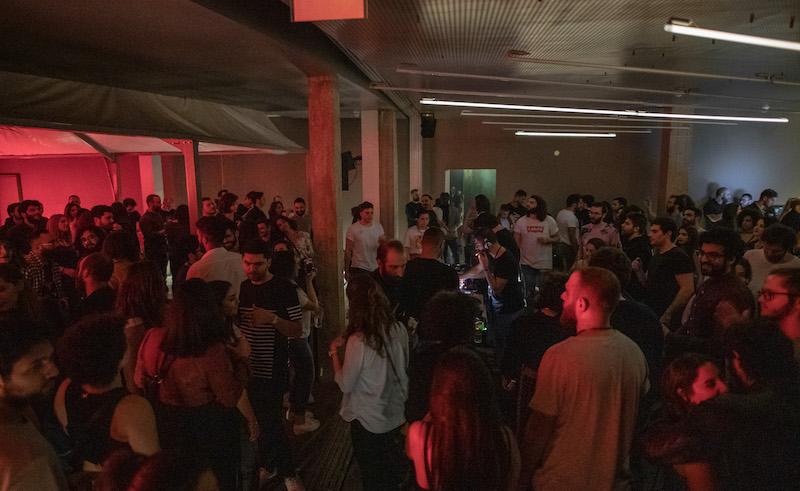 What's next for Feedasoul? 
Majd: We actually have an important piece of news to share. We've been working very hard on something that we are pleased to announce for the first time through SceneNoise. Feedasoul will be spreading its wings and moving into realms outside of house music,; we will be opening up our sister label 'Ugly Flowers' which will focus on jazz, live instrumentation, hip hop, broken beat, rare groove and everything in between. 
As far as Feedasoul goes, the goal is and always has been to create a certain signature that is unique to the label in both house and deep house music. In addition to releasing a sample pack, we'll also be working with artists more in order to help shape this signature sound and finally put out great music from one of the oldest city in the world.
Follow Feedasoul on Facebook, Soundcloud and Instagram.