In the middle of countless rising artists trying to bring something new to the table, some just chose to blow life back into long-dead sounds and pay homage to the artists who were once way ahead of their time, created timeless pieces of art and received the attention or credit they deserved.
Moataz Rageb AKA Disco Arabesquo is an Egyptian Amsterdam-based DJ, and one of these few people who saw the magic in a bygone sound that grew out of the Middle East and its heritage, while borrowing from various western influences, and is currently on a quest to unearth every one of these sounds one record at a time.
We spoke to Moataz to find out more about how he developed this nack for vintage Middle Eastern music, how it feels to unearth forgotten records, the cassette revolution and his numerous upcoming projects.
So tell us a little bit of a background story, where did you grow up and what were you listening to?
When I was younger I used to listen to everything between the Arab and the Western world. My parents used to buy my sister and I Amr Diab cassettes we used played in the car on our way to Arabic weekend school in Amsterdam. Throughout the week we would switch on MTV and check out all the different genres like hip-hop and pop tunes from Tupac to Madonna. So our tastes in music were really influenced by everything that was thrown at us, living between these two worlds. On the one hand we had our family trips to Egypt where my cousins used to sing songs like "Lolaky" by Ali Hemeida and on the other we had our friends in the Netherlands who were trying to copy Michael Jackson's dance moves. By navigating these two spaces my mp3-player was always filled with the eclectic sounds of both cultures. 
When did you develop an interest in '70s and '80s Arabic music?
I was born in the late '80s and I never really consciously lived that time. I grew up with a bit of knowledge regarding the '90s and 2000s Arabic music because we used to watch Arabic satellite channels. When these channels wanted to reminisce the good old days, they'd always put on Oum Kalthoum and Abdel Halim Hafez, but that's mostly from the 50's and 60's. I never really understood how Arabic music changed from Oum Kalthoum's 'Alf Leyla wa Leyla' to Amr Diab's 'Habibi Ya Nour El Ein'. So I guess I wanted to study that gap and how the sounds of Arabic music had evolved over the years. 
So a couple of years ago I started digging on Youtube for Arabic music from that time and I was blown away. I didn't understand why it wasn't part of what we celebrate as Arabic music heritage. That musical era is overshadowed by what is described as the golden Arab era before it. The Arab music from the '70s and '80s really feels ultra-creative, Arab artists were experimenting with other musical influences at the time, it was a generation in search of a new identity. 
This creative experimentation was also helped by emergence of cassette. Before cassette, artists needed to sign with big labels to get their music heard on the radio and vinyl, and these labels had a certain taste and view on music which didn't really give space to new styles. The cassette allowed independent artists to bypass the labels and get themselves heard. That period is also described as the 'cassette revolution' and is somewhat similar to what happened when the internet came up and challenged the music industry. 
And when did you start incorporating your musical finds into your DJ sets?
When I gained a better understanding of that '70s and '80s era of Arab music, I found out about DJs like Habibi Funk and Ernesto Chahoud who play a lot of Arab music from that period. One day I woke up with the idea to setup a party in Amsterdam with Arabic music from those two decades and specifically songs that have both Western and traditional Arabic elements combining the two worlds that I live in. A main element of the party was to use projections from old Arabic movies on a wall. I came up with the name 'Disco Arabesquo', and at first I started collecting digital music files so I could have enough if the party actually ends up happening, then I went on to digging vinyl and cassettes to find stuff that was not digitized yet which later got really addictive! 
When I was confident enough that I could do a whole night of this music, I started getting in touch with suitable venues. One of those places was Mezrab, a venue in Amsterdam that I felt was perfectly suited for this night, and to my surprise they were interested. In parallel to that I wanted to familiarize people with the sound of the party, so I started putting up mixes on SoundCloud and record radio-mixes under 'Disco Arabesquo', which led to really good responses from the crowd, and now we're set to do the first night in October. As a byproduct of my online exposure, I started to get booked for international parties and also had the honor of recording a BBC Radio 1 mix for Nabihah Iqbal. So to sum it up the initial idea was just setting up a party, but it got a bit out of hand and now I DJ as Disco Arabesquo as well. 
What kind of challenges do you face when digging for music?
The challenges that I face are actually what makes digging fun at the same time. Finding some artists and their songs in good quality can be difficult, whether that is on vinyl or cassette. Not all songs from the past qualify for the sound systems of today. It's a never ending treasure chase to find them in good quality or even find them at all. 
There are songs that I believe I'll never find in reasonable quality because they simply weren't brought out in high quality back then. It is also a charm to have some songs that untraceable, it keeps me going. For example, there is this one song I've been hunting down for ages from a 1981 Egyptian horror musical called 'Anyab'. The movie is actually really bad but the soundtrack is amazing! There's this one song called 'Bakadim Liko Nafsy' by Ahmed Adaweya and it's totally weird and refreshing, I never heard anything like it before. I'm dying to find this good quality but chances are I won't… but hey it keeps me going!
Out of all the artists that you have discovered and featured, living or dead, which would you most like or have liked to collaborate with? 
There are so many, but I would say Afaf Rady. She has an amazing song I remember from my childhood called 'Yalla Bena'. It would be awesome to collaborate and do a disco-version of that song. It has such a great melody and is so happy, uplifting, and brings back so many good memories. 
Do you feel that mostly Western audiences are more likely to consume these old records, or do you also see audiences from their original countries becoming interested in this old music?
I really see both audiences enjoying it, as I tend to play sets on the crossover between Western and Arabic music. I select songs have both nostalgia and danceability in them which makes it enjoyable for both audiences. The most amazing thing is to see a mixed crowd loving the same song but for different reasons. One could really groove to the funky guitar licks and the other singing along to the Arabic lyrics. 
What do consider yourself having an educational role in a sense when it comes to what you're doing?
Ideally I shouldn't have an educational role, but unfortunately there are some robust misconceptions about the Arab world out there that I want change through music. Sometimes people are surprised that this musical creativity actually comes from the Arab world. So for some the music is educational, but in an ideal world I should only have an entertaining role.
Is there a reason behind your choice to focus on artists who were creating their own interpretation of western music? 
I really enjoy music that is a crossover between Western and Arabic music, because I'm a product of these two worlds. I also like how creativity can be borderless, and completely tear down geographical and political divisions, this cross-cultural blend is one of  the ultimate forms of freedom. Cultures can get inspired by each other without any hierarchy, and this creativity is a two-way street. Take Tunisian folklore song 'Sidi Mansour' for instance, it inspired a melody line in Boney M's song 'Ma Baker'. On the flip side Lebanese composer Ihsan Al Munzer came up with an instrumental bellydance reinterpretation of Boney M's 'Rasputin' using quarter tones. So it's a beautiful two-way street of inspiration.
What does your digging process look like? Do you go to the countries and dig in their stores? or is it mostly online?
Well my goal is always to find the highest quality of a song, but at the same time the most authentic version I can get my hands on. Once I was having a real hard time finding this rare song by the Libyan Disco legend Ahmed Fakroun. So out of despair I just emailed him through his website and to my surprise he emailed me back with the song. 
It's always more fun to find stuff that has not yet been digitized. I was in Cairo a few month ago to find some vinyl, but mostly to dig for '80s cassettes. The vinyl digging guide of SceneNoise was also really useful. I strolled around different shops and at one point I ended up on the outskirts of Giza, in a warehouse with 11,000 cassettes. I needed two days to go through them all, I was really dusty at the end of it, but it was all worth it becase I found some amazing tapes! Now I've started a new project where I convert the cassettes from my tape deck to my laptop and post them on my digital archive discoarab.com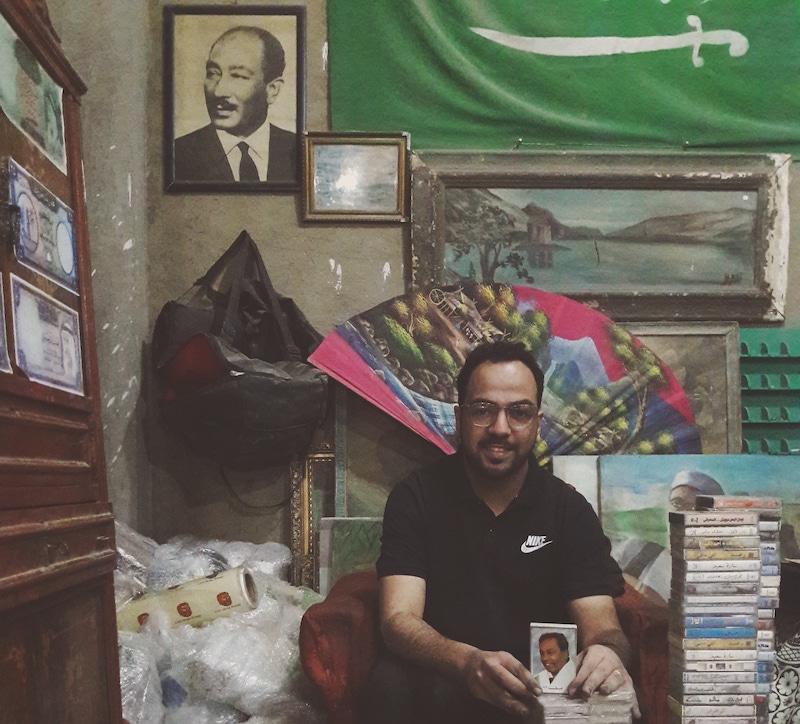 Do you have any interest in working with contemporary musicians from the Arab region?
Sure! It would be amazing to recreate those vintage '70s and '80s Arabic music vibes with the sounds of today. So if there's any Arab artists out there interested in collaborating on bringing back the Arabic disco tunes, make sure you hit me up. 
What projects do you have coming up in the near future?
For now I have five things to focus on. I want to expand the discoarab.com digital archive, get the first Disco Arabesquo party going in Amsterdam, do Arabic disco reissues, play gigs around the Middle East and just enjoy where this journey is taking me.
Follow Disco Arabesquo on Facebook and Soundcloud.