Welcome back to our third edition of Beyond the Booth, where this time we sat with one of the visual jockeys of the new generation of our Cairo scene, Hannah Patten.
Hannah Patten emerged onto the scene last year during a few parties organized by promoters such as Desimana, Noname, Origins and others. She draws her inspirations and projections from a vast palette of visual art.
There are many different styles of visual projections. Sometimes, VJs use geometric objects and rely on making the sound react to the music such as last week's Shiha, and others rely on an interesting aesthetic in their projections, carefully curating art that has an emotional impact and not just a "mental" one. The edge that we saw in Patten's work and which gave her the artistic edge we were looking for in this series,  is that she relies heavily on the aesthetics of art, without necessarily being tied up with too many technicalities. Through her projections, Hannah takes party goers on a distant voyage which is at times obscure and at times dissonantly beautiful and nostalgic. We recall one of her projections having images of cereal brand logos and cartoons taking the audience on a psychedelic trip through their childhood, transforming the vibe of the party into a kindergarten playground. Quaint.
As VJs usually stand in the back of the party and aren't a part of the crowd, do you sometimes feel alienated?
The first time I had a gig, I was a bit worried that I would lose the feeling of being connected to the party, but it's actually quite the opposite! 
When you're on the outskirts, you get to see the bigger picture, something you lose sight of when standing in the middle of a crowd. On top of that, it's definitely better for my focus.
What made you get into a profession which is usually looked over?
Over the years, I've become a person who's very into the aesthetic of the visual aspect of life. Fonts, architecture, photography are all content that satisfy me. I had never considered doing visuals at a party, but Hashem Al Saifi (who has always shared an interest with me in art) mentioned the visual course. At the time I was trying to apply to Amsterdam for work, and I thought that if that failed, the course might open doors for me. Thank god for that.
Where did you learn your skills?
At Epic 101 Studio's one month course. I was really excited to learn from Mahmoud Shiha because he is a true pioneer here when it comes to this industry. 
Where do you draw your inspirations from? 
I spend a lot of time online looking at different artists, and there is so much good work out there, it's hard not to get inspired. Bringing it closer to home as well in the past year, I've been exposed to some amazing artists like Dina Said, Chanel Arif and others who have pushed me to be more creative and look at art from a different perspective. 
Do you usually tend to have a reference or do you create your own visuals ?
Whenever I have a gig, I like to have a theme on which I base my whole performance. It depends on the DJ as well; if their aesthetic is dark or joyous, it will have an effect on the concept. Many people think I create these visuals from scratch, but I tend to source my material from the internet. I have also been asking some artists to send me their work. I think it's interesting to transform their art into visuals for music. 
As a musical artist, I always get inspired by what's being released in the industry and try to push myself to achieve an industry quality product. Is it the same for VJying ? Do you always have a goal of constantly innovating and reaching international level visuals?
Yes it's the same. I would love to reach an international level but realistically I have a lot to learn first so I'm taking it one step at a time. I'd like to start off by creating my own content, and in the future there is a visual arts festival called MIRA which I am targeting. It is held every year in Berlin & Madrid. It holds conferences, live shows and exhibitions. 
Are there any acclaimed visual artists who inspire you?
The whole lineup of the MIRA Digital Arts Festival. It is my dream and goal to perform there.
Does it bother you that people focus much less on the other stimulus - music? And that they glorify more and give considerably larger fees to Disc Jockeys than Visual Jockeys?
Visual performances here are a growing concept. I remember the first performances I did, no one really noticed what I was doing. For the last couple of months, I've felt that the response has been great. I think a lot of people underestimate the actual work behind a visual performance and that may be the reason why fees are considerably lower. Before each performance, I usually prepare around a hundred and eighty videos. At times, I even visit the venue maybe twice during the week to test the content out and the performance as a whole. Then there is renting projectors, adapters etc. - it's quite a process, but promoters are becoming more aware on how to accommodate this. Anyone putting their time and effort in making an event come out with the best possible outcome should be considered, and in terms of payment have that compliment their work as well - whether it is a visual jockey or a disc jockey. In terms of people focusing on music more than visuals, it differs from person to person and on what stimulates them. I'm happy watching the videos myself, it's like a big game for me on the night, so if I have one or two people focusing on it with me then I am really happy.
Do you think this will change with time?
I think the change has already commenced. The scene here is like a sponge, and that's apparent in the immense shift our industry has taken over the past couple of years. We are all learning and evolving, even the most established promoters. It's amazing to have people in parties coming up to ask you if they can send me their work, or send me inspirational videos.
Does music inspire you to improvise the visuals when performing?
YES YES YES! Like I said, I prefer to do everything live. Just like a DJ set, the visual experience is a journey. I can usually see the DJ so it's a lot of fun to interact together while playing.  It's a lot more enjoyable and challenging for me. Everything in a party is about building and maintaining the chemistry so using the music as a reference is mandatory for me. 
How do you go about making them react to sound?
This is simple actually, the program we use has an option that can match the BPM of the track being played to the clips. Sometimes as well I like to improvise and play around with the visual and try matching it myself.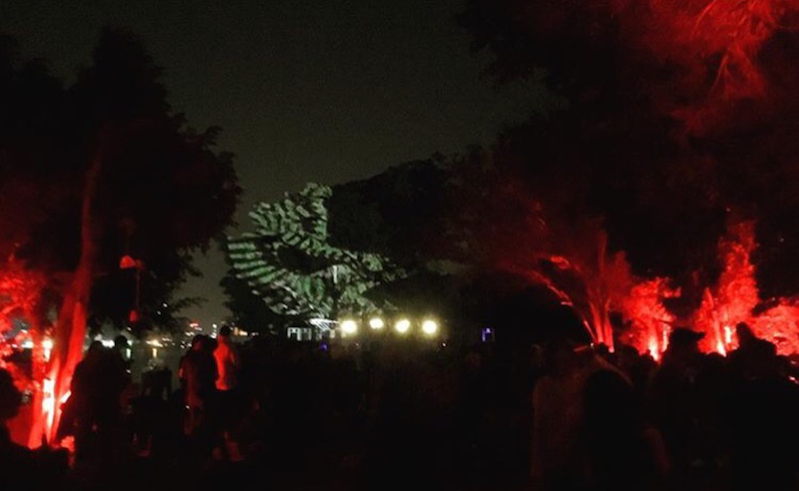 What were the craziest visuals you projected? 
There was a set at Outs:de that had robots and weird faces that I thought looked pretty crazy. 
And the craziest mediums you projected on ?
On a HUGE tree!! It was amazing ! The last Outs:de party Jorg approached me and said they wanted to project on a tree. Jorg is someone that I really look up to, so I was really humbled to be a part of that night. 
Did things ever go wrong at a show? How did you react?
When do things not go wrong at shows?! I've had people unplug the projector to charge their phone, I've been electrocuted due to spilled beverages, and the list goes on and on in my case. When something like that happens I usually get really frustrated because of my uptight nature but then I eventually let it go and enjoy my performance. Every time I have played, things have gone wrong, but this is a part of the job and its the best way to learn and grow. Something nice when things like these happen is that people can see that I'm stressed and they come and try to help, which I think is heartwarming. 
Follow Hannah on Instagram.