Sam Gino and Samy, also known as Infrared, are the dynamic duo at the forefront of Bahrain's electronic music scene. With their exceptional DJ and event management skills, they have pioneered the way for electronic music enthusiasts in the region, giving birth to Project Void, a vibrant electronic community dedicated to amplifying local talent through their carefully curated events and diverse lineups.
Under the umbrella of Project Void, Sam and Infrared have conceptualised multiple event series with Euphoria, their signature monthly event, and Euphoria Elevated, which takes it a step further by showcasing both regional and international talent. Similarly, Nightscapes, a platform for experimental and boundary-pushing music, allows artists the creative freedom to explore uncharted territories. Lastly, Night Tales, a weekly Sunday event at Halo Bahrain, treats attendees to the freshest tunes from Ibiza, Tulum, Mykonos and beyond.
In this exclusive SceneNoise interview, we had the opportunity to sit down with Sam and Infrared to talk about the inception of Project Void, their personal journeys, the larger electronic scene in the Middle East, and their plans for the future.
How did Project Void come to be?
INFRARED: So, just to give an idea of how Project Void started, I was practically handling most of the work on my own, and things were moving in a good and positive direction. But I always thought about how much better it would be if I had an equally passionate partner who would also move in the same direction, and how we would both be working towards the same goals.
So, when booking local artists for the first initial events, I found that Sam really stood out in terms of professionalism and quality. It was very clear in the beginning from his profile that he took things seriously, and after inviting him to play in one of the lineups, and then hearing his music, which not only I enjoyed, but all the guests at the event enjoyed as well, I later invited him to partner up because I saw that he had very high value, which nobody else in the scene or in Bahrain could at that time.
SAM: Having travelled through all corners of Europe and other party destinations in the works, being a regular party goer, I've observed a lot of how significant venues from Fabric to, you name it, big festivals, run and promote events. When I was in Bahrain, while making a good name for myself after COVID, thanks to some amazing people that gave me the chance to stand out, such as Damian D'Costa, I met Samy at some events and he always said to me, let's do something. At the same time, he was undergoing negotiations with a very specific venue that suited our future needs and we were very lucky to be able to be given even a slot every Wednesday.
We really started very small with like, you know, 20, 30 people in a crowd on a Wednesday, and nobody believed him at the time that's going to become something. And then, you know, that became a once a month kind of thing that everybody started to attend. So, I think that's how Project Void became a thing. And to answer the question why Void, I think Samy came with the idea of the name. But to me, coming from Europe there was a void in the scene. And we really tried to kind of fill that gap where we felt that there was a gap. And that's what Project Void means to me personally. I was on the lookout for the underground scene or community in Bahrain, which I felt there was that void, and Project Void exists to fill it.
What is Project Void's mission statement? What are you looking to accomplish with it?
SAM: We believe in a distinctive identity and a loyal community, and that comes with a strong music curation and strategic bookings. So, Void needs to be able to provide an experience that makes you anticipate the next event already. And we really are proud of our crowd as well, because it has been growing organically bigger and bigger, but it's also a very special crowd, a crowd that follows trends, and it's fashionable, and it's quirky, and it has opinions, and it's not afraid to have fun and be creative and be out there.
This is something we're really proud of, because at the end of the day, it's a community, and we need to take care of it, and they need to take care of us. So, to sum up, Void is really a thumping and provoking and thriving, and by doing less is more, we really double down on the things that we believe in, and we try to stay different.
What strategies do you have to ensure that your events are memorable, stand out and leave a lasting impression?
SAM: By Looking at how events are being curated in Bahrain, we both noticed that there is room for improvement in almost all aspects of promotion and event delivery. For example, when creating line-ups, we believe in less DJs, but giving them longer time to express themselves and also being very careful how we manage and curate the progression of the music. Every DJ should be clear on that while also being responsible for delivering the right amount of energy at the right time.
Part of our vision is to create a brand that people are eager to, fall in love with and follow and anticipate every time. Project Void has become this umbrella in which we develop our electronic music concepts, the strongest of which is Euphoria, which is one of the most successful events happening now in Bahrain. It has its own specific sound and distinctive look and feel. Every time you see, for example, the X logo, there is an expectation of a very memorable event.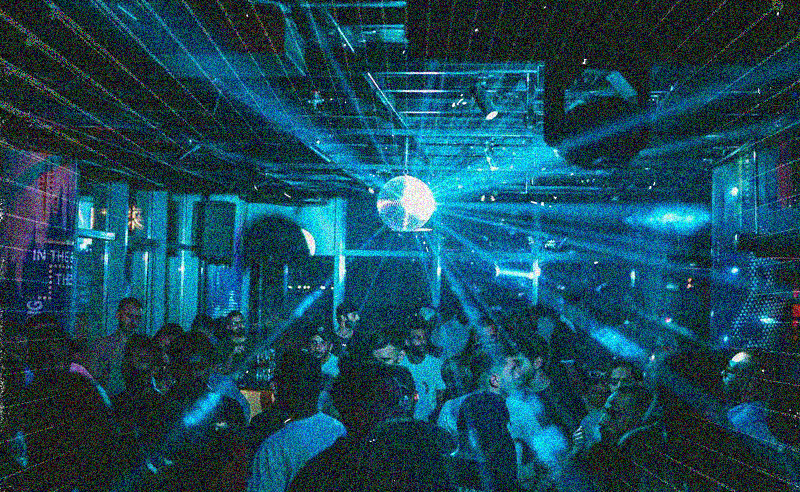 Would you consider yourself at the forefront of the Bahraini electronic music scene? Or are you leading it? Or are there also other competitors in the scene?
INFRARED: For sure there are other worthy competitors and everybody is doing their best to deliver a great event to the crowds. However, people really welcomed us and praised us for what we stand for and we've managed to cultivate and sustain our vision.
We believe more in working with others and boosting the electronic music scene as a whole, in general. Collaboration is always essential, staying relevant and different at the same time is also a big challenge. So we just try to follow our own identity, but it's a very big challenge to be relevant and not copy others, but really try to come up with new stuff all the time. One of the challenges is when you come up with new ideas, eventually they'll get copied around. And so it's very difficult to stay ahead of the curve in that sense.
How developed is the electronic music scene in Bahrain?
SAM: The music scene in Bahrain is a strange beast, but that's part of the challenge that makes it so interesting. Due to its transitory nature it has had its ups and downs, where people come and go more often than usual. This means that often we have to keep close attention to our regular goers. This is what keeps a not so young scene constantly 'emerging', and while being small, there are golden pockets of opportunities. More often than not, there is a niche that hasn't been developed yet, which excites us a lot! Having said that, local Bahrainis are very outgoing and integrated into the scene and are of huge support to us.
We also rely heavily on the Saudi crowd coming every weekend through the bridge and supporting us, however, the rapidly developing scene there is starting to become a challenge to us.
What are some challenges the Bahraini electronic subculture faces? 
INFRARED: One of the main challenges is not having a large scene to support your biggest dreams, and we can only do so much financially before having to compromise and downsize. Having a small scene means that we often have to do our best to avoid any clash with other promoters in order to have a successful event, and sometimes that has proven to be difficult. As with any subculture, we are a minority and priority will be given to genres that generate more revenue.
The second biggest issue is that the venue owners and managers don't see the value in high quality music systems, as this is not a driving factor in a more commercial venue or event. Therefore, there aren't many venues in Bahrain with good sound and lighting systems, so we often have had to invest in these to make sure we achieve the desirable outcome. However, we understand this reflects positively on our brand while boosting and educating our community; and most importantly, because we do it out of pure love.
How do you see the electronic scene evolving there? What does it lack?
SAM: We need more collaboration between all of us, organisers, to be able to deliver events and festivals, independently of venues, and to make the scene more attractive to the outside so that we can compete with the emerging scene in Saudi.
On the positive side, our community has proven to be super eager and enthusiastic about what we present, and we have had a lot of compliments from our guest DJs about our crowd and how engaged they are - pure energy and no phones on the dancefloor. We want to make sure we involve them as much as possible and we hope they continue to be curious and vigorous while we push to bring new faces and ideas to the scene.
How do you envision Project Void? How do you project it in the future, in the near future, in the long future? How do you stay relevant?
INFRARED: Without saying too much for the future, we're looking at a few concepts and a few collaborations already. One of them could be Vortex from Amman, Jordan. I'm very optimistic about collaborating and expanding the brand and I believe that collaboration is the name of the game for the future. We would love to be able to push for bigger events. I think that's mostly possible, again, through collaboration, not just with other event organisers and artists, but also music platforms to have both names together or both entities working together to produce bigger calibre events in the region.
I was wondering, what are three main things you have to think about when planning an event? And also, how do you create your lineups? How do you pick your DJs and the set times in general?
INFRARED: Since each of us is good at different things, we each give ourselves the space to thrive in our specialties. Trying to build this memorable experience for me revolves around having a good venue and deciding how everything is going to look like. Stage management is something I love doing, but also making sure we have a good deal  to begin with. The branding and timeline of the promotion as well as how we're going to advertise the event is a major part of it.
SAM: When you think of a music event, music is the first thing you have to take care of. Our strategy revolves around the artists who are new wave and cutting-edge, they need to be making noise in the scene. Their record needs to be released by major labels. But also, we need to be big fans of those. So we always try to book something that we adore and play by ourselves and try to alternate between the internationals and the regionals. Some artists are up and coming, or participating in Middle Beast or other regional outlets. For example, we just had Cosmic Cat who's been released by Middle Beast Records and just played in Fabric, London. Of course, we have our own favorite international DJs who are being released on the biggest labels in the world such as Invoker, Skatman and others
Part of our mission is helping the local scene, so when we have a big headliner, we try to put on a young local artist that reflects our vision in terms of looks, vibe, feel, music, taste. We give them the platform to shine, you know, by putting the name of a young artist next to a well-established name.
What would you want to see more of and less of in terms of event management in the Middle East?
INFRARED: We hope to see more collaborations between artists, more teamwork and eagerness to help one another towards reaching similar goals because in the end of it all, it's all about the art and creative work. The ultimate goal is to look at the bigger picture and how we can all produce something outstanding for the audience that they won't forget.
You're both two successful artists, how do you integrate your craft in what you're doing right now and also how do you envision yourself continuing with that? What are your respective journeys in the future, if you know?
SAM: I would like to emphasise on how lucky and grateful we are to be in a position like this, to have our names next to strong artists and have the opportunity to express our personal tastes while developing our personal profiles.
We have a very good foundation to getting booked either as solo artists or as a collective in the neighbouring countries and I'd love to be able to do more organisational work with well-established brands here in Dubai but also in Saudi. I guess that's my thing!
INFRARED: I see us organising bigger scale events locally in the future as well branching out Project Void to host events outside of Bahrain. We want to establish that name internationally and show other countries that the Bahraini local scene is something special. And as Sam said we're lucky to be performing with big artists that we look up to and we get inspiration from. We hope to keep doing that and performing side by side with top artists from around the globe at our events or at other events while giving people a great time or a great experience every time.