Many record labels have sprung up in Egypt's alternative music scene during the past decade. However, a sizeable portion of these imprints died off in the space of one or two years due to a number of factors; be it lack of releases, artists' inability to fulfill deadlines, royalty disagreements or a combination of all of the above. 
On the other hand, there are a select few imprints that have emerged to provide a fresh perspective on how a local imprint can operate and sustainably serve a roster, or perhaps an entire niche – not least, SLOVVDK (pronounced slow decay), whose impact in a short space of time has seen Cairo Jazz Club invite them for a dedicated showcase/label launch party on Thursday April 30th.
Launched earlier this year by Ragy Ahmed, Moe Hani and Noha Amin, SLOVVDK has already put out eight releases in under three months. Though most of those releases come from projects or aliases belonging to the label founders themselves, be it Moe and Noha's Dirty Backseat or Ragy's BLUFRANK or Mineral Kult, SLOVVDK are definitely expanding their scope by introducing new collaborators and even regional names like Lebanese rapper AZZI, while teasing exciting plans for their upcoming slew of releases.
Aside from the label's A&R aspect, the imprint is proving to be a powerhouse in self-sufficiency. The current team members and their affiliations can handle a release from every angle, tackling mixing, mastering, cover art, art direction and music videos without the need to outsource any of it, something which has hindered many Egyptian labels in the past.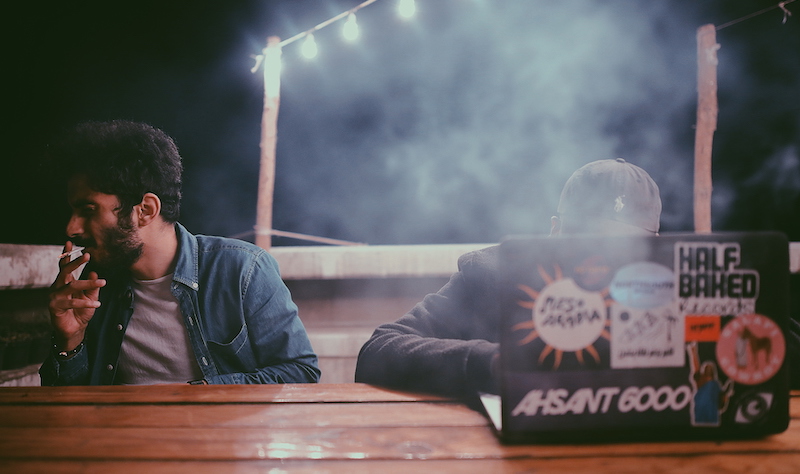 We caught with Ragy and Moe to discuss how they started SLOVVDK, what sets it apart and their exciting release schedule for 2019, all ahead of their much anticipated label launch party at Cairo Jazz Club.
So how long have you been in this fickle game called music?
Moe: Well, I've been making music for almost a decade, but actually started producing music in 2017 when I decided to sign up for the mixing and mastering course at EPIC 101 studios, which really helped me cross lots of barriers in terms of songwriting & production. But previously, I was a bass player in several bands. 
Ragy: since 2999
And how did you meet?
Moe: We met online first, back in 2016 I think. We were both participants at the Safe & Sound Music Festival in Dahab, Ragy as BLUFRANK and I was there with The Cadillacs, my cover band. So, we used to talk online about music, but never got the chance to jam or anything. Afterwards, when we released our debut Dirty Backseat single 'Hypnotize Me' in 2017, we thought we should meet up and talk some music, which we finally did while Noha and I were recording GooBad - our 2017 debut EP.
Ragy: We'd crossed paths before, but met officially when Moe and Noha were recording/producing GooBad; we had a little chat on the Internet, then I visited them later on to help with the sound treatments, post production, mixing and mastering.
When did the idea of a record label originally arise?
Ragy: I had a verbal contract with HIZZ to release an EP or an album through them. I met up with them and had them listen to two albums. They liked them, but I felt like I needed a dedicated crew to finalise things like cover arts, marketing and all that. So I found myself more into forming my own collective. 
At the time I was working with Dirty Backseat, George Azzi (AZZI), Yaseen El-Azzouni (Cartoon Therapy), Mohamed Rageh (rageh) & Zeina Aly (Soft Copy/Ex Coke Machine) - all while having my own stuff too (BLUFRANK,  Mineral Kult & AFTERSPVCE) so, why not create a space? We're so many folks exchanging work and meeting up. Why not make something that's ours? We already developed a workflow to collaborate with and developed some mutual understanding. So why not make an imprint stemming from this experience? 
So I talked with Abbas ElHage (Hizz's Cofounder) about the idea, who in turn discussed it with his partners and was like lets roll with it, giving us a distribution deal (digital, physical,  access to his own Hizz Studios, equipment, etc). At the same time I was talking to Noha and Moe about it. They were in as partners with finances, time and effort.
Moe: Yeah, that helped us boost our work and creativity at the same time.
Why did you make the distribution deal with Hizz?
Ragy: Well, we're music makers, video makers, who needed a distributor. Plus I was cool with Abass, so why not?
Moe: We just needed an online distributor, so as long as Ragy is on good terms with Abass we thought it could perfectly do the job. 
How would you describe SLOVVDK?
Moe: For me, SLOVVDK is an idea that any musician/record producer/songwriter needs. We work in a commune system made by artists, for artists. 
Ragy: Imprint, loose collective, no strings attached.
You guys clearly offer more than an ordinary record label. What is it that you think sets you apart?
Ragy: Hmm, our stuff always comes out extra-grilled.
Moe: Yeah! There's always something extra special that we're trying to add to each record we release. The music business very tricky these days because any music maker would imitate a certain style just for the sake of loving that style too much. We want to focus on delivering a unique/high-end product that could compete in the global market. So in order to help us release a high-end product, it really requires an effort from the artist, too.
Are there certain sonic characteristics that you look for in a release/artist? 
Moe: We don't usually stick to a certain style or genre, everybody is welcome to send us his/her demos. Like I said, it's a matter of delivering a high-end product with high creative value. So, even if you think your music sucks, it's actually okay! You can send us your demo, and we will try to make it work out if we spot something special about it.
Ragy: My reply to that is - check out our catalog, if you feel like you can add something, DM us right now.
From all the record labels that launched in Egypt, only you and Hizz have managed to maintain a consistent release schedule. How do you manage to keep it tight and consistent?
Ragy: By having a firm timeline, due dates, and by bullying each other to think quick.
Moe: Hahahaha! We really set goals before each quarter and work hard on them, that's all. And we try to manage our time as efficiently as possible. I work as a credit analyst in a leasing company by day, and I can thank my day job for helping me apply some of that discipline in SLOVVDK. To be honest, I've never taken music this seriously and never had a timeline for a release, so I think what we're doing is healthy and will help us as artists move forward. 
Do you have future plans to press your upcoming releases on physical mediums like tape or vinyl? 
Ragy: Yes, we're already in the process of doing that. Whatever people are buying these days, people want to buy it on this medium, and we're going to get it out on this medium. Music is the main thing, mediums are just the wrapping.
How did you come into contact with Lebanese rapper AZZI? What was the experience like working with him?
Ragy: AZZI is my friend. He provides the smoothest work experiences when it comes to group work.
Moe: My experience with AZZI is very smooth and friendly. He's a very talented artist with much to offer. 
Does that mean you have intentions to expand regionally?
Ragy: That's what we're working on. We're in talks and preparations with folks from other countries for SLOVVDK Season II.
Moe: Yeah, we'll keep it under wraps until the start of Season II in May. *excited already*
What can people expect at the SLOVVDK launch party on April 30th?
Moe: The unexpected, surprises and explosives. 
Follow SLOVVDK on Facebook and Soundcloud.