Terminal is the first collaborative album by Lebanese rapper Chyno from the Fareeq El Atrash crew and Jordanian rapper, Synaptik. The album consists of seven English-language rap tracks, produced by Palestinian producers Asifeh (aka Stormtrap), Wikidz, and Jordanian producer HashOnTheBeat. With album artwork by Egyptian artist Mohamed Gamal, Terminal stands as a sonic time voyage from old-school to new-school rap.
The two rappers alternate throughout each track, each representing a different generation, with  Chyno portraying old school rap and Synaptik exhibiting a more modern version. The album starts with the track "Got My Saudi On", produced, mixed and mastered by Stormtrap. It is beautifully simplistic in that it doesn't contain any melodies, but rather a flowy, rhythmic sound and voice that is constant throughout the entire track. It's the song that most reps old-school rap. 
Say A7a with me. The law isn't but Allah's with me
I'm in Zamalek in an Ahly Jersey, Bumping Islam Chipsy
"High in Cairo" is the best song on the album by far - Synaptik's gives the chorus a reggae feel, interpreting a different mood from Cairo. Instead of it being portrayed as a dark, crowded city, Synaptik presents it with a more laid back and relaxed feel.  
Sometimes I feel like I'm the Rasta Man, in the body of an alien
'Cause I don't really fit in this circle
'Cause I never met another so versatile 
I don't know where the fuck I am 
is this the place where I call my spaceship back
There are certain responsibilities that come with making art, and one of them is voicing truth and equality. However, considering all its political crises in the Middle East, that is a more difficult thing to do. Yet despite all the consequences, these two rappers still put a great deal of effort to staying true to their music, and making art that represents different generations. 
"Dancing With the Shadows" 
Brainwash us, Soap Kills, at least we smell Yasmine,
C'est la vie, we take anything free, so they sell us dreams
In this verse, Synaptik and Chyno take the song to the next level by discussing more intricate topics. They mention how as Arabs, our dreams are becoming very ordinary. That we are being brainwashed, and how we "take anything for free". These verses allow people to interpret the songs in different ways and gives it a deeper meaning.  
Even if I can't find peace in the Middle East or me, 
There's always a piece of the Middle East in me
What distinguishes the songs on this album is that they also touch upon problems in the Middle East in a different way than news bulletins and press reports do. "Overseaz", specifically, produced by HashOnTheBeat, shows how music has given rappers the platform to create something new and different. The song has a very flexible format that allows both Chyno and Syna
ptik to rap comfortably without forcing any specific style on them.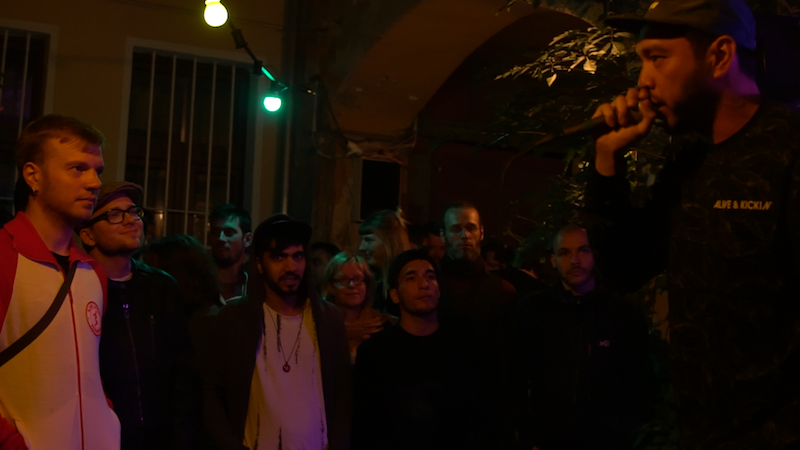 Terminal can't be compared to other Arabic rap albums because it's solely an English language album. It stands as an example of a successful musical attempt by a rapper from an older generation singing in English, Chyno, and Synaptik, a new and upcoming rapper from this generation, rapping in both Arabic and English. Yet what makes this album so special, is that every song contains new features with a different style and identity. It makes the album flow through a lot of ideas, and makes it enjoyable and easy to listen to. Terminal stands as an example of how artistic projects between people of different generations can be successful. Hopefully, this will inspire other artists to break out of their shell and try new things as well. 
To further understand the idea and concept behind the album, we asked Chyno a couple of questions. 
How did the the album idea come to life?
You mentioned you view this album as a generational mix. Can you explain why? 
Well it started by us creating one new song, but eventually we found our song ideas flowing and it eventually snowballed into an entire album. With every song we finished, the theme and energy of the project just kept getting more clear, so we kept making more music. 
I believe It's a generational mix simply because Synaptik is almost a decade younger than me and his style resembles the sound of today much more than I do. 
Did you and Synaptic ask the producers to create beats with a specific mood to match the album theme you had in mind? Or did you send the trax name and idea to the producer and asked them to create something related to it ?
It was just beats we had from different producers we worked with. I send him a draft for an idea. If he likes it, he continues the idea, and vice versa. It was a very natural and easy process and the theme of the album came through organically.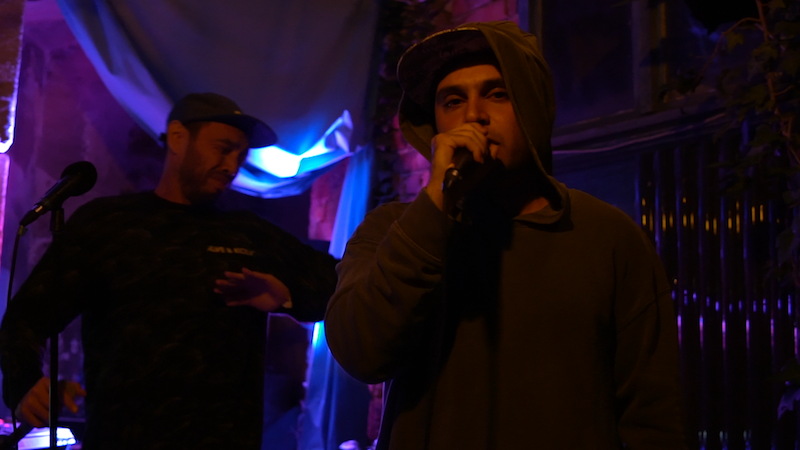 Why are Bittar and Damar only mixing and mastering and not producing?
Bittar and Damar only mixed/mastered "High In Cairo" because it was produced by Wikidz, and they've been doing the engineering on Synaptik's upcoming album. 
Why isn't there any Arabic rapping on this album? Do you have news on any Arabic rap tracks coming  out soon?
Yeah! Synaptik's upcoming album, Omm el Mawjat, is 16 new Arabic songs.. ;) We didn't rap in Arabic on this album because I usually do English hip hop and I felt like this was an opportunity for Synaptik to do something different. 
When I heard "High in Cairo" I felt like there's a special bond between you guys and Cairo. Is that true?
Yes, I think it's because we love Cairo. Specifically it's vibe, the hustle, passion, struggle, and success that comes with the city. 
What type of sounds did you you want to create from this project?  Do you believe this project was a success?   
It was a feeling we rode like a wave. We didn't plan it, but the energy was very clear to us from the beginning.