This Saturday July 13th at Hafen 2 Cultural Center in Offenbach, Germany - Sudanese musicians, artists, entrepreneurs, public media figures and academics will all come together for the free-for-all Sudanese Peace Music Festival. Founded by art exhibition curator Mohamed Dardiri and impact investment executive Hussam El Tayeb, the event is a brand new initiative aimed at amplifying the Sudanese people's call for a civilian state and raising concern for the cause as a global humanitarian issue rather than a regional African concern, or 'just another' third world crisis. 
The event will start at 3 pm GMT+2 and will host a broad range of live Sudanese music featuring artists like UK-based RnB singer Shuroouq, Yemeni singer-song writer Asery who'll sing Sudanese classics and revolutionary songs, Berlin-based up and coming rapper Puff Moody and Abbas Anoor, whose inspired homeland inspired hip-hop evokes the drumbeats of Darfur. 
Also on the lineup and paying tribute to the Kandaka queens of Sudan is Tamador Gibreel who'll be making her way from the United States with her drumming troupe to perform a piece entitled "Stages of Revolution". Tamador and her troupe will be joined onstage by German indie pop band Einsneunzig, singer-songwriter Jonas Noack as a number of other European bands that echo their sentiment and are committed to this rich intercultural dialogue.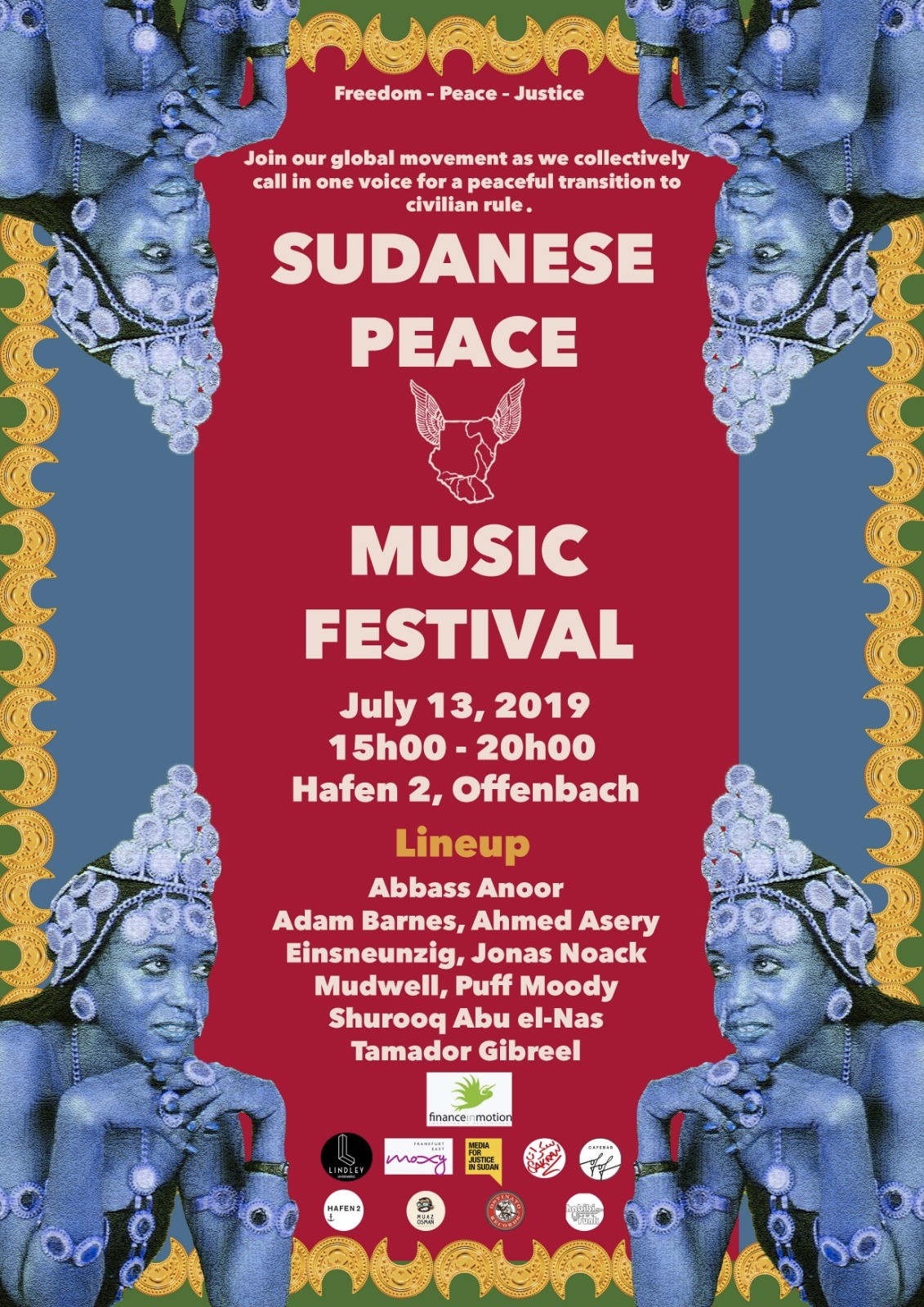 "This is a once-in-a-lifetime chance to change the status quo," Hussam said. "The people of Sudan have made clear their will, and we are honored with the privilege to reiterate and amplify their call for a peaceful transition to a civilian, democratic, and representative government. The spirit of the festival will be a celebration of the universality of human rights. We want to bring people together for a happy, inclusive, family-friendly event where they can hear some great music and experience Sudanese art, in support of this important cause." 
The event will not only focus on music but Dardiri - who aside from working as a curator is an avid artist himself - will also curate a limited exhibition of modern art from Sudan at the festival under the mentorship of Zaki Al Maboren, an internationally renowned artist with roots in Nubia, and Khalid Albaih, one of the most influential cartoonists in the Arab world. This exhibition will showcase the daring sculptures of Dardiri as well as the works of two artists; Galal Yousef and Al Migdad Al Dikhiri. 
Ending the festival's happenings will be cultural icon Ibrahim Algrefawi – the cultural icon behind the "Mafroosh" revolutionary reading and book fair campaign – will lead festival goers on a peaceful procession in solidarity with marches that have taken place around the world in the past months to raise high the banner and amplify the legitimate call of Sudanese people for freedom, peace and justice.
Head to the Sudanese Peace Music Festival Facebook event page for more info.