This weekend on Friday, July 13th, a one day 'mini' festival called The Parallel Life will take place in Amman, Jordan. The festival's first edition will be hosted by 4NX / Foreign Exchange, with the aim to promote local Jordanian, Egyptian and Lebanese artists in Europe. The event will be indoors at Level Farm, with the view of a vast forest into which the sun will sink, leaving you with a top-notch line-up commandeering the night.
For deck duties, 4NX are putting together a diverse lineup made of rising regional and international acts and dividing them into four stages: Outdoor Stage, Trance Stage, House Stage and Techno Stage, meaning that music will be tailored to a wide range of taste. The reason behind this is to gather all the electronic music enthusiasts in one space and give them the chance to explore more than one sub-genre.
"Amman has a very small electronic music scene we always say, however when you get deep into it you will start discovering sub-scenes that are actually decent, and when you gather them together you find out that the scene isn't as small as we think, and this is what The Parallel Life has to prove," explained Ameed Mughrabi, one of the organizers.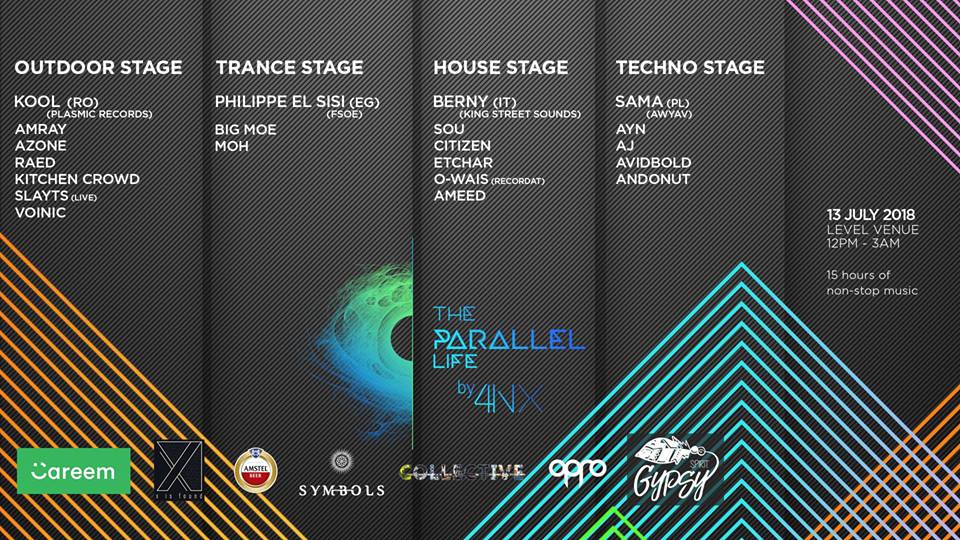 The outdoor stage will feature diverse electronic acts headlined by Romania's house DJ Kool, alongside some of Jordan's finest: Kitchen Crowd, Slayts (live), Azone, Amray, Raed and Vionic. Future Sound of Egypt's Philippe El Sisi will be headlining the trance stage, joined by Big Moe and Moh for trance fanatics and fast tempo lovers. For those who like a less intense experience, the house stage is the place to go, with Italy's Berny, Sou, Citizen, Etchar, O-Wais and Ameed. The last stage (and the darkest) is the techno stage, with Palestinian trendsetter SAMA', supported by AYN, AJ, Avidbold and AnDonut. 
"The local DJs of Amman are pure gems, ultimately talented starting from DJ's who has 15 years of experience under to the freshest talents who has been DJing for around 3 years, we couldn't find better chance to have them all on one lineup. they all contribute to the scene in many ways and thanks to them I can proudly say that Amman is on the map." Said Mughrabi
Food, drinks and snacks will be available throughout the festival to recharge you and boost your energy levels.
More info on the event page.