Different promoters have emerged this season, with many offering something different. Noise Sessions by SceneNoise also offers something in the sense that it is a chance for DJs to play what they can't play elsewhere, and thus our previous gigs have unearthed amazing fresh talents. The event caters to a small crowd of only eighty to a maximum of a hundred people, in order to maintain the intimate vibe we're going for. Along with new talents, we invite the scene's veterans to grace our decks with complete musical liberty.
This February the 21st we will feature the gritty lineup of Saleh Amin, Kamal Marei and Aroussi, and we're pushing it a bit further by having Hanna Patten, one of the freshest VJs in town, bring art to life through her visual projections.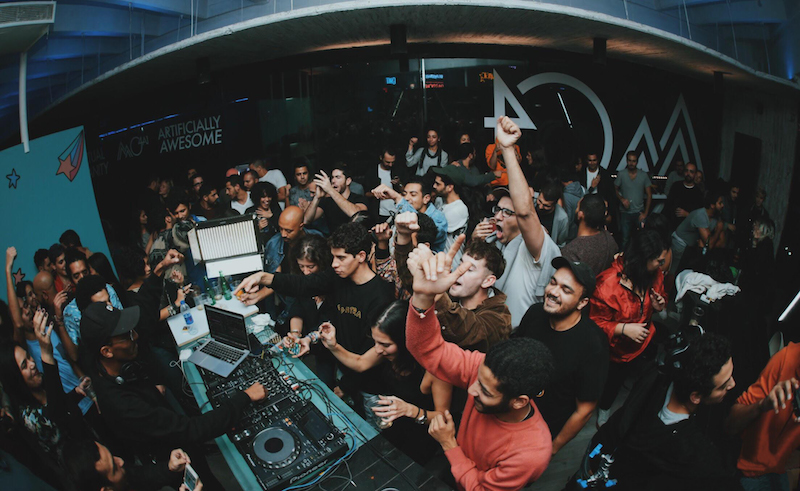 Saleh Amin, having been in the scene for a while now playing in gigs such as Nacelle and Noname, has become known through his chique house sound and his powerful and consistent warm up sets.  
Still new to the scene, Kamal Marei has only played within his close group of friends in after parties and such. He is one of the co founders of Sakanat Studio, the vinyl haven in Maadi. We're looking forward to see what he will do in his debut, seeing as at Gahallah's debut a couple of months ago at Noise Sessions he tore down the roof. 
Not really needing an introduction, Aroussi has become known for his diverse collection of vinyl records traversing through a wide spectrum of house, minimal, techno, acid, breakbeat and basically anything that sounds elegant and groovy, is "in his bag". 
The party is invitation only and we will close the doors at full capacity, so those invited best get their early. As usual, we're streaming live, and the wine, beer and Redbull are on us; but feel free to bring your own bottles and mixers. Last but not least, we've partnered up with Bose to make sure the sound is killer
Follow Aroussi on Soundcloud.
Follow Saleh Amin on Soundcloud and Facebook.
Follow Kamal Marei on Soundcloud.
Follow Hannah Patten on Instagram.