After announcing the lineup for their third edition this past month, Chill O'posite are here with the schedule for their music-filled three day festival which will see the likes of Just Emma, Behrouz, Sahalé, Davi and countless regional talents descend upon the Sinai resort town between August 13th and 15th to perform at a variety of venues both old and new to the festival.
Things will kick off on the night of the 13th with the festival's infamous opening party the renovated backyard of Downtown Dahab's Tota with sets from rising Jordanian talent Roo, Egypt's ubiquitous Misty and Lebanese veteran maDJam who's will be closing the festival's opening night at the venue for the third year in a row.
Day two will see Chill O'posite move to a new location on the sandy beaches of Dahab's Laguna between 11:30 am and 2:30 am where partygoers will rave the night away under a full moon. Kicking things off will be Egypt's Loulii, Jordan's AYN and Waleed Ali. Later on local Egyptian talent Hot Oasis and American headliner DAVI will spin away the sunset before fellow Iranian/American headliner Behrouz hypes things up for 4NX founder Ameed and Jordanian deck dazzler Ameed and Moroccan heavyweight and Cosmo records boss Adil Hiani.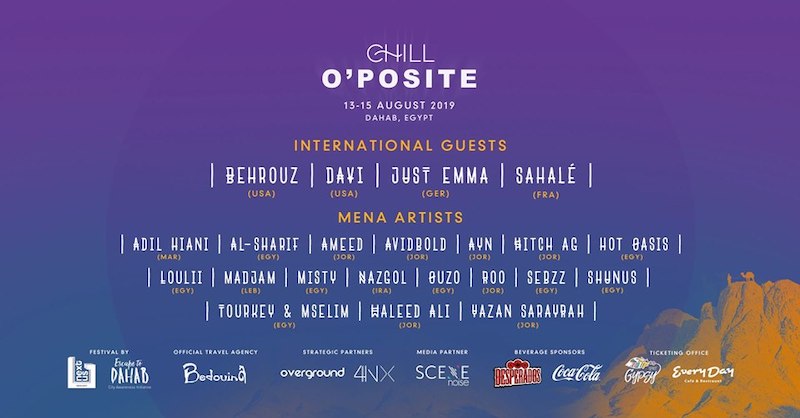 The third and final day will be split between two locations, starting off at 12 pm with Overground Jordan's Sundaze pool party at the Sheikh Ali Pool. Egypt's Tourkey & Mselim, Shunus and Al Sharif will be spinning on the poolside alongside Jordan's Roo.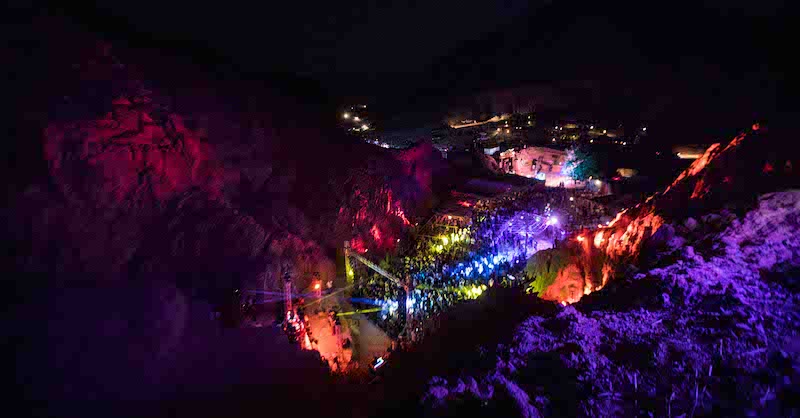 With the pool party ending at 5 pm, the crowd will then make their way to Jabal Al-Twailat for Chill O'posite's main event and crown jewel of all Sinai events - The Sound of The Mountain. The night will kick off with promising Jordanian talent Hitch AG followed by the astonishing one-man band of Yazan Sarayrah aka Slayts who hypnotized partygoers last year with his entrancing live performance. Taking it from there will be Parisian DJ Sahalé who'll soundtrack the sunset on the mountains followed by a live performance from Germany's Just Emma. The night will see the tempo pick up as the party turns into a full fledged rave under the stars with sets from Chill O'posite favorites Sebz and Ouzo along with a closing set from Jordanian godfather Avidbold.