Founded by renowned Egyptian pianist Amro Salah, with an aim to establish a jazz audience in the country's capital, Cairo Jazz Festival has been boosting the city's fervour for jazz for over a decade. Each year, the festival hosts an eclectic range of artists from countries all over the world. This year's line-up will feature local, regional and international artists ranging from Cairo-based Gypsy Jazz Project, to Jordan's Aziz Maraka, to Austrian group Birds Against Hurricanes.
The festival's main acts will be performing at Tahrir Cultural Centre in Downtown. The opening ceremony will kick-start the itinerary on Thursday, 6:30pm, accompanied by acts such as Dutch group Artvark and Drums United, and Egyptian super-group Wust El Balad. With an earlier start, Friday's main programme features a kid-friendly workshop named "Jazzining" followed by performances by Cairo-based Groove Ensemble, "razz" pioneer (a mix between rock and jazz) Aziz Maraka, and experimental Hungarian trio "Ju." Saturday will see musicians such as Italian minimalist pianist Livio Minafra and Egyptian singer/accordionist Youssra el Hawary and her band also take to the stage.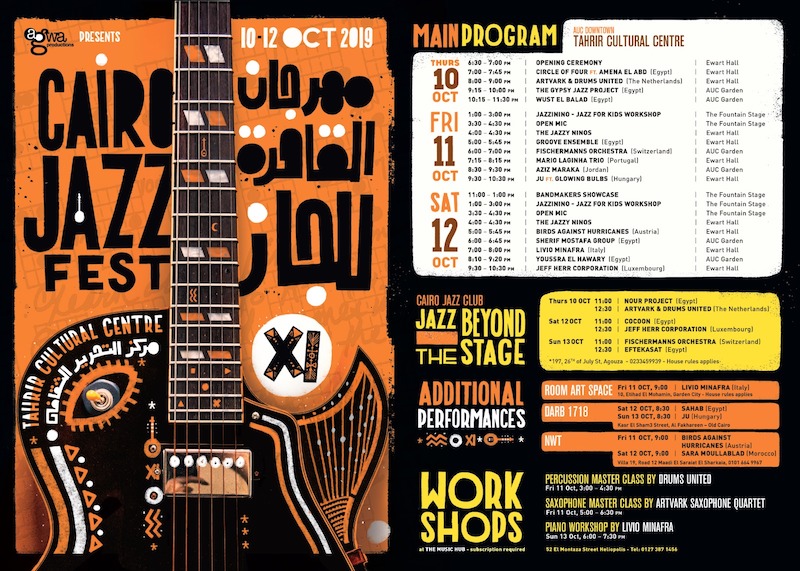 Alas, the weekend's festivities extend far beyond - in both breadth and scope - the main programme centred in Downtown. Indeed, for those of us willing to diversify our daily activities, a variety of workshops will be held throughout the weekend. These include percussion and saxophone masterclass conducted by "Drum United" and "Artvark Saxophone Quartet" respectively, as well as a piano workshop by Livio Minafra. And for those of us wanting to either start or carry on into the night, Darb 1718 in Old Cairo, NWT in Maadi, and Room Art Space in Downtown will be hosting evening performances on Friday, Saturday and Sunday night. As is the case each year, this edition of Cairo Jazz Festival will brighten up the capital as summer seeps into autumn.