A little over a year after his surprise comeback, Marwan Pablo is back again with a surprise music video that certainly bats for first place amongst the rest of his visual catalogue. This, however, is Pablo's signature style: keeping a low profile, disappearing into the ether of smoke, only to return with brighter flames and more heat. In short, Pablo is an inferno of mystery, allure, and talent quite unlike anything the region has ever seen.
The video did not come as a complete surprise to die hard fans however, who keep tabs on the young artist's moves – however slight. As soon as Pablo refreshes his social media in any way, alarm bells go off – we know he's active. Recently, he deleted all old posts and changed his profile picture, gearing fans up for a new aesthetic.
Sure enough, he didn't disappoint. On Tuesday March 1st, at around 10 PM, Marwan Pablo premiered 'Barbary' on his YouTube page. In less than 24 hours, the video racked up over a million views and, at the time this of this article, is trending at #2 for music regionally. To attribute this success solely to the surprise element of the drop would be unjust. Pablo raises the bar with every release musically and visually.
The song was produced by longtime collaborator and friend Hady M. Omer, with the video shot and directed by Muhammed Ibrahim, also credited as DOP for 'Ghaba', released in 2021. It's clear that Pablo has created a family around him of sorts, creatives whose visions he trusts. The result is a cohesive body of work that radiates the chemistry and passion that was certainly felt by the entire crew on set.
That said, it's only fair to review both the song and visuals in parallel – being released simultaneously, they surely go hand-in-hand.
The beat begins with ominous vocal samples akin to gospel, with something sounding like a monster growling underneath, rising steadily as beams of light sweep across the darkness of the scene. As the beat kicks in, the camera tilts down, slowly revealing Pablo in the driver's seat of a red sports car, wearing a red puffer jacket to match. Next to him is Hady M. Omer himself, decked out in all black. They're doused in red light, hazy behind a thin veil of smoke.
As the shot tracks in, the edges of the car are highlighted by running beams of yellow light. Ibrahim is a master of lighting and cinematography – and the mastery of the visuals is reflected in the simplicity of the beat. Heavy kicks, rolling high-hats, and a single note of an alarm-like sound underneath ties the entire track together.
Pablo enters with the hook in a jarring, almost out-of-pocket flow – different from what fans might be used to, but interesting nonetheless. Different, however, is often good. It demonstrates growth and an artists' desire to challenge themselves and elevate their style. Lyrically, the track is braggadocious with Pablo flexing a king status. Loosely translated he states, "You want to be in my place/But I rule this arena."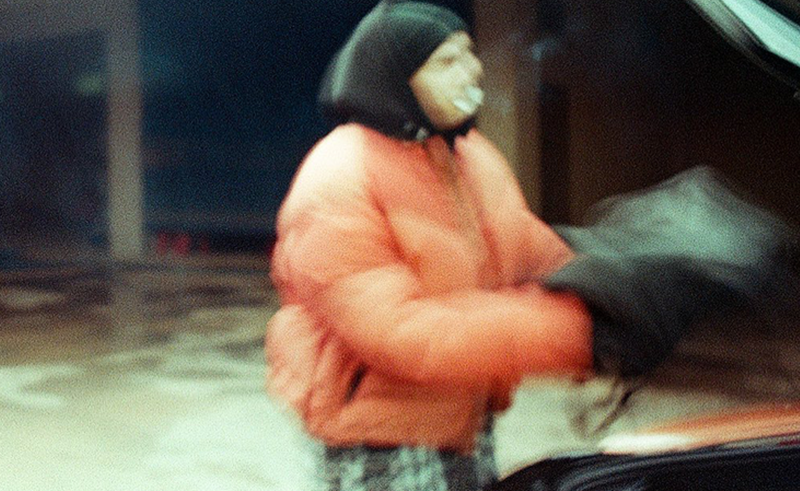 The video shows Pablo and Omer in various environments aside from being in the car. One scene shows the pair standing in a large warehouse, with the car parked, butterfly doors lifted. Pablo performs underneath a large screen flashing with different lights, patterns, and textures. The whole thing is futuristic with SFX edits, of the pair being blurred in movement, disappearing and reappearing again with well-placed glitches. The video is also an impressive display of editing, the magic of editor Islam Faris.
In another scene, Pablo sits at a table stacked with money, showing up in close-up shots on a number of TV screens. The camera's movements are as jarring as Pablo's flow, again demonstrating this team's ability to work in complete unison through their respective mediums.
A little over one minute into the track, the beat breaks into a bridge section, where Pablo's lyrics are more drawn out, his voice stretched with autotune and reverb. Here, we're treated with a new look, visually: the artist stands under a spotlight resembling a UFO light beam. Pablo seems to be rising up into this beam, either fading into or out of a holographic version of himself. This could be read in two ways: Pablo being brought down to Earth from another planet, alluding to his alien, inhuman talent – or, Pablo being abducted into the universe, perhaps in reference to his frequent disappearances.
Following this, the beat kicks in again even harder as Pablo takes us back to the chorus. The visual matches this elevated energy with more intense light effects, and faster zooms and cuts in between wide and close up shots, and between a more hype Pablo and Omer. The video ends in this way, with  smooth 360 degree camera movements and heightened energy, Pablo's voice echoing with autotuned shrieks and ad libs, 'Get the money, get the money!'.
All in all, the track and visuals are more than re-play worthy – explaining the impressive number of over a million views and counting. If this is Pablo's first drop of the year, we can't wait to see what he and his team have in store for us next.