Located in Egypt's north coast town of Alexandria, B'sarya is an art space working to develop the contemporary art scene in Egypt, with their focus primarily on supporting artists and exhibiting their art in the fields of visual arts and music.
The independent art centre organises music creation residencies in their studios, and currently they are hosting Rebooting…, a four-week, co-creation music residency programme. With the support of the Embassy of the Netherlands in Egypt, B'sarya is hosting two musicians from  different corners of the world: Ahmed Saleh from Egypt, and Konstantyn Napolov from the Netherlands to produce a new LP.
"In February 2019 we opened our space to the public, and today, we are privileged to have established and operate an independent art center that provides art training, offers spaces to artists to perform/ exhibit their art work to the public, and holds art events to engage the broader community," founder, Ahmed Nagy tells SceneNoise.
Two years after the opening of the art space, B'sarya positions itself as a new stakeholder and a creativity hub in the Egyptian artistic scope, able to initiate and produce original and relevant projects in Alexandria, linked to other cities in Egypt and abroad, responding to relevant local and global issues.
"Working in the artistic field, it is essential for us that our projects at B'sarya are firmly anchored at a local level, in Alexandria, responding to local issues and needs, but always in relation to other Egyptian cities and to the international artistic scene as well," shares Nagy.
In the past, B'sarya has hosted the same Rebooting… digital arts residency featuring Egyptian visual artist, Aya Tarek and Dutch animation artist, Udo Prinsen. Together they collaborated on an experimental animation and digital painting project.
Ahmed Saleh is an Alexandria-based musician, composer and sound artist from Alexandria, Egypt. He is one of the pioneers of the electronic music scene in Egypt. His sound is inspired by the orchestration of 80's Egyptian pop, psychedelic and folk music. Saleh is a member and one of the founders of the band Telepoetic, known for its experimental, raw and post-rock sound. Saleh has composed the soundtracks for many independent movies, contemporary dance shows and even theatre.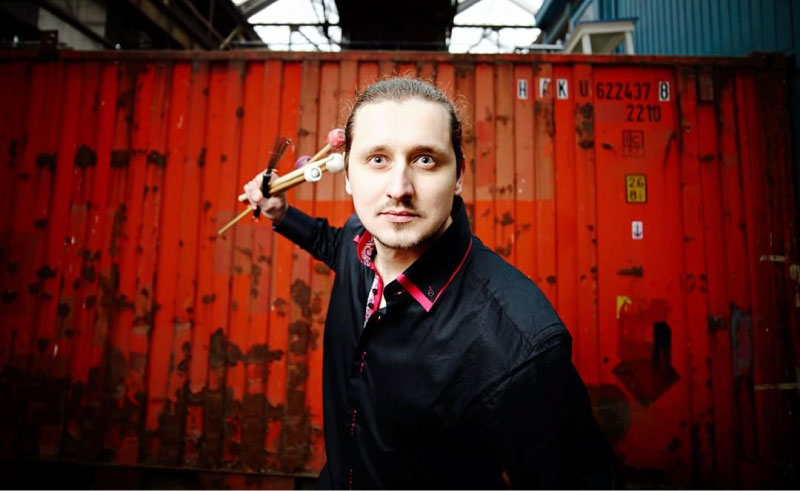 Hailing from the Netherlands, Konstantyn Napolov (pictured above) is a touring concert percussionist and a great promoter of contemporary percussion music. It is his great passion to commission new oeuvre for percussion instruments from talented and famous composers from all around the world. He has a master's degree in percussion and orchestral conducting from the National Music Academy in Kiev. He has traveled from country to country, sharing his musical prowess with the world.
The two artists will be working together on a new music creation project that will be presented to a public audience in two concerts: one at the Garage Theater of the Jesuit Cultural Center in Alexandria on May 18th and another in Cairo on May 20th.