Smouldering in Forgotten's unrivaled and unapologetically extreme blackened death metal stands out among the rest of Bahrain's music scene. The band consists of Mohammed "Mardus" on Vocals, Mohammed "Busac" on drums, Husam on bass and Omar "Voidhanger" on guitar and backing vocals. From the inception of their albums Legions Into Black Flames (2007), I, Devourer (2010), as well as their and 2015 single "Sirens", we are thrown into a mosh pit of hell: the drums pound like a weaponized meat grinder, pummeling anything that stands before it...and it doesn't let up. With songs like "An End To All Things" on their resume, there is no mercy in sight. If you can't handle a track like this, chances are you're listening to the wrong band.
The debauchery continues with songs like "Dread Messiah," another track from I, Devourer, which includes an old-school anthemic yell for a chorus: "I might be righteous fury, I might be unjustified, The promise of sweet oblivion at the side of the Destroyer, I am tempted, and yet I am terrified, will I descend into madness? Or answer a higher calling?" Blood boiling, you immediately stand up to protest the unfairness of life.
"An Elegy (for Tomorrow)" closes this classic album with an enchanting female vocal line that harmonizes with slow melodies of sorrow, showcasing their diverse songwriting ability and mastery of mood and atmosphere, not just grinding your hell to an endless abyss. Omar spoke to me about the band's formation, their homeland and what they have set for the future.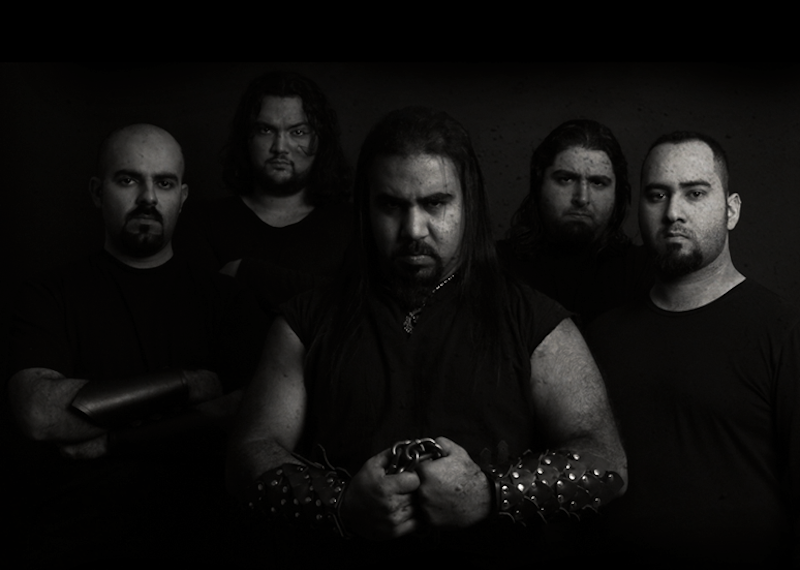 Where are all the band members from, and how did you meet and form Smouldering in Forgotten?
We are all from Bahrain and have been friends for years before deciding to form SIF back in 2005.

How did you give birth to your sound? Was it a conscious decision to make hideous Black/Death Metal or did it come through jamming?
It started with Mohd (Mardus) and myself discussing the idea of creating an extreme metal band in Bahrain to become one of the very first at that time. Next thing you know we were looking for like-minded people willing to join and to start writing music.

When did you start recording?

After forming the band, we went straight into writing material and released our demo in 2006, gaining some online attention globally. We managed to release our debut album Legions Into Black Flames in 2007 with Old Cemetery Records.

I, Devourer was our second album, and our latest release is the single "Siren of Truth" in 2015.
Your brand of blackened death metal is completely uncompromising and full of pent-up rage. What do you feel you are expressing through this sound?

Thank you for your words. Just like any form of art, there's always the artist's expression in the work being made whether it's music or anything else. In terms of maintaining a certain sound, we do take our music very seriously when it comes to writing and take as long as we need to make sure what we release must be at a certain standard and sounds like SIF.

How do you write your songs? Is one of you the main songwriter or do you all contribute a part and build a structure around it?

We all contribute to the writing. I, Devourer was written at the time when we were not a complete band. It was Mardus, Busac and myself. When we were in the process of releasing the album, we got two new members to join and completed the lineup. The writing process of course changed later on as we were able to come up with "jam based" ideas and parts of songs aside from the original writing formula we follow.
Lyrically is everything the singer's vision or do you all part take in the that process as with the music?

The lyrics in I, Devourer were mostly written by a friend of ours (Hamad) who shared an idea of a concept album with us which we really liked and went with.
In other releases including the one we are recording at the moment, the lyrics are mostly written by Busac and Mardus.

And what's that concept ?

It's about a man's journey through time and insanity in which he finds his true purpose as savior to the imprisoned Abadon and to unleash his army of the undead on the world.

Very compelling. What interests you about the concept of an imprisoned deity?

I wouldn't be doing justice to the story by commenting, as I wasn't personally the writer of the concept story. However, from a personal opinion, what inspires me in that thought is the idea of Armageddon and destruction. Hence the name I, Devourer in Abadon's words ("I, Devourer of souls, devourer of flesh, devourer of lives, devour mankind").

To me, it's more of a locked-up evil or power that is waiting to break it's chains and wreak havoc. I guess those themes always work with extreme metal.

I love I, Devourer. I've heard it several times in a row, and every time I hear it, I love the choice of the male chanting in a song like "Spiritus Nes Sancti".  Can you tell me about the decision to integrate those chants?

The chants are Latin phrases praising Abadon. In the story, this is when the protagonist is about to release him from his chains. It's actually all of us chanting, including the writer of the lyrics (Hamad). That's the fun part when you have chants in your songs.
Bahrain is not particularly known for its arts. What are your performances like and how is metal generally viewed there?

Just like in the rest of the world, metal is always frowned upon and is not completely understood by society. We did face a few problems in the past when organizing metal shows, not to the extremes of other nearby countries. But, things are getting better and the public is more open to new ideas and different forms of music now. So it's not yet accepted by everyone, but we are getting there.

In "An Elegy (For Tomorrow)" how did the collaboration with Slavia come about?

The idea was always there to have a softer song with a female vocalist but we never thought that it would happen in I, Devourer. We actually found a female vocalist who was interested to try, so we started writing the riffs and shaping a song. Later on, her voice wasn't really the kind of voice that we wanted so we started looking for someone else until we found Slavia. The lyrics of the song worked out pretty well too, an elegy to the world that was destroyed by Abadon.

Why did you decide to release the single "Siren of Truth"?
As I mentioned earlier, we do take a really long time writing our music and do not force ourselves to release anything we're not 100% sure of. 2015 marked the 10th anniversary of forming the band, and five years since we had released I, Devourer so we thought it would be good to have something released as a teaser for the new album.

Have you performed anywhere besides Bahrain?

Yes. We performed in Dubai a couple of times, alongside Obscura, Insomnium, Melechesh, Perversion and Nervecell.

What are your future plans?

Currently we are in the process of recording the new album at our drummer's studio, Distorted Studios, in Bahrain. And in parallel we are working on the artwork of the album that will reflect the theme of the album.
What can you tell us about the new album? How is it different from I, Devourer?
To put it simply, in this album we explore the birth and death of civilizations, with all the stages in between. It's not a story album as we did in I, Devourer as each track is its own stand alone story, but the underlying themes relate to each other with each stage. So you'd have songs that are about growth and maturity, but then you also have ego, arrogance, and even the destructive nature of people.
What other projects are members of SIF involved in?
Our main side projects are Narjahanam and Hellionight.
Narjahanam has been around since 2004 as a one man band created by Mardus and later joined by Busac as a 2 piece project that focuses on Oriental themed death or extreme metal all sung in Arabic.

Myself, Busac and a third guy (Naji) recently formed Hellionight, in which our goal is to revive an old school sound of extreme metal that mainly revolves around thrash/speed and little bit of black metal.

Aside from those bands, SIF is somewhat of a core of all these bands and is the main focus we have and would always want to succeed with.