Upbeat, unpredictable and always on the move, Salah Sadeq's tunes on the dance floor resemble his approach to life. Born and raised in Bahrain, the DJ oscillated between Dubai and Tbilisi for quite a while and has now returned to his homeland - at least for now. Salah has been a passionate artist for over 20 years now and his musical style is as diverse as the different scenes he has interacted in during his career. Aiming to create "an experience that remains with you for days, weeks and months", he is an expert in playing within the wide spectrum that electronic music allows; his sets differ from deep to house to groovy to electronic to acid to disco, and combine different elements of the genres to keep his manifold audience all around the globe dancing all night.
Passionate about music, design, food, and wine Salah describes growing up in the island country of Bahrain as a tranquil and culturally diverse experience. What many don't know is that the kingdom used to be a pioneer when it comes to the music and fashion industry in the GCC for quite some time. Music released in London would arrive in the record stores in Bahrain within days, and with the then highly rated Gulf Air based out of the country, there were always people ferrying the latest records and magazines from overseas. Between this and his family's influence from an early age, Salah's passion for music was sparked.
Though he was first captivated by the drums, he started to notice vinyl, mixing and the DJ culture from parties he used to pick his sister up from, as well as from his sister's visits to Beatbox in Bahrain. "They used to have a service where you would choose tracks from their collection and they would do a mixtape for you. This is how I found out what 12" mixes and remixes actually are, and this lead to me appreciate track selection" Salah remembers. In 1991, On a summer vacation with family in Toronto, he got hooked on the mix shows played on the Canadian radio, and attended events where he witnessed DJs mixing hip hop to a buzzing crowd. These were the seeds that sparked the idea for him to get into music himself.
Back in Bahrain, he started to get into mixing, and the "funny thing is that it took me just one try to get a mix right. Shortly after I started to get booked for private events". At a point when he was just about to let music slide into the realm of personal hobby, Salah took up a residency at Likwid in Bahrain, a place focusing on jazz and house music, catered towards a more open-minded crowd. This lead to his first gig in 2000, and further travels to Europe - experiences that shaped his musical direction. At some point, when he felt like the Bahrain scene took a sharp dip, the DJ made a move to Dubai, which was already familiar for him due to his regular gigs there. It was also in Dubai where he started to focus more on producing.
During the time he was based in Dubai, Salah also made a deep connection to another city, which is now popular for its flourishing techno scene - Georgia's capital Tbilisi. About six years ago, some Dubai friends got him a gig at a club called Mtkvarze, prompting him to spend a weekend experiencing the rich culture of the city. For Salah, Tbilisi has a special vibe. "Coming out of communism not so long ago, the place is well-heeled with talented youth and art culture that were waiting to express [themselves]," he explains. "Music and dance is deeply rooted in their blood and it was waiting to burst out I guess". The scene is fueled by fairly lax restrictions: relaxed curfews, last calls at bars, venues and zoning issues - a great advantage in comparison to the challenges other well established cities like London or Toronto are facing. Salah further elaborates on his affinity for Georgia's capital, saying "I love playing and hanging out there with friends. It has a tranquil feel in a way, a go with the flow that lets your mind think".
This is a huge difference when compared to the other scenes Salah interacts with. Experiencing the differences between Bahrain, Dubai as well as Tbilisi, he states that "there was a time I could identify differences in Bahrain and Dubai, but at a certain point it became the same commercially minded [direction] with no attention to developing a real scene". In his opinion, the scene of his home country has especially experienced a huge fall from what it used to be, currently inundated by mainstream events with no artistic or cultural value. In comparison, he sees Dubai as a city with ups and downs that mainly stays commercially minded, though he appreciates the efforts made by crews like Analog Room, Deep Like or Boogie Box to bring some underground to the nightlife.
Tbilisi represents the other end of the spectrum. As a scene that provides a lot of musical and personal freedom, and from when "the music starts, people are on the floor and stay with you till you stop."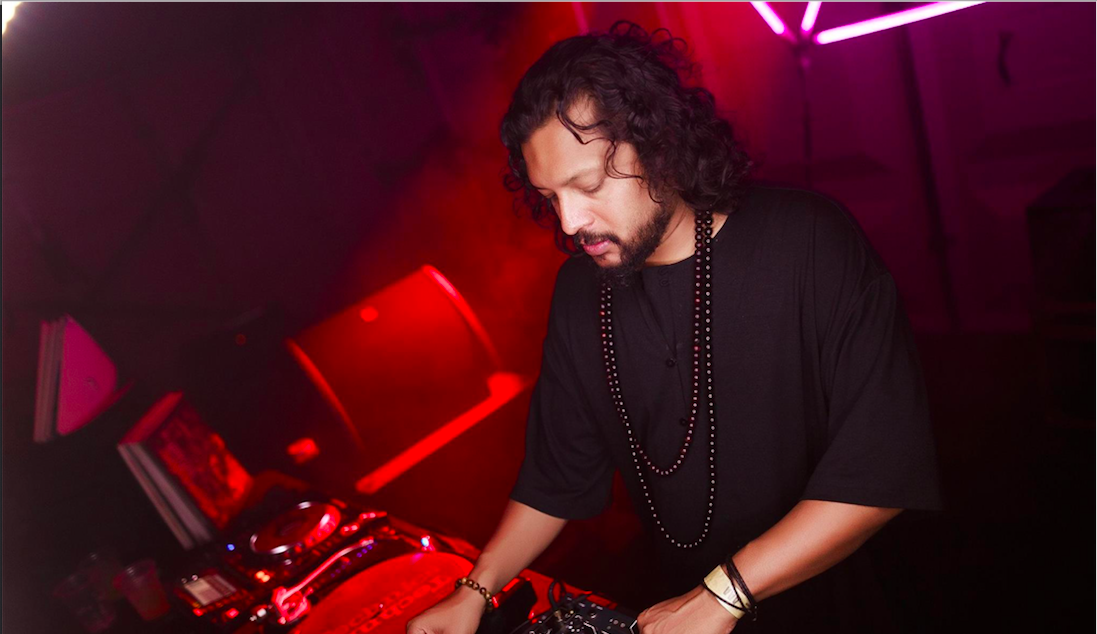 Throughout the past years, the changes in scene and location have shaped Salah's music. "Music evolves, as does any art, and incorporates elements from outside," he says, elaborating that "traveling always allows me to explore local scenes and record stores for fresh inspirations, and allows you to find parts of your core self again."
When DJing, Salah doesn't believe in sticking to just one specific genre, but prefers to cultivate a vibe, surprising his audience. For him, DJing is all about giving into the moment and creating an experience his listeners will always remember. Naturally differentiating between production and DJing, his experience with production, is as an exploration of things he learned from collaborations and experiences amongst the journey. "I am all about collaborations, as you learn quicker and explore further" Salah explains, listing big names such as Laurent Garnier, Sven Väth or Ricardo Villalobos as artists he would love to play B2B with.
It is certain that the Bahraini DJ and producer can already look back on amazing experiences in his career, for example opening for Josh at Ibo in Dubai, closing for legendary Sven Väth in Beirut or Lisi Wood in the forest in Tbilisi. He is only going forward from here, and though he might need to slow down a bit on his productions while being back in Bahrain, he is working on finishing a bunch of open projects with Cheh, Hoolz and Emiliano instead. "We are also working on the next releases on the label with a lot more vinyl-only material coming out" he shares about his future plans. Next to his latest release TFUI003 with Sonnen Blumen Kerne featuring a lovely remix by Anton Kubikov, he has also picked up the pace of his own radio show, called The Crate. Currently working as a consulting creative director for an agency while simultaneously making music, the producer is sorting things out for a move to Canada to mark another chapter of his musical career. From DJing, to producing, to playing radio host, Salah is going places and we can't wait to see what Canada holds for him. 
Follow Salah on Facebook, Twitter and Soundcloud.