Think of introverted lyrics, airy vocals and soundscapes paired with elements of lo-fi rock, noise rock, jangle pop and even some elements of post punk. Voilà, this is Postcards. It was the summer of 2012 when the Beirut-based quartet found each other and decided to make music. First, Julia met the cousins Mawan and Pascal, who have been playing together since they were kids, and the chemistry was instant. Later, Rany, who is currently taking a "sabbatical" from the band, was introduced by an old friend. Thus, Postcards was born. Coming from different musical backgrounds, the members connected through indie music, as Julia told us. "I think it was our counter reaction to the commercial radio songs, blues and classic rock that are quite popular in Beirut. Indie music presented something that felt different musically" she explains. The past years have been a musical journey for the aspiring band. What started off as a love of folk music, slowly delved deeper into the sound of the '60s & '70s, an evident influence in the second EP What Lies So Still, before they settled on the dreampop sound of their debut LP I'll Be Here in the Morning, where Postcards found themselves most comfortable.
The 2018 release is not only the band's debut album but also comes from a very specific place, both emotionally and musically, the singer shared with us. "I'd say it's kind of a sample of what we're going through as people in their mid-20s re-questioning the world and the city around them" she reveals. From their formation back in 2012 until the release of their first album this year, a total of six years have passed; a lot of time for the musicians to evolve, and a lot of lessons to have been learned. Over the years, values curiosity, hard work, and constant learning have become key factors for the four. "There are always people who know more that you can learn from. We understood that despite the richness and the constant development of the Beirut music scene over the years, there is still a limit on how much you can evolve and how big your crowd can get, especially making music that is less and less accessible" the main songwriter argues, adding: "it's an incredibly competitive world, and all you can do is work really hard and present the best product you can and then the other half is just luck and circumstance. You can't control everything".
Nonetheless the band likes to be involved in every step of the process. While Julia is mainly responsible for the writing, it's the music that precedes the words most of the times, she shares with us. "One of us usually comes up with the riff or a progression or an idea for a song and then we build on that during rehearsals" she unravels what is a healthy mix of instinct and careful planning to create a song. Furthermore the artists strongly believe that visuals and music go hand in hand, combining to create a stronger atmosphere, which is why the band is also actively involved in the cover art of their releases. Since What Lies So Still, the band has found their cover artist of trust, Rachel Tabet, who also created the art of I'll Be Here in the Morning. Here it aims to capture the duality of the music, Julia explains, and the two photos used were actually found in Tabet's archive. "What we loved was the quality of the sea - it has something very eerie to it as opposed to the calm demeanor of the couple. It worked perfectly" says Julia, describing the idea behind and atmosphere created.
As their home, Beirut has always been a big influence to Postcards. These influences might be very subtle and not be visible at first sight as the band is not working with traditional Arabic instruments or tune, and is singing in English but they do clearly exist, Julia states. "We sing in English but the words are very relevant to our experiences as Lebanese people" she points out. So besides the band's very international orientation, they do feel very rooted in the Lebanese music scene and even though they are striving to move beyond the norm, Julia states that "we would be nowhere without the Beirut scene."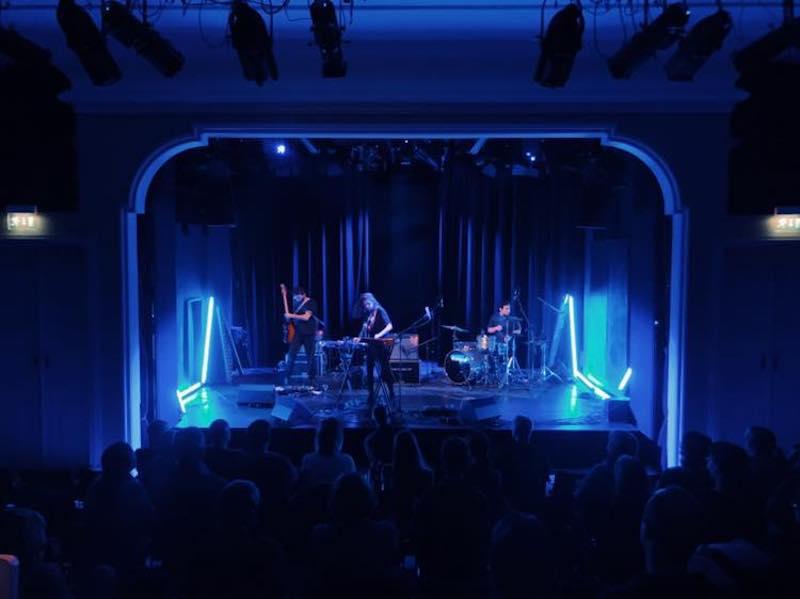 From Beirut to the world - right now Postcards are busy on tour in Europe, a new and surreal style of life to them. "Time stretches or passes by really quickly. It's a very weird emotional place to be in but it's the best kind of experience" Julia describes. Nonetheless she wouldn't miss out on spending time in the studio, and the band strongly believes that both experiences go hand in hand and push each other. As Julia states: "Making music wouldn't be complete without both". That being said we are looking ahead to more albums, more touring and more of the dreamy Postcards journey in the following years.
Follow Postcards on Facebook, Instagram and Soundcloud.