27-year old Hisham Sabbah feels at home in the darker and deeper shades of electronic music. Looking back, the Haifa-born DJ remembers falling in love with electronic sounds in the late '90s when he was introduced to trance music; it was the beginning of a long-lasting love story that eventually grew even more intense as he got introduced to other nuances of electronic sounds such as house music, techno and everything in between. "I was introduced to this kind of music at a time where the scene was really tiny in the area I lived in. So I educated myself and I knew at some point that I wanted to be part of this movement" the producer remembers. Action quickly followed: around the age of 14 he began to teach himself production, mixing and mastering via books. Step by step he taught himself everything he needed to know, taking the next step in building his own music studio a few years after.
By the age of 20, Sabbah started to perform as a DJ, and with time the frequency of his performances grew. "I always try to keep myself inspired and creative, as I believe that it doesn't matter how much you know and how much gear you own - if you are not creative you will never be able to succeed and have your own sound".
Back in the beginning of his career, he started off under the name of Eltimass. His two releases The Escape and Magnetic Field were made on Ivan Nikusev's label OLD SQL Recordings. While those were more trancey and aggressive projects, the return to his real name Hisham Sabbah marks the direction of a more progressive and sharp style of his music. Nowadays Sabbah is rooted in the dark progressive house and melodic techno spectrum of electronic music. What adds a special twist to his sound are hypnotic melodies and atmospheres paired with intense grooves and bass lines, as well as Middle Eastern elements. A perfect example of this is the EP Mars which was released on Belgian label Bonzai Progressive that is known for being one of the strongest labels in the field of progressive house music in September of 2018. The EP contains two tracks: "Mars" and "Lunar Eclipse". "'Mars' is a project where I told myself I wanted to be 100% me - groove-wise, melody-wise, the atmosphere - it has all the elements that I really appreciate in electronic music," the producer shares with us.
If you compare the two tracks, it clearly stands out that the original mix of "Mars" is more energetic, intense and dark in comparison to "Lunar Eclipse", a track that has the same atmosphere but a different feeling and is more melodic and dreamy. "Together they make a great EP which I'm really proud of, and I got support from amazing artists and people around the world, as Roger Shah, Airwave, Andreas Velila and many more" Sabbah proudly sums up.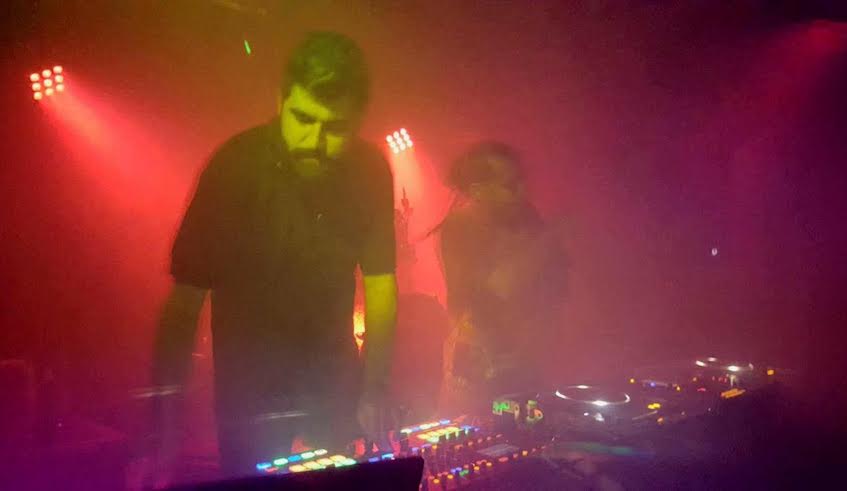 Next to names such as Tiesto, Koletzki or Kleijn that greatly inspired Sabbah, the underground scene in his hometown of Haifa strongly affected him on his musical path. "It is an honor for me to live the change and be an influential part of it" Sabbah states. He explains that "people are appreciating good music, and especially electronic, and I can feel it each time I play for this crowd. I am always adjusting my sound to a higher standard thanks to this scene". His deep connection to the crowd is also the reason why he likes to include a lot of Middle Eastern and Arabic sounds throughout his sets as a DJ, as he strongly believes that the bond between the people, the music and their roots take things to a different level.
When Sabbah recalls the scene of Haifa, it is safe to say that there is a lot of change happening. In his opinion, right now is the time where the underground scene of Palestinians and Arabs in the city is growing big and in the right direction. Only 10 years ago, there was no scene at all and he reminisces that "Jazar Crew were the pioneers to have their very first line of underground parties as they hosted me and other local talented DJs, and step by step people started getting introduced to this kind of music and atmosphere, and it grew bigger with time." A special place not only for the scene but also for the DJ personally is the venue Kabaret, which gives a stage for local and foreign artists.
2018 has been an exciting year for the aspiring musician. It marks not only the release of his EP Mars, but his remix to  Ivan Nikusev & Steiss's "Rising" entered the top 100 Beatport charts and his Thakartuki EP was released independently. Thakartuki was an important personal project to him as it happened in collaboration with SINAN, a close friend of his. It included three tracks that were infused with Arabic vocals and instruments that they recorded with the help of other local singers and artists. The release was celebrated with a big event in Kabaret in Haifa and well-known Anna Loulou in Jaffa.
2019 might even have more to offer for the Haifa-based talent. Recently he signed a special release with NOISEFLOOR Records from Canada which will come out February 2019. "I'm working on a lot of music at the moment that will be available in 2019 and I have many gigs and announcements that are soon to be published" - so stay tuned for more progressive sounds of Hisham Sabbah.
Follow Hisham Sabbah on Facebook and Soundcloud.