Ever since the 2011 uprising and up until this very day, only a handful of events in Egypt have managed to create an  rounded experience, whereby music meets other disciplines, and where artists receive adequate pay and exposure for their work. Several of the aforementioned factors may be present in an event these days, but not on all of them. That's why new players like Oksoundsgood. are surfacing on the Egyptian event circuit. 
Comprised of team that harvested their experience working on events ranging from the discontinued Oshtoora to the seasonal spectacle of 6IX Degrees, Oksoundsgood. represents a new vision and approach to setting up events; one that sees all parties collaborating, securing a fair payoff and discovering ways to create sustainable income, and therefore bidding the days of providing services for free goodbye.
The launch event is taking place on Saturday April 20th in partnership with the venue, Startup Haus. The music line up is made up of three acts; opening things up will be singer/songwriter and producer Ali Baghdady, followed by guitarist and producer Omar Abdelhady and closing things out will be post-rock/electronica group The Chicken Came First, who'll be performing for first time in nearly four years. 
In terms of visual arts and installations, mural artist Nada Mergawi will be creating a mural on ground at the venue. There will also be projections and visuals by visual artist Mohamed Nour and installations by El Warsha collective.
We caught up with founders of Oksoundsgood., Eslam Salem and Moamen Sahmoud, to find out more about the concept, where they see themselves fitting in the scene and what they see it developing into in the upcoming years.
Tell us briefly what the concept of Oksoundsgood is, and how you came up with it?
Moamen: The concept of Oksoundsgood is creating an entrepreneurial hub through several upcoming concerts. We wanted to achieve cooperation and integration between different art forms to deliver a unique experience to the audience. The concept came from finding a certain gap here in Egypt. People who like art usually can't find a place to enjoy it, while at the same time, when artists try to feature their work, they end up doing that separately, hence reaching a limited number of people. What we're trying to do is integrate all kinds of art together in the same place so all their work can be featured with the support of the other artists and according to our creative direction which aims to give the best experience to people.
Eslam: It basically stems from the idea that there's a lack of proper artist management in Egypt. But instead of doing actual management we want to become the sort of intermediate or 'broker' through providing a platform situated in the middle of the industry, providing a 360 view encompassing the audiences, artists, businesses, corporations, and sometimes the government too. So what we do is sit comfortably in between, taking what each of these offer and linking everyone together.
We came up with it because I'm originally a musician and I have a business degree and I'm very well integrated in Egypt's music and arts scene. So we had resources and we realised that it's a shame if we don't utilise them. We have the audience and we have the people producing the art for it.
Tell us about the music lineup for the first edition and if there's a certain trait you look for in the artists you book.
Eslam: The lineup is basically made up entirely of our friends, as we wanted to be as intimate and genuine as possible for the launch event. We have a certain art direction hovering over the whole thing, but no solid restrictions when it comes to the artists. Also what might not be obvious is that this is more of a collaboration than a standard booking. We help the acts develop their live sets. So what you're about to witness is actually different from what they usually do. 
Moamen: What we usually look for is something of authentic expression. If you look at the lineup very closely you'll find no mimicry in what they do. So Ali Baghdady basically integrates an oriental sound with jazzy melodies while making the whole thing sound rave-y. Omar Abdelhady combines crafty guitar play with reverb and several effects, and it sounds very atmospheric while remaining groovy at the same time. As for The Chicken Came First they've been pioneering the alternative sound since 2010. So that's the point, we're not looking for someone who's second in line, we're looking for acts that are pioneering what they do.
Tell us a little bit about the artists behind visual arts and installations as well.
Eslam: Mohamed Nour basically works everywhere, that's how good he is with the visuals. Anything from the mainstream events to the very small scale, underground ones. Our muralist - Nada - has a lot of work that she doesn't display, but also works commercially painting murals for big corporates and restaurants. Finally, ElWarsha which is basically a production house will be setting up installations that involve a lot of woodworking. They pour their heart out into their work, it's really good.
You previously mentioned that Oksoundsgood "aims to create an entrepreneurial ecosystem for artists" Can you elaborate more on that statement?
Moamen: One of the main obstacles facing artists in Egypt nowadays is that even they end up featuring their work somewhere, they're hardly ever paid for it. What we're aiming to do is create an ecosystem for the artists to become more entrepreneurial, and able to generate money out of their work. This is not just about the concert but also concerns the pre-production and post-production of the event. We're here to make sure artists can sustain income out of their art form.
Why did you decide to partner up with Startup Haus for the first edition? And Will this be an ongoing collaboration?
Moamen: As of yet, it's not an ongoing collaboration. However, both Startup Haus and ourselves are open to the idea. This will be largely dictated by how the first event pans out. If all goes well I think we can manage to become the cultural arm of Startup Haus.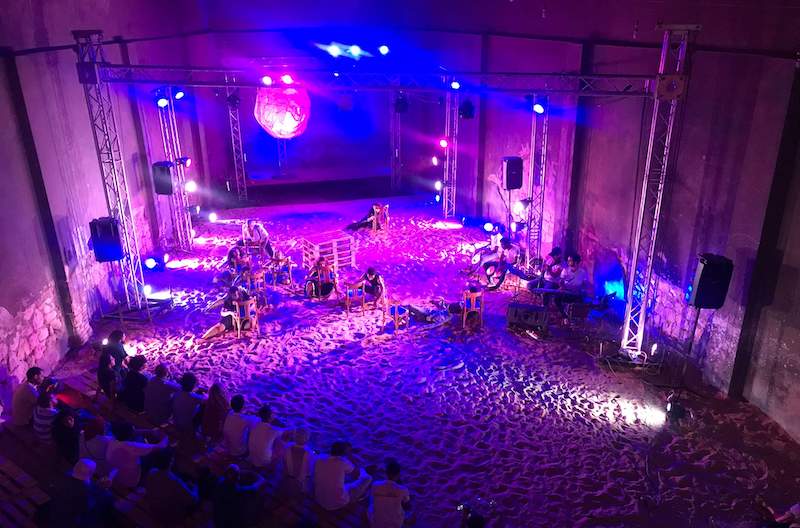 What do you hope to achieve through this launch event, and where do you see Oksoundsgood in the future?
Moamen: What we aim for is to create a big shift in the concept of concerts in Egypt, with that shift being the perception of art 
Eslam: We have a lot of plans, and some of them are on a much larger scale. We talked to several people and they're very interested in the concept, they're willing to expand it and take it further and perhaps give it another shape. Ultimately we don't want anyone meddling with what we do, and right now we're not really focusing on what follows this launch event. But I think that generally, we're looking at four events a year and maybe more, as well as more secretive/private events.
Follow Oksoundsgood. on Facebook and Instagram, and head to their event page for more info.