Though not entirely uncommon, the story of Sarah Maison is alluring, colorful, and wholly French.  Born in Hyères les Palmiers in the south of France, to a French "Cantalien" father and Moroccan Berber mother, she grew up in the heart of the mixing pot experience that is France; a place that has become almost as closely tied to African and Arab cultures as European. She began playing music at the age of 14, after her father bought her a guitar, and as a typical teenager, she taught herself her favorite songs. 
Down the line, she spent seven years as a resident of the Beaux-Arts in Nice, initially working with fine art, and occasionally playing bar shows. She eventually tired of the limits of the guitar, going in search of lusher sounds.  
She found this upon a move to Paris, when she was gifted Ableton by a friend. This foray into electronic music, filtered through the multi-cultural circumstances of her family and society, folk traditions of the Orient, and the sentiments unique to her, Sarah's musical personality metamorphosed into what it is now: sultry Oriental French pop, with layers of humour, irony, sensuality, and kitsch. It is a self-portrait, a musical projection of her inner world 
Her first single, "Western Arabisant", was released in 2016. This paved the way for another single "La Nuit," and her debut EP, Sarah Maison, out this past March: six-tracks of catchy French pop lifted by punchy Middle Eastern percussion, slinky synths and nostalgic guitars. It fluctuates between retro Pakistani film music, sugary-sweet (but tongue in cheek) synth-pop, and Oriental Spaghetti Western cabaret tunes. 
Two months ago, she released a vibrant video, depicting a woman swinging between a state of comedic loneliness and seduction. But she can tell you more about that. 
Sarah Maison enlightened us to her roots, her taste, and her favorite Dalida song.
Tell us a bit about yourself - how did you first get into music?
I am from the south of France and moved to Paris after I graduated from Villa Arson, an art school in Nice. My dad bought me a guitar when I was 14, and I started playing my favorite punk, rock and folk songs, then started composing around 16.
Your songs incorporate rhythms and melodies of Middle Eastern music. Could you tell us a bit about these oriental influences and where they come from? Do you have roots in the region?
I am Franco-Moroccan so as a child I listened to a lot of different music from Africa and the Middle East. I wanted to make music that sounds like "me," and mixing my origins and influences was a way to make it.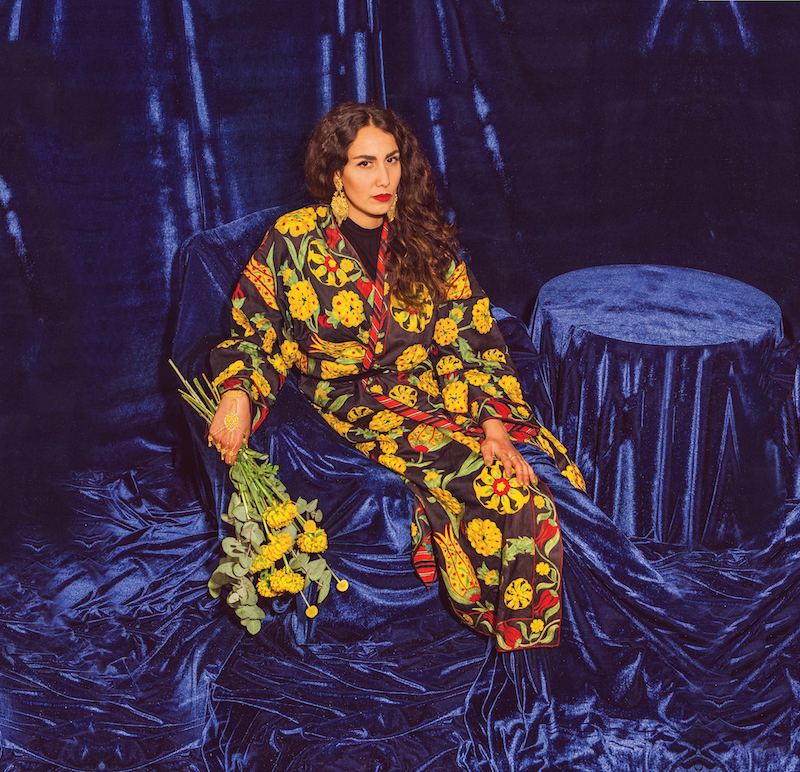 How would you describe your music to someone that's never heard it before?
Oriental pop in French with a strong first degree and a hint of humor.
What do you mean by "Western Arabisant"?
I wanted to associate two universes or landscapes that were close to each other in my mind (Western movies and Arabic deserts) and then this formula came to me. I see it more as an image, it's a love song that acts as a revenge on life: when you've been sad for a while and then you meet the love of your life. Nothing's bigger than this - a "Western Arabisant."
What are your musical influences?
I am very inspired by Chanson Française, realistic singers from the '30s to the '80s, Oriental music (folkloric, pop and Egyptian geniuses like Omar Khorshid & Mahana for example), lo-fi music, Japanese pop and Western music.
Can you tell us a bit about your artistic process? How do you bring your song ideas to life?
It depends, most of the time the music and words just come together. Most times I let the ideas grow instinctively for months, while other days it comes instantly. 
You recently released a beautiful new video for "Muzul." What was the inspiration behind that?
Thank you, I'm happy you liked it!
The song speaks about being in love with someone who is far away. The woman is not longing for the man as a charming prince, but passes her time doing absurd activities in her home (talking to plants, sawing a log), all while dressed-up like a diva. I like that first-degree situations always come with humor. 
Have you toured and played your music in the Middle East? If not, do you plan to in the future?
Never! But that is one of my deepest dreams. If any promoters read this, bring me to Cairo!
You have had a productive year, with a single, an EP, and video release. What's next?
A few shows in Paris, new videos, some remixes…I'm composing new songs this summer and I hope I'll have enough songs to make a second disc quite soon!
Are you a big Dalida fan?
Yes I love Dalida, especially the old songs:
What is your take on the music scene in Paris right now? Do you think you are part of any particular movement?
I don't know…there are so many exciting projects in French blooming from everywhere in France (not only in Paris). I don't feel like I am a part of any movement but I feel close to amazing women like Laure Briard, P.r2b, Melody Prochet, Halo Maud. I recommend Mauvais Oeil, another Sarah that might intrigue you as well.