Egypt's dense musical heritage spans thousands of years. From the Ancient Egyptians, to the Coptic culture, to well into the country's Arabisation, Egypt's music has evolved infinitely leaving behind a plethora of sounds, instruments and subcultures. Following Egypt's renaissance in 16th and 17th centuries, Western influences began flooding in and setting the standard to dilute the country's already muddled identity little by little to this present day, leaving many of those subcultures to wither away or thriving only within very small, closed-off communities.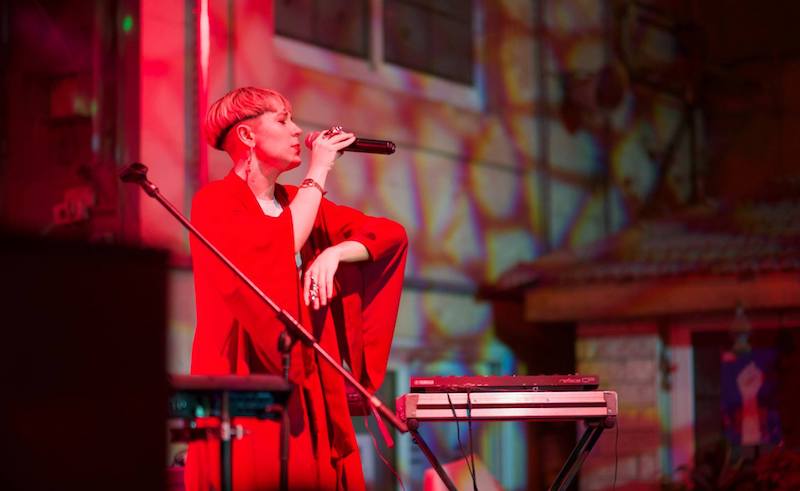 In an ongoing effort by The French Institute in Cairo to bridge French and Egyptian musical cultures, a series of three events by the name of  'French Touch' was conceived to go some wayin trying to revive Egypt's almost-forgotten musical heritage. The concept behind the series was curating night that showcased local acts alongside a visiting French artist. 
The first two editions saw visiting artists like Elbi and DJ Labat perform at the institute with support from Egyptian musical disruptors like Bosaina, JellyZone Deejee, Nur and Maii Waleed. For the third event, however, things took a more complex approach as it wasn't just about shedding light on alternative music culture, but rather on forgotten traditional art forms. It wasn't planned as performance combining different artists, but more of an experiment.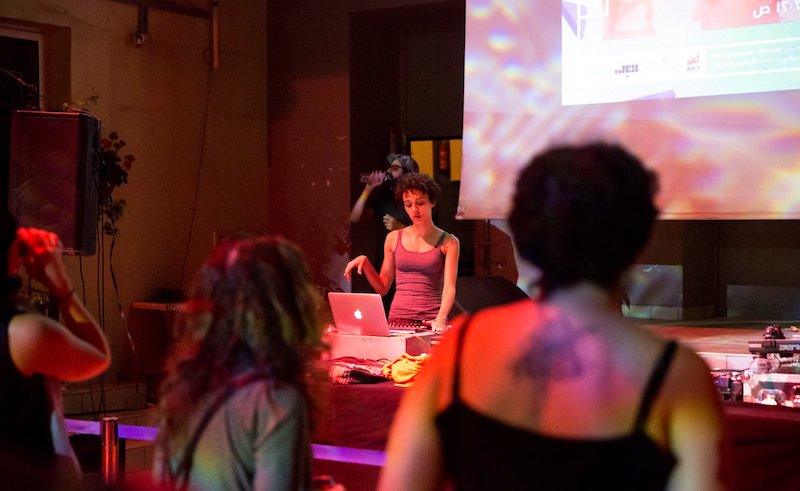 The final chapter of the French Touch series was a several day process leading up to two events, one at the Institute itself and another at Downtown Cairo venue, Makan - the institute's collaborator. The artists involved were French duo, Ko Shin Moon, and a local line up made up of Mawwal singer Sarah El-Rawy, Tamboura player, percussionist and Zar vocalist Raafat ElFarrag and Arghul player Amine Shahine, each representing a dying art form or disappearing instrument. 
Ko Shin Moon, made up of Axel Moon and Niko Shin, are currently signed to Akuphone, a label that started out by releasing pop music from Asia and Asian diaspora, also home to the likes of Cheb Gero and Egypt's own Dwarfs of East Agouza (Maurice Louca, Sam Shalabi and Alan Bishop). Niko and Axel collaborated on several occasions before their paths aligned as Ko Shin Moon. 
"We met around 15 years ago," Niko told us. "We were just playing and jamming together. Later, Axel had a psychedelic rock band and I had a recording studio, so I recorded his album with his band and I was following him during the tour, mixing during the concerts. So we got together this way. And afterwards, Axel lived in India for four years and when he returned we started the band together."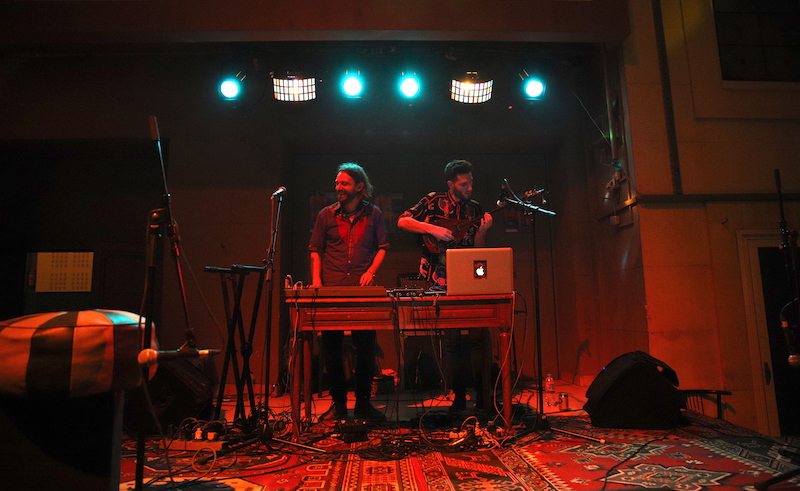 Axel, who studied ethnomusicology at Nanterre and plays the Turkish Baglama, Sitar and Afghan Rebab said "I didn't finish my degree, but I learned lot of things about traditional music. Not only the music but also the way to approach and to understand how people behave with this music." 
The duo's debut album on Akuphone last year was a blend of electronic music with obvious influences from the MENA region, so naturally when they were contacted by the French Institute they couldn't turn down the opportunity to work with regional artists in person for the first time."I think it's because we were looking for a strong experience, and we were already searching in this kind of music," Niko explains. "And it's also about meeting people from a style that we don't know like Zar and Mawwal."
For the duo, then, being involved in the initiative makes sense to their style and approach. What was more intriguing , however, was the motivations of the three participating local artists. Yes, the lure of helping preserve they're respective dying art-forms is motivation in itself, but how, as a practitioners, do you go about doing that.
"Every established artist in my field has a supply of knowledge that they're reluctant to share with upcoming ones, Mawwal singer Sarah El-Rawy told us. "They don't understand that if they share this knowledge, their name will live on forever, and so would their work and the whole art form too. Mawwal artists are more conservative when it comes to that and they don't exactly share their knowledge. So all I'm asking is that they start sharing with us so we can benefit from it and so that their name remains. The same way I mention Gamalat Shiha; she's one of the strongest  artists, she lives within us now and I strive to be a fraction of what she used to be."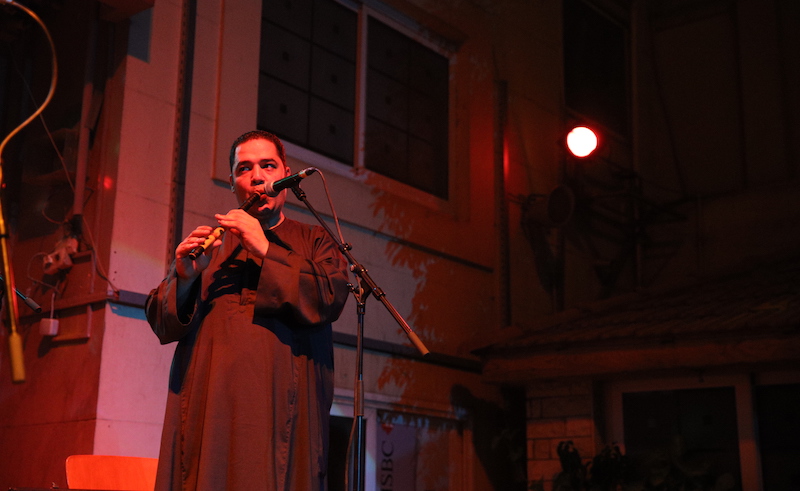 Arghul player Amine Shahine, who also happens to be the son of famed Kawala player Ibrahim Shahine agrees. "When you go to other countries you find that they teach their own traditional instruments, however in Egypt it's the other way around. People don't think like that, they think about the guitars, the keyboards."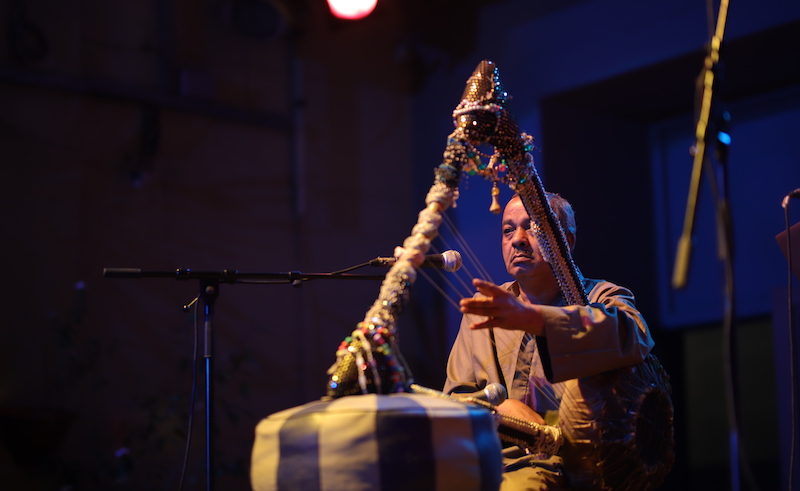 "There is no upcoming generation interested in the instrument, we're the last generation, Mazaher ensemble's Raafat El Farrag - one of the last three remaining Tamboura player - adds. "My son is interested in the Tamboura so I'm teaching him how to play the same way my father taught me."
During a combined five-day workshop that brought all the musicians together, the group ended up recording six songs - but the endeavour wasn't without its challenges, of course, which may or may not have been musical, but at the very least lingual as Niko outlined. "Mawwal was more easy for us to work with because it's based on improvisation. We could communicate without knowing the language and without knowing even how to say 'okay let's start together' or 'how do you want to do it?' or 'let's go faster' - so it's very simple, it talks for itself and the border of language is broken really easily."
"But when you start to meld electronic music with it and try to build a composition with parts, breaks, stops and riffs - you have to talk," he adds. "And that's when it became very interesting, but also really difficult. We had to find the right words, the right way of playing together, of letting in a way anyone speak and bring in his own culture and style."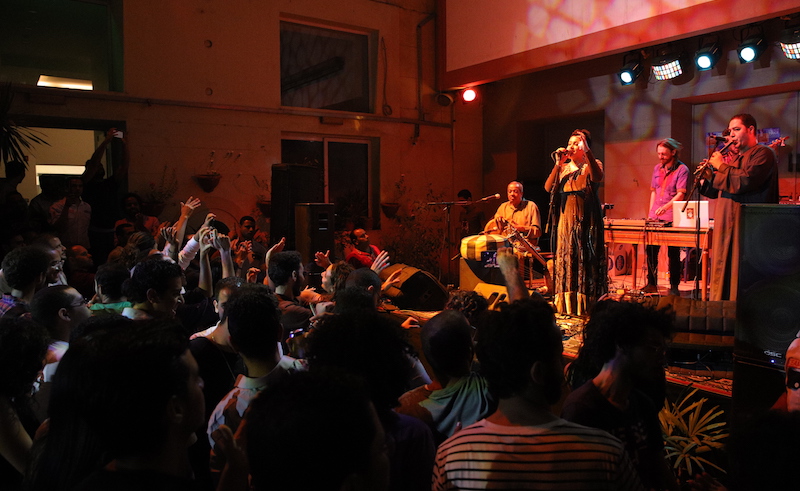 Artists in both parties didn't just treat this project as an opportunity to blend French and Egyptian, old and new, analog and digital. They took it as an opportunity for experimentation. "We tried something new this time, like for instance the pitch standard is 440Hz, but we actually made some stuff in 430Hz, we also both used quarter tone," Amine recounts.
In fact, Ko Shin Moon were surprised by how far the local musicians were willing to experiment. "We wanted to hear the stuff that we like, the stuff that makes us move," Niko epxlained. "They wanted something else, something melding. Like every culture melding together and not just acting out expectations of what it should sound like, but rather jamming together and incorporating parts from every person in an authentic way."
I asked if an experiment like this will help offset or perhaps delay the disappearance of these traditional art forms. "We were thinking about that actually, Axel muses. "We don't have that power to keep it alive because we're not famous enough, but obviously it's an interesting way to still play it and blend it with another style and keeping a record of that. Maybe it can draw the interest of some youngsters and they'll find one of them as an interesting instrument to play."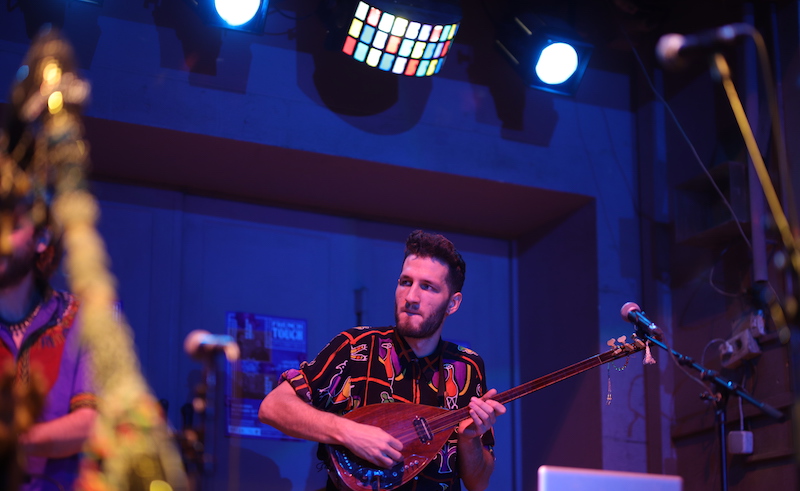 The local musicians echoed Axel's thoughts with Amine Shahine adding, "We need more of this. In order for an instrument to survive you need a new generation and more projects of this kind. Blend the Arghul with electronic, chaabi, anything!" 
After a moment of silence and before I could ask if anyone had anything to add, Raafat who's been performing for well over four decades now said maybe captured the aim perfectly. "These projects push me to become better. And as long as I can improve there will always be people willing to listen, interact and learn. When they see our instruments in Europe they're always very happy to witness them and they're always asking how they can get their hands on them. I never understood why that's never the case here in Egypt." 
I could see Raafat's statement resonating with Sarah and Amine, as they nodded in agreement, making the case for why initiatives like this one by the French Institute and other cultural entities are needed now more than ever. 
Follow Ko Shin Moon on Facebook and Soundcloud.
Follow the French Institute of Egypt on Facebook.