I meet Saleh Amin over coffee on a pleasantly sunny Cairo morning. He explains that he's dressed semi-formally because he's off to his day job right after. He works as something called a facilities supervisor at some multinational real estate company and his tone suggests that we need to get going because he can't be late. I remind him that he has my records, which I left at his vacation home in Ain Sokhna the week and before, and that he'll do exactly as I say. 
I've known Saleh for some time and know that his day job speaks nothing of his true (musical) self. Any spare time he has is dedicated to perfecting mixes. His precise handling of equipment and his diversity has slowly cemented his reputation as a surgeon on the decks.
After giving me back my records, we finally dig in and discuss his 'secret' Sokhna gatherings, how his sound has evolved over the years, and his thoughts on the scene in Cairo. 
How long have you been DJing?
Since I was 17. So 13 years, let's say. But it wasn't the same thing back then. I used to play at birthdays and a place called Bliss. It all started when a friend of mine gave me his iPod at school and I liked the idea of continuous music. I just plugged the iPod in wherever I went and I really loved to see the reactions of people to the music I was playing. Then I got a dual CD player and practiced on it for a while, before I went to London for university.
Did London have an impact on your sound?
Of course. That was the first time I was exposed to a full club experience. I was completely blown away. I used to listen to progressive house, people like Sasha, Steve Lawler and John Digweed, before I went. After that I went through a deep house phase, which was cool at the time. But I always wanted better and dug for something different. A little while after that, I stumbled on Raresh and was really drawn to his music. This is what got me into the Romanian sound.
So you categorise your sound as Romanian minimal?
Not really. I'm into a lot styles basically. House, minimal, breaks, techno, deep techno like Derek Carr. I'm also into minimal techno and the dubby side of it, like SIT's invisibilty Chapter II. I like the real deep house like Moodymann and Theo Parrish. I believe that all the sets need to have classic tracks, because back then, music really had soul. And acid, acid acid.
You try to diversify your music when you play and not stick to one sound, basically.
Of course, because if you stick to one sound, it gets really boring. But it depends on the slot. I can't play techno in a warm-up set, for example, so you'll probably find me playing minimal or house.
If someone walks into a room while you're playing, will they recognise you based on the music?
People who know me, yes. People who have listened to me before, yes. It took me time to develop my sound. Sometimes I listen to stuff that I really like, but know they won't fit my music.
How does one develop his sound?
Don't stick to one sound and listen a lot. The biggest mistake you can make is to please the crowd — you'll win them, but you'll get burned shortly after. Play your music. It's going to take time for people to accept it, but it's worth it.
Do you think you're at a phase where you DJing can be a full time job?
I've thought about it, but full time DJ? I don't think so. But I know that I'll always be related to music, because it's something that I love. I still haven't figure out how exactly - maybe events. There's a lot of talent here in Egypt, but no one's giving them a chance. So support is much needed, and I really wish someone would start an agency that books gigs abroad for Egypt's DJs. Take Romania as an example. I'd love to be part of helping the locals here.  
I get you. Local DJs now are better than ever, and some DJs really matured their sound. But I feel that If you want the world to strongly support and acknowledge Egyptian artists, they need to create a sound first. Production is the key here.
True. People need to get more into production. That's one of the things that will put Egypt on the map.
But then why not be a full time DJ and be one of those gigging abroad?
First of all, DJs and promoters need to come to an agreement regarding fees. Second thing is the lack of residencies, which play a very big part of a DJ's career. We don't even really have clubs here. Maybe if these things were fixed, then people here could start considering full time DJing careers.
I also think that being a full time DJ will put a stress on the artist that will make him not enjoy his craft as much. Whenever money comes into the equation, it ruins the passion — you forget the music and start calculating the numbers. Succeeding in something doesn't necessarily mean to make money out of it. However, if I ever find myself making a good living out of music, I'll definitely stick to it.
So do you think up-and-coming DJs should be picky with which gigs they play? Or just play anything they get?
They need to pick carefully, because it makes a difference later on in their career. People associate you with the places you've played at. I mean, the first few times, it won't be a big deal. But if you're a minimal guy and you start playing with deep house DJs, people will associate you with that sound, based on who you played with and where. As soon as you get noticed, choose your gigs and don't think about the money.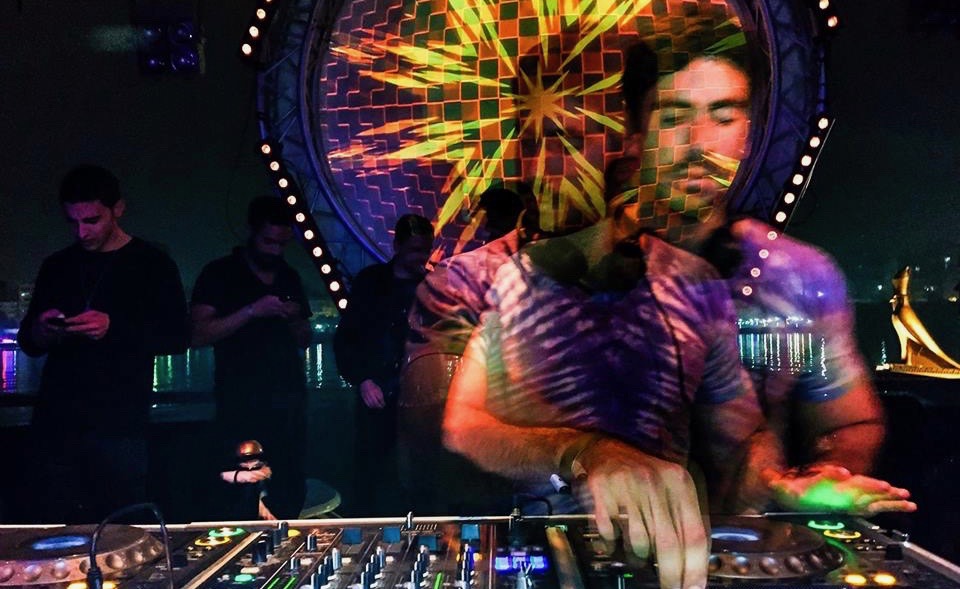 You've played in many venues on many occasions. What's your favorite kind of set-up to play in?
I love to play outdoors with the sun. I feel that my music goes with this kind of setting — and this is important. Music has to go with the setting, and there are so many DJs out there who play a lot of gigs, but don't really have this skill. The setting plays a huge role in how people perceive the music. At Sunwaves I really enjoyed the line-up between sunrise till sunset — that was the best part for me. The DJs playing those slots are the experienced ones; they understand that the crowd has been already partying for long, so they know exactly what to play.
You started Sakanat with Mazen and Kamal. Why did you guys split?
Mazen, Kamal and I are good friends, but when it came to partnership and business, we had our differences and sometimes it was hard to commit to the store. Kamal and me had other things on our plates. So the right thing to do was to split, so that the brand stays in the good shape it was already in.