Jazz music has been swinging in the Arab world since the early twentieth century, and the region has since provided us with a number of outstanding jazz musicians. Yazz Ahmed has joined their ranks, making a name for herself in the jazz world, and has now become one of the faces of the British jazz explosion.
Ahmed was born to a British mother and a Bahraini father. She grew up in Bahrain until the age of nine, when she moved back to London and started studying at a new school in the South of London that offered instrument lessons. When her mother asked her if she wanted to learn an instrument, she was fire and flame to pick up the trumpet, inspired by her maternal grandfather who was a jazz trumpeter.
Music has always been something she was surrounded by, part of her upbringing. That said, she never considered a career as a professional musician, even though she enjoyed playing in the local bands at the Merton Music Foundation. "Maybe this sounds a little silly, but I was totally unaware that this could even be a possibility" she admits. However, one thing led to the other, and Ahmed eventually started studying jazz at the Guildhall School of Music and Drama.
While nowadays she is known as the "high priestess of psychedelic Arabic jazz," this wasn't always her token style. Before she started her career, she took musical inspiration from her grandfather Terry's icons: American jazz musicians like Dizzy Gillespie and Miles Davis, and British player Tubby Hayes. "I just thought it [jazz] sounded like fun and I loved the spirit of the music" she remembers. The influence of American jazz remained constant during her studies, and she names the label Blue Note Recordings, an American jazz record label that was founded back in 1939 by Alfred Lion and Francis Wolff in New York, as her main source of inspiration.
It was after graduation that her musical sensibilities shifted. A record called Blue Camel by oud player Rabih Abou-Khalil would greatly affect her musical direction. She initially gave the album a listen because it featured her favourite trumpet and flugelhorn player, but in the end it was Rabih's music that inspired her to begin experimenting with fusing jazz and Arabic music, thus leading her to explore more traditional Arabic music and culture.
This new-found fascination with the culture of her origin inspired Ahmed to relearn to read and write Arabic. Her devotion to this new path went so far that she even commissioned a special instrument to be made by Leigh McKinney of Eclipse Trumpets: a quarter-tone flugelhorn, which enables her to play Arabic scales more accurately and expressively. "Listening to Blue Camel suddenly brought back recollections of the sights and sounds of my childhood in Bahrain - memories of watching people drumming and singing at parties or on the street, dancing to the latest Arabic pop tunes, the aromatic smells of the oud perfumes and playing 'carrom' with my sisters", she reflects on the effect the record had on her personal life and professional career.
It was in 2015 when she wrote her suite "Alhaan al Siduri", a piece that was highly inspired by the traditional folk music of Bahrain, and the first product of her new relationship with her native island country. Rather than just summoning childhood memories to compose something cursorily Bahraini, Yazz Ahmed visited the pearl divers in Bahrain to research their music - hearing them sing and watch the women's drumming groups perform really helped her to understand her heritage and inspire her compositional ideas. "I found inspiration from the lyrics of these songs, the emotions, the maqams, rhythms and various instrumentations. All these elements now inform and colour my music" she states. In addition to Bahraini music and Rabih Abou Khalil, the musician has found herself inspired by the sounds of other Middle-Eastern artists like the Tunisian band Bargou 08, as well as Egyptian artist Nadah El Shazly and Tunisian singer/songwriter Emel Mathlouthi.
As a true Londoner, the city which she describes as the most diverse, cosmopolitan and artistic place to live in the world, Ahmed is constantly inspired by her city. "The art galleries, music, food, the crazy pace of the city, the tranquility of a quiet garden square, late night bagels, bumping into an old friend on the tube, walking across Waterloo bridge at any time of the day or night - these all have played a part in my creativity" she says, highlighting the benefits of growing up, studying and living in London.
It's no wonder that Ahmed has played a a part in the so called "British jazz explosion". "My feeling is that the current UK jazz scene is as dynamic as it's always been. It may be getting a lot of media attention at the moment, but this has always come in waves" states Ahmed about her opinion of the ongoing hype. She explains that "there is a huge wealth of diverse creative talent in the UK, from the latest teenage discovery to the legendary pillars of the scene, now in their seventies and eighties". In the musician's eyes, what makes the jazz scene in the UK outstanding are the myriad of influences that surge out of the multicultural melting pot of the city; the voices of talented women and young immigrant musicians add a vibrancy to the mix. Special credit should be given to the educational organization Tomorrow's Warriors, who in her eyes do "incredible work giving access to this music to those whose talents might not otherwise have found the space to flourish".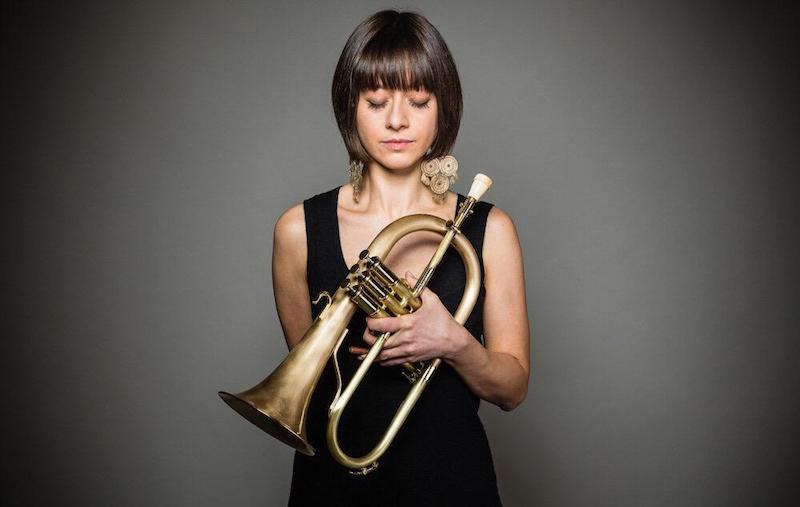 Even though the jazz scene seems to be opening up, including more talented and diverse women like Ahmed herself, the artist still feels like jazz is a men's world and women are still very much in the minority. Ahmed strongly believes that "if women don't get opportunities to flourish, then we are all missing out and the world will be a poorer place" - a truth that does not only apply to the world of jazz. An issue that Ahmed identifies is that the traditional jazz culture is still very macho in its nature; jam sessions have a highly competitive vibe, heavy in judgement. Besides, she believes that "all around the world, girls growing up are treated differently right from the start, moulded by the expectations of society, family and educational institutions. A woman becoming successful as a musician, of any kind, has to have a really strong desire to break that mould".
Jazz is being redefined more and more by its interaction with other genres; for example, when Kendrick Lamar introduced jazz elements into his album To Pimp a Butterfly in 2015, or the rise of jazz elements in electronic dance music culture. To Ahmed, this is not a surprise at all as she believes that "jazz is a hybrid art form and seems to connect with all genres. I think this is because jazz is social music, conversational, a vehicle for self-expression and protest". In fact, Ahmed herself is walking the walk - she released La Saboteuse Remixed, a remix of her album, in collaboration with DJs in August 2017. A logical step, in her opinion, as "the music produced for clubs by skilled and creative DJs and producers is some of  the most exciting music around and there seems to be an affinity for the spontaneous composition involved in the jazz world". The project was inspired by her friend and colleague Charlie Curran, and a handful of select DJs: DJ Khalab, Hector Plimmer and Blacksea Não Maya. Behind the album was the idea to bring together people from different cultures and walks of life, as Ahmed further explains: "I hope that these collaborations encourage people who enjoy jazz to perhaps enjoy listening to electronic/dance/experimental music and vice versa".
2018 was an intense year for the British/Bahraini artist, with a rigorous tour schedule. After a brief calm in the beginning of the new year, she continues not only the work on her third album Polyhymnia, which includes music inspired by courageous women and written for a large ensemble, but also is back on the road to Brussels and Schiltigheim on January 11th with her quintet, then off to Luxembourg to take part in a collaborative project called RESET with seven other musicians from across Europe. Quite excitingly, she will also be taking part in a project with Arturo O'Farill, an American pianist and composer, and his Latin Jazz Orchestra, alongside other guest from the Middle East. Though Ahmed herself might only feel like a "small cog in the jazz world", humbly hoping that her music brings together people and helps in "building bridges between cultures and changing perceptions about women in jazz and about people of Muslim heritage", for us she is an inspiration.
Follow Yazz Ahmed on Facebook, Twitter, Soundcloud and Instagram.