George Adel AKA Latefall is an Alexandria based Egyptian DJ/Producer whose sound is experimental and ambient. Since a young age, he played classical guitar and studied music theory, until he discovered Ableton Live. His love for electronic music composition bloomed, and he started to blend his musical knowledge with the new world of possibilities that had opened its doors to him.
Latefall is still in the process of discovering his sound, and doesn't fence himself in with a specific genre. He believes making music is an open, honest process and doesn't "see the need to get rid of noise or low frequency rumble and all these amazing phenomena." Drawing inspiration from the music he likes, such as Nils Frahm, Latefall's output is delicate, dreamy, and has what It takes to draw you in and out of different brainwave states.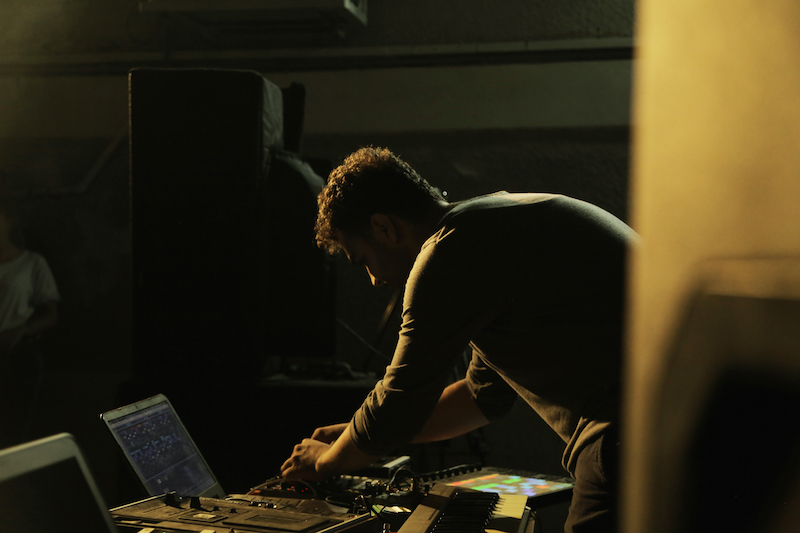 A week ago we saw Latefall playing a stunning live set in Cairo Jazz Club. It was loop-free; this is where his step sequencer comes in to action, which he used to add polyrhythmic drum patterns. Sometimes you will find him adding overdriven, muddy guitar lines using his Fender Jazzmaster. Tape machines and guitar pedals were the fun part, adding texture and modulation to the sounds emanating from his laptop.
Latefall's latest single "Self" is an 11 minute ambient sonic trip that starts with a sub bass drone, topped with Foley sounds that take you to a forsaken place. One minute through, strings that sound like whale song come in, transferring a cinematic edge to the track.
Although audiences in Egypt haven't quite caught on to the textured ambient electronica that Latefall plays, Adel has a strong drive that keeps him making it. He thinks that "the underground music scene in Alexandria has had better days, and it's frustrating because of how venue owners' interest is purely oriented towards commercial gain." This is enough reason for him to try being "part of the difference."
Follow Latefall on SoundCloud and Facebook. 
Second image courtesy of Bassem Artwork.