The night we met, Thomas Bellier had just moved to Paris from LA a week before, and was currently in Cairo, playing the fourth gig ever with a band he had started merely in December. 
Al-Qasar, at only eight months old, is already garnering international attention. In fact, the show we met them at was at the French Institut's Fête de la Musique, alongside French dance music giants Acid Arab and local Cairo acts. 
Though young, the Arabic psych-rock group is made up of some heavy swingers from both the world music and rock scenes; the story of its inception is rather compelling. It was started by Thomas Bellier, a French musician who has spent the last 10 years living in California, and quickly jumped oceans to France. "I started the project in LA, alone with a manager, and then I met the rest of the band," says Bellier. Having played with psychedelic hard rock bands for years, Bellier found himself drawn to diverge from this path; he had tired of writing complicated experimental music.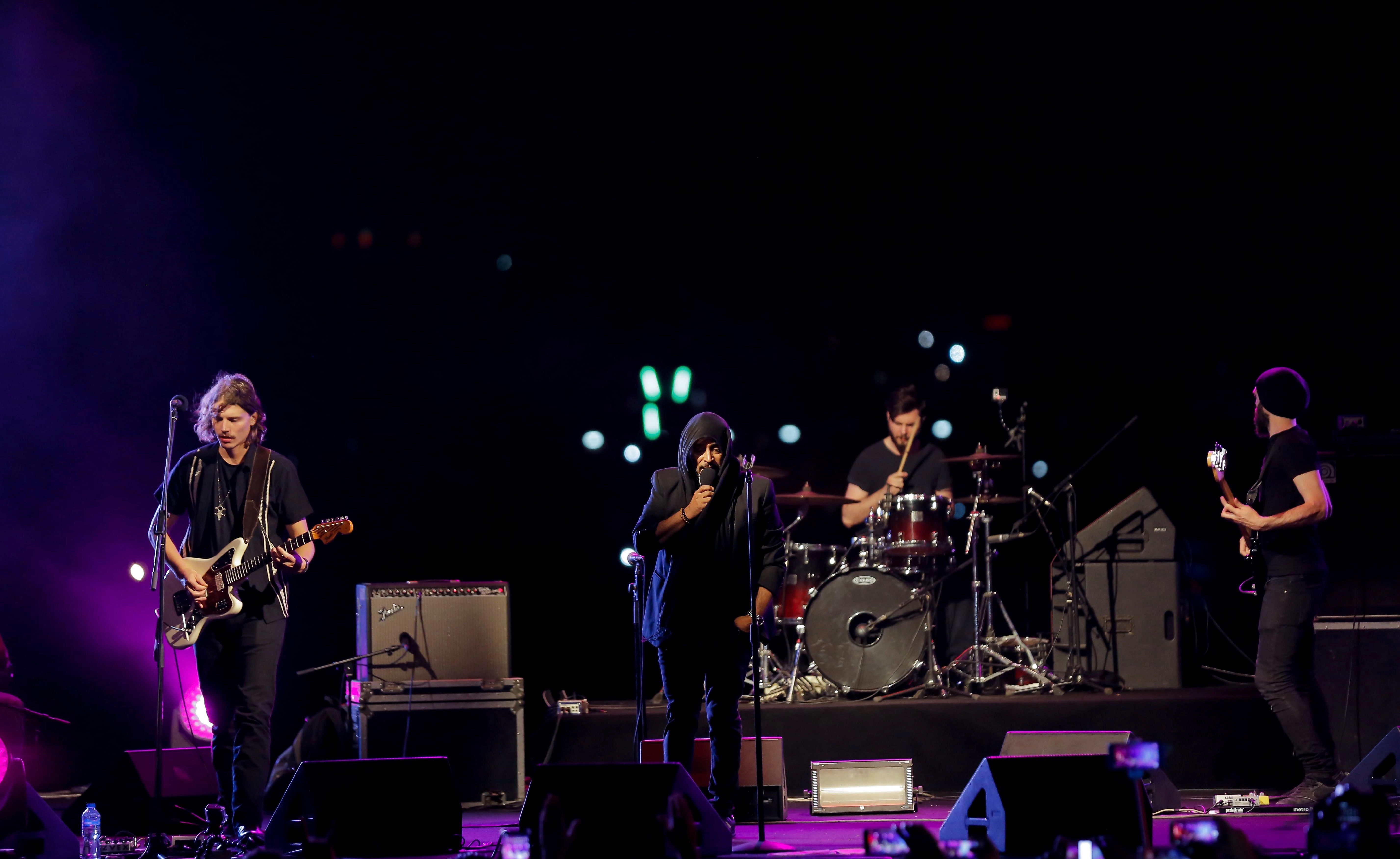 "The story is that I had a love for Middle Eastern psychedelic pop from the '60s, '70s. It's something that has always been really close to my heart, and had been hearing it for years. I was working with different bands as a composer, and one day I was like 'that's what I want to do, I'm tired of the other stuff, I want to do nice short songs with catchy choruses.'"
The opportunity arose when Bellier did an Arabic song with another band. The manager heard it, and blown away, suggested they start a band in that style, a 1960s psych pop revival, a la Middle East. This suggestion hit a nerve with Bellier, and he realized it's what he wanted to be doing with his life. He set out to make it his year's project. 
He wrote five songs, along with LA based Jordanian musician Alfred Madain, and sent them to Mehdi Addab, the electric oud player of Speed Caravan, based in the Bretagne region of France. In fact, at this point all the members to be were based in France, except Bellier. Addab loved the music, and brought on Simo Bouamar, the Moroccan vocalist/percussionist of the group that has played with Natacha Atlas. The band was further filled out with darbouka player Amar Chaoui of Tuareg giants Tinariwen, bassist Guillaume Theoden and drummer Paul Void. Though scattered around France, and Bellier based in LA, the band would converge in Paris. "There was something magical about the way it all came together, it was the easiest project to start," says Bellier. "I've been in other bands where everyone lived in the same neighborhood that were a lot harder to put together...t
his was just natural."
Having left his native Paris over ten years ago, disillusioned and angered by what he saw as a lack of artistic freedom and a shitty scene, Thomas Bellier went to California. He was young and into hard rock, the taste that would provide all the momentum for his musical activity until quite recently. Now, with an evolved taste, he has been expanding his horizons, recently doing the music for an Iranian movie, plunging into LA's rich immigrant community to source musicians. But for Al-Qasar, LA didn't feel right, and thus he took the final step in committing to the group, returning to Paris.
Their hefty experience in crossover genres meant that the band was able to adapt quickly to the music. Vocalist Simo Aboumar, from Rabat, is steeped in the classic repertoire of the Arab world, and as a kid had posters of the great singers plastering his wall. In Morocco, he was playing chaabi, Andalusi and sharqi. Later on, he joined Speed Caravan with Mehdi Addab, and after a world tour, was hooked on rock. He has toured with artists from around the region. His solid knowledge of the roots allows Bellier to bounce musical idea off him, and ensure their legitimacy. 
The result of this project is something they have dubbed as "Arabian Fuzz," a tribute to the '60s and '70s Middle Eastern psych pop, akin to the like of Turkish artists Selda and Erkin Koray, Lebanese master Elias Rahbani, and Iranian diva Googoosh. Their lyrics, all in classical Arabic, are still written by Alfred Madain, and cover a range of themes from chaos to passion. Al-Qasar is not the only band doing this, and especially when it comes to Turkish psych, we are seeing groups such as Altın Gün and Gaye Su Akyol reviving the genre.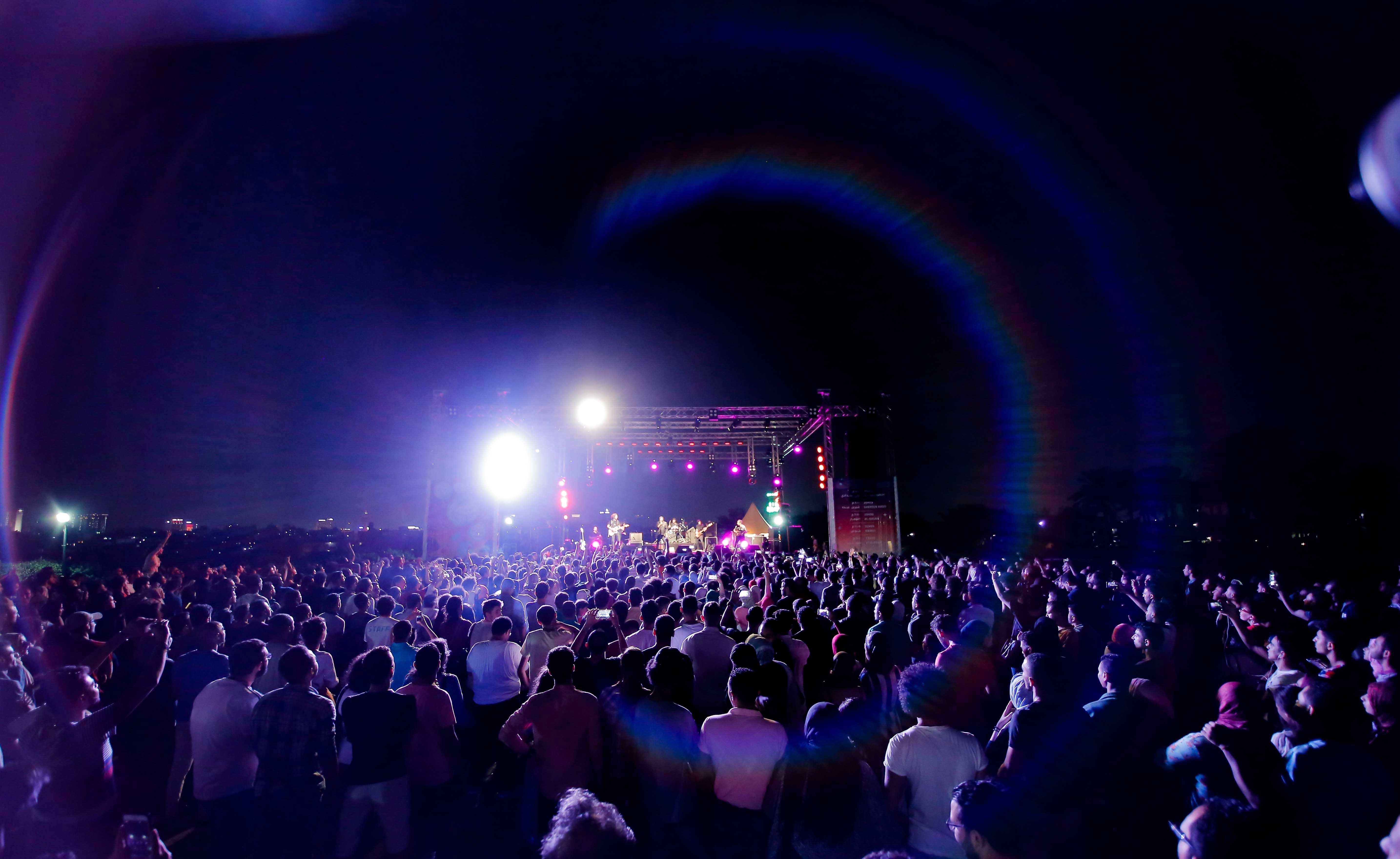 Al-Qasar live at Fête de la Musique in Cairo's Al-Azhar Park. 
Al-Qasar has yet to release music, but they are gaining momentum. "It's really fun because we have all these offers coming up for the next few months, and we're super excited, but we need to pick and choose. The cool thing is we're getting stuff from the world music scene and also from the metal world, and from the pop world, and that's kind of what we intended."  Bellier elaborates, gesturing and beaming and visibly elated about his new baby: "We wanted a band that your mom can love, but also one that music nerds can really get into." They have a lot coming up to be excited for, so stay keen on Al-Qasar.